17nov(nov 17)9:00 am18dec(dec 18)5:00 pmCGC XII Conference 2022Digital Event, Online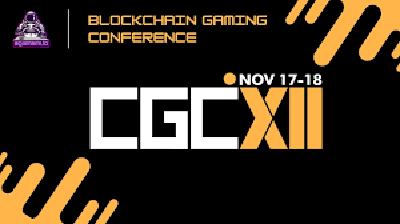 Event Details

CGC XII Conference 2022 is one of the global event series dedicated to cutting-edge Blockchain Games, Web3, NFTs and the Metaverse. The twelfth two-day digital conference will happen on November 17th and 18th, gathering thousands of attendees from over a hundred countries.

Watch and listen to experts and influencers. View videos and livestreams. Learn about new games and developments. Explore the digital expo filled with a variety of booths and activities. Mingle with friends and industry peers, network and have fun on your own terms and time.
Who Is It For?
CGC XII is a must-attend event for everyone interested in games, entertainment, cutting-edge technologies and fusion thereof. Gaming will be the Holy Grail to onboard hundreds of millions of users to the Web3 space. Join the gaming revolution together with visionaries and creators of the most successful decentralized games.
Why Attend?
Learn from industry professionals about developing, marketing, and launching your product. Explore the digital venue to meet and network with founders and executives of major companies shaping the modern gaming landscape. Discover the latest blockchain games and gaming services to play and invest into.
Please register your interest on the event site for times agenda details.
Visit the CGC XII Conference 2022 site to register
Head back to Blockchaingamer.biz for more events
Time

November 17 (Thursday) 9:00 am - December 18 (Sunday) 5:00 pm
Location

Digital Event

Online