Dive into Web3 ahead of Pocket Gamer Connects Seattle: AI Edition!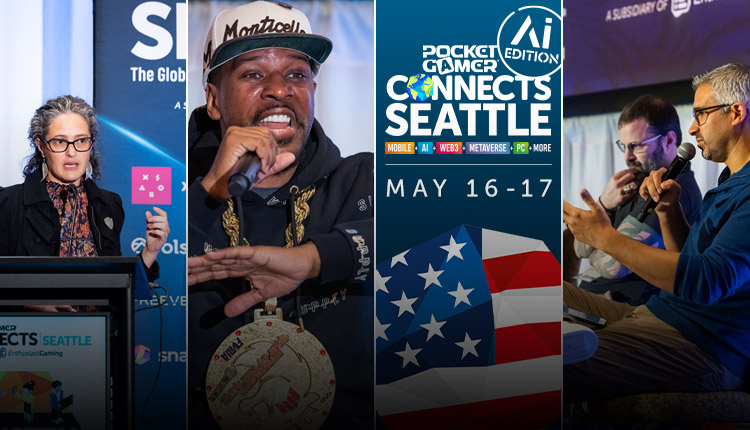 Get caught up on all you need to know ahead of the Artificial Intelligence edition of our conference, coming up this May 16-17.
Pocket Gamer Connects Seattle is coming up next month and everything related to artificial intelligence and Web3 will be at the centre of discussion.
That's right, we're coming back to the States next month, and we can't wait to return to our favourite U.S. city for this spectacular, forward-gazing event. PG Connects Seattle is bringing together over 1,000 attendees from the games industry all over the globe to network, pitch and learn from over 150 of the games industry's top authorities. The event will cover mobile, PC, console, web3, AI, AR and so much more across multiple track rooms. Our brilliant speakers and panellists will deliver insightful content into design and development, monetisation and growth, life as an indie, new technologies, company culture and loads more. Along with all this amazing content, our industry-renowned matchmaking opportunities are back. This includes our popular Big Indie Pitch Competitions, Publisher SpeedMatch and Investor Connector. Our focus for this conference is diving into new technologies, particularly AI and Web3 and their impact on the games industry, to reflect the most up-and-coming industry trends that you need to know about in 2023. Today, we're taking a closer look at what all of this means.
Keep reading to learn a little more about everything web3 and how it has the potential to impact and forever change the games industry as we know it!
The growth of Web3: Why now?
By definition, Web3 is a better version of the internet that seeks to give power back to the users and its core values are based on blockchain and cryptocurrency technology. So, why is it one of the hottest topics facing the games industry today?
It's simple: There has never been a time where data ownership is more important. Having control over your own identity and personal information online is key as a private person, and it's also a key concern of businesses looking for greater freedom in online interactions. Authorities across industries are quickly adopting this emerging technology to garner the benefits of increased data security, scalability and privacy for users.
Defining blockchain
To sum up the definition of blockchain as per IBM:
Blockchain is a shared, immutable ledger that facilitates the process of recording transactions and tracking assets in a business network. An asset can be tangible (a house, car, cash, land) or intangible (intellectual property, patents, copyrights, branding). Virtually anything of value can be tracked and traded on a blockchain network, reducing risk and cutting costs for all involved.
The definition might be a tad convoluted, so in simpler words: A blockchain ledger is maintained and supported by every user that's on the blockchain, it's decentralised which means that every user on the blockchain has a complete copy of the blockchain and every transaction that occurs on the blockchain is completely traceable and available for all to see. It's a method of storing entries that cannot be changed after it's recorded, which is immensely helpful where keeping records secure is important, for example with medical records, identity management, food traceability and voting.
So, how does the blockchain affect the gaming industry?
Blockchain gaming has the potential to massively improve the gaming industry as we know it today, and the current opportunities to tap into in the industry include…
The demand for a safe and secure environment for gamemakers to develop and launch games and securely monetise them.
A secure space for gamers to buy and sell in-game currency that can potentially make them real life income. Gamers spend real money on games, through the blockchain, they can make real money on games as well.
Enhanced collaboration between players and gamemakers that will drive innovation forward – with this technology, there is active communication and endless opportunities for gamers to disrupt the gaming market through contributing to the decision-making process when it comes to new game features.
If the presence of these opportunities in the space tells us anything, it's that we need to get ahead of the curve and get in on this industry-changing technology before the games industry is completely disrupted by the segment and we're running to catch up. Now is the time to get in on everything web3 and blockchain, and PG Connects Seattle is the perfect way to do so.
What about decentralisation?
A big draw and crucial aspect of Web3 is that it's decentralised, meaning there is no central control. This means that instead of accessing the internet through services mediated by companies such as Google, Apple or Facebook, it is individuals that own sections of the internet. Web3's key feature of decentralisation will thereby redistribute Silicon Valley's financial monopolisation of data in Web 2 into individual users' hands, bringing human participation and cooperation to the forefront once more. There is no one central authority, which goes back to the roots of when the World Wide Web was originally developed as a decentralised platform. Current examples of blockchain technologies that are decentralised architectures are Bitcoin and Ethereum.
What does this mean for games in Web 3 then? It means that through using blockchain technology, privacy and decentralisation can be a priority once more. Players can now fully own in-game assets and currencies, which allows them to earn, trade and utilise the assets beyond the game and gain real-world value from their in-game digital assets. This means that gamers now also have more decision-making authority over the game and the direction it's headed than ever before. Gamers are now able to receive economic incentives for playing the games, which is a massive business opportunity to tap into.
What is a token economy?
As defined by Coin Market Cap, token economies refer to the economics of goods and services that have been tokenized. Blockchain technology is what enables these economies, and they bridge the gap between the physical and virtual world. Through a token economy, you can take physical or digital assets and digitise them, prove their ownership and even trade them. If you've heard of non-fungible tokens (more popularly known as NFTs), they're just one small category of tokens in a token economy.
The concept of tokens isn't anything new to human society, we've been exchanging token-like objects since the beginning of time with archaeological tokens made out of clay representing farm products such as cereals and oil that helped count, store and communicate economic data in the early days of human society. Web3 takes us back to the basics when it comes to utilising NFTs to create a more digital, complex economy of unique and irreplaceable tokens. Token reinforcement is a way that businesses can increase desirable customer behaviour through the use of tokens as well, meaning that customers will be able to access their tokens through their digital wallet and potentially purchase exclusive products and services, trade them with other people or swap them out for real life currencies such as cryptocurrencies or cash.
Think of all the possibilities tokens could bring into the gaming space. They're already happening, with NFTs representing in-game items such as weapons, armour or even entire virtual worlds that can be bought, sold and traded like traditional collectibles. This is a mostly untapped revenue stream for both developers and gamers alike. Cross-industry collaborations are already taking place, and you really won't want to miss out.
The significance of web3 to gaming
Editor of our very own BlockchainGamer.biz and Web3 expert Jenny Jordan shared with us some of her insights on the rise of web3 and how it relates to gaming, and why attending PG Connects Seattle is imperative to success if you want to get ahead of the curve: "We've only seen the beginning of the disruption of web3, particularly when it comes to gaming. More recently, game developers worldwide have sharpened their adoption to blockchain and been more intentional with its integration. Pocket Gamer's conference in Seattle is a good opportunity to come alongside some of these developers and experts and learn more about the impact of web3 in games."
Looking towards the future at PG Connects Seattle
More so now than ever before, our PG Connects events are looking towards the future. This May 16th to 17th, we're bringing you our most forward-gazing event yet: Pocket Gamer Connects Seattle. We're bringing together over 1,000 attendees from the games industry all over the globe to network, pitch and learn from over 150 of the games industry's top authorities. The major theme for this conference is Artificial Intelligence and how you can stay ahead of the curve and use AI and future technologies to your advantage.
Today, we're giving you an exclusive peek at the content theme, tracks and sessions you won't want to miss!
Content Theme: Future Trends
Stay ahead of the game with insight into all the latest and most up to date global trends for the future. Explore future technologies that are shaping the game development landscape, from artificial intelligence, to web3, the metaverse and blockchain.
Tracks you might enjoy if you're interested in this area include…
AI Advances
Metaverse Magic
Blockchain Boost
NFT Know-How
Tech Trends
Sessions in these tracks include…
Gaming + NIL = The Opportunity of a Lifetime for Athletes, Fans, and Gamers with Greig Carlson of HALL of GOATs
Where are all the blockchain games for women? with Theresia Le Battistini of Fashion League – Finfin Play
Reimagining Gaming Using Voice AI with Riyadh Drebika of Volleythat
Generative AI & Democratization of Game Development with Kaveh Vahdat of RiseAngle, Inc
Why the Future of Entertainment will be Web3 with PJ Accetturo of Battle Island
To learn more about everything Web3, blockchain and the metaverse, check out this podcast detailing everything you need to know about this growing field.
Secure your ticket today!
Want to get ahead of the curve and learn everything you need to know about web3? Now is your chance. Secure your ticket to sit front-row at our brilliant expert-led sessions and save up to $180 with our limited time Midterm offer. Prices will be rising soon, so don't wait too long!