Nordic Game 2018 panel debates the state of blockchain gaming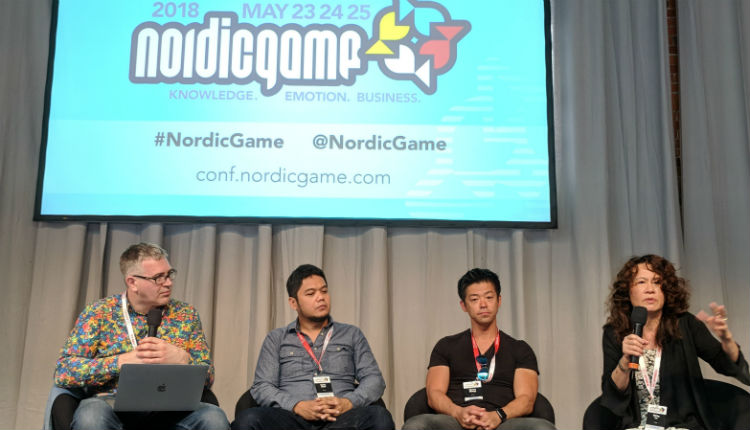 Gumi, Alto and DOGI execs shoot the breeze in Malmo
There wasn't a lot of talk about blockchain games at Nordic Game 2018, but what was there was of the highest quality.
And this was  demonstrated in a panel talk about the sector.
CryptoKitties is the Angry Birds of blockchain gaming
Moderated by Chris James, the MD of BlockchainGamer.biz's publishing company Steel Media, the other participants were:
Shirely Lin, investor and co-founder of DOGI
Gabby Dizon, CEO of blockchain games and tools outfit Alto.io, and
Masaru Ohnogi, head of global business development at Japanese developer Gumi
Dizon was keen to stress the inter-operability of blockchain items, talking about gamers moving from game to game bringing their blockchainized items with them. Of course, the interesting aspect of this is each game will integrate the tokens in different ways.
In this way, he suggested the blockchain game sector will develop in an "item-first" manner.
Lin was very bullish about the entire space saying that because of the acceptance of in-game currencies, the gaming space was ripe to be disrupted by blockchain.
Disrupting the status quo
Masaru Ohnogi spoke about how Gumi had been early to VR games, setting up a development investment fund to promote activity. It will be doing something similar with blockchain games too.
However, he warned that as with mobile games, the traditional game companies won't 'get' the sector. Its success will rely on startups.
Of course, CryptoKitties came up in the discussion, notably there was some debate about whether it was a 'game' or not.
However, Dizon pointed to its success in terms of making digital assets fun.
Similarly, the panel expected farming games and user-generated content to be big when it comes to the future development of blockchain games.
But, for the present, CryptoKitties remains the blockchain game with the momentum.
"It's the Angry Birds of blockchain games," Dizon commented, in terms of its impact on the sector.
You can also check out some videos of the panel here.
Don't forget to follow BlockchainGamer.biz on Twitter and Facebook.