Magic Eden's Chris Akhavan on how blockchain gaming is "growing up"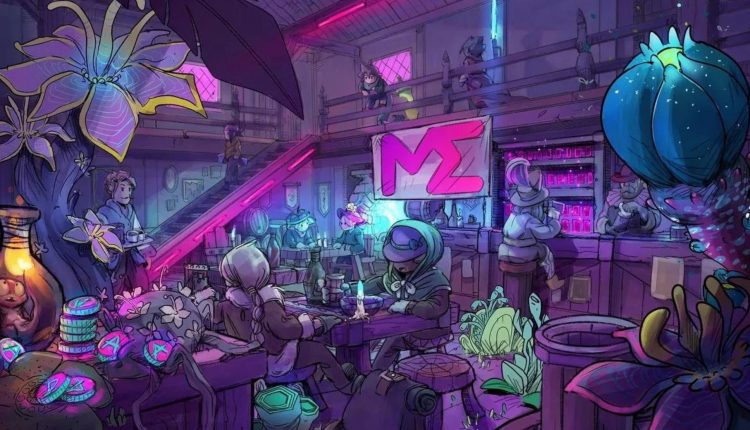 It's safe to say that blockchain has been through the ringer over the past 12 months. Cryptocurrency has always been an unstable market, but the sector has seen numerous rugpulls and crashes.
Web3 technology has faced criticism in the games industry too. The most notable are that it's a money grab and that many companies are run by founders and executives with no previous experience in the space.
Meanwhile, NFTs have become a dirty word in the industry, outside of the blockchain echo chamber.
Facing the fire
Chris Akhavan, chief gaming officer at NFT and games marketplace Magic Eden, has plenty of experience in the games sector, having worked as VP at EA Mobile, chief revenue officer at Glu Mobile and SVP of global partnerships at Tapjoy. But when joining in November 2022, he'd find that Magic Eden would be acutely impacted by web3's woes. Notably, Magic Eden was built on the Solana blockchain, the value of which nosedived as FTX went bankrupt.
"Solana had a tough year last year for sure," admits Akhavan. "You know, Magic Eden built its whole business on Solana, and we're huge fans and believers in Solana. I think they just had some unfair blowback from FTX, given everyone associated FTX being an investor in Solana.
"But actually, we've seen that Solana has been really stable. The token itself has recovered nicely from that low point it hit post-FTX, and the most optimistic part about Solana for me is that they retain the vast majority of their developer community."
While Solana has recovered somewhat from its post-FTX lows, Magic Eden has taken no chances and now supports Ethereum and Polygon, as well as 20-plus wallets. The platform provides a marketplace for games and NFT minting and collections, with the ultimate aim of creating a "home for web3 gaming".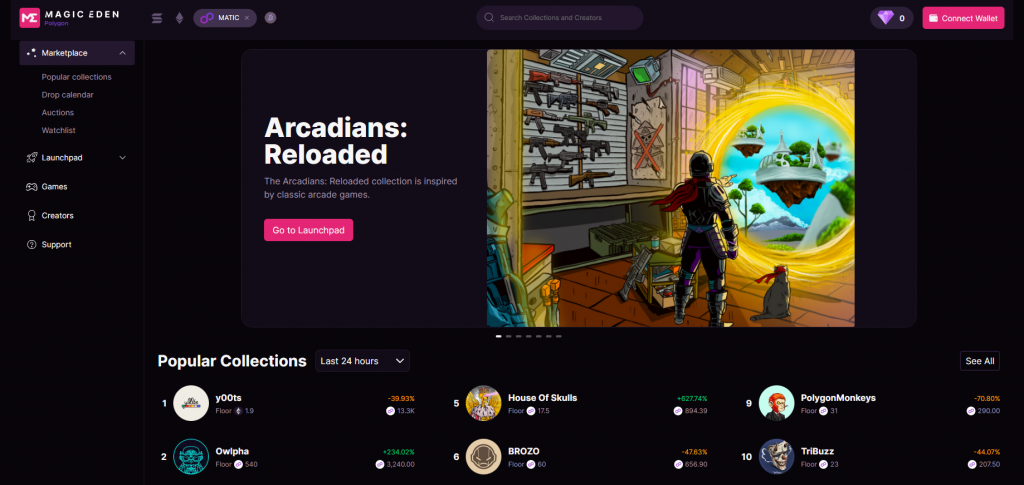 One of the most prominent challenges it faces is, after recovering from the Solana shock, is winning over sceptics. Convincing blockchain enthusiasts is one thing, but with $170 million raised from investment to date, long-term it needs to attract a mass market audience.
Back at GDC 2022, blockchain was the big trend of the show (like virtual reality, cloud streaming and numerous others had been years prior). But Akhavan says its presence was largely "surface-level" and not particularly meaningful. This year, however, he believes that while web3 was no longer the buzz of the conference, there was a lot more substance behind it.
He notes in particular the big announcements such as the partnershiping between web3 games platform Immutable and Ethereum scaling solutions outfit Polygon Labs, CCP's $40 million investment raise to make a blockchain game, and Nexon's decision to bring NFTs to its Maplestory Universe virtual world ecosystem as key examples of exciting investments in web3. The sector is growing up, with the survivors of last year's big crashes showing potential to be the real deal.
"Last year we had a lot of bad actors in the space," explains Akhavan. "Whether that's projects that were just rugpulling people and pre-selling NFTs for a game that didn't exist or were outright scams, or just all the things like FTX and Luna and all those collapses that kind of needed to get weeded out. I feel like we've now gotten to a very healthy point where it was very painful last year, but things right now feel very stable.
"Obviously in web3 you can never assume they're going to stay stable, because I'm sure there's going to be some other crazy stuff. But it feels like, in general, we've gone through a lot of maturing as an ecosystem and I think that'll create a healthier landscape to build in."
Home for web3 games
As for Magic Eden itself, and its aims of becoming a home for web3 gaming, the company hopes to provide a one-stop shop for consumers to play web3 games, as well as learn about new launches, updates and watch trailers. It also wants to provide a space that doesn't come with restrictions for how these titles operate, an issue with existing major platforms such as Apple's App Store and Google Play.
Akhavan states that while the company doesn't plan to restrict any new games from being listed on its platform, Magic Eden still wants to maintain a "high-quality bar" and provide a variety of experiences to appeal to wider audiences.
"We're not going to just list any random, you know, crappy off-the-shelf," he says, adding: "If we can bring web3 gaming to the three billion-plus people that play video games out there, there's more than enough audience for every game to succeed."
But how does web3 gaming get to those billions of players? Akhavan believes a lot of work needs to be done on the simple matter of trust when it comes to web3. He notes that many mainstream consumers will have seen the bad headlines, such as the FTX fiasco, and there is a "long road" ahead to building that trust.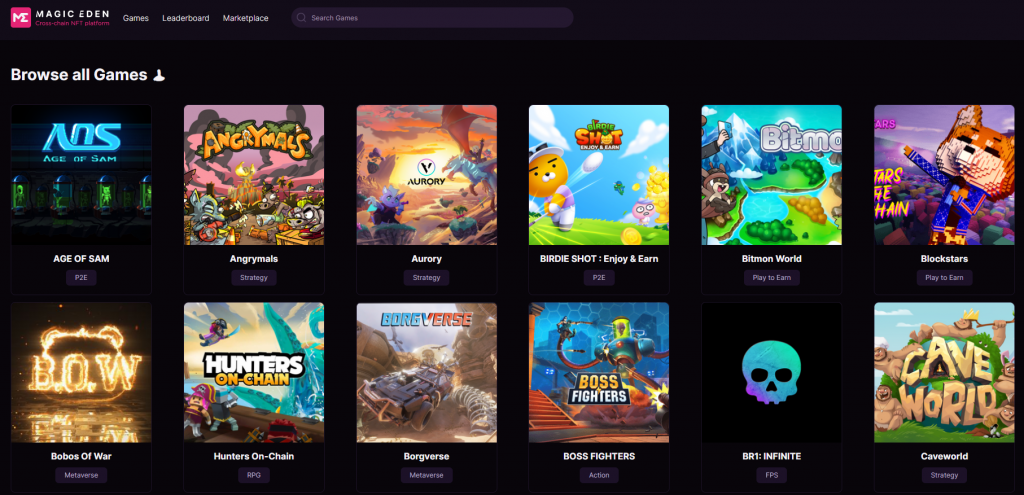 But of course, perhaps the most crucial element needs to be put front and centre of the web3 gaming experience: the fun. Akhavan advises developers to focus on making a great game first, rather than putting a greater emphasis on how the economy or tokens will operate.
"What I'm seeing is this shift towards the studios working on web3 games are talking a lot more about their actual game," he says. "Whereas last year, in the peak bull market, you would have these meetings where a lot of it was just talking about tokenomics and how they're going to launch a token or do things that have nothing to do with actually having a great game."
It's certainly been a tough year for web3 gaming and blockchain, and Magic Eden has been right on the frontlines. But with growing maturity in the sector, and a greater emphasis on simply making great games, the sector could bounce back in 2023.
Check out what's happening at Magic Eden here.
And don't miss out on any news from the blockchain games space: follow us on Twitter and connect with us on Linkedin.