KamaGames' audacious blockchain-based $25 million UA experiment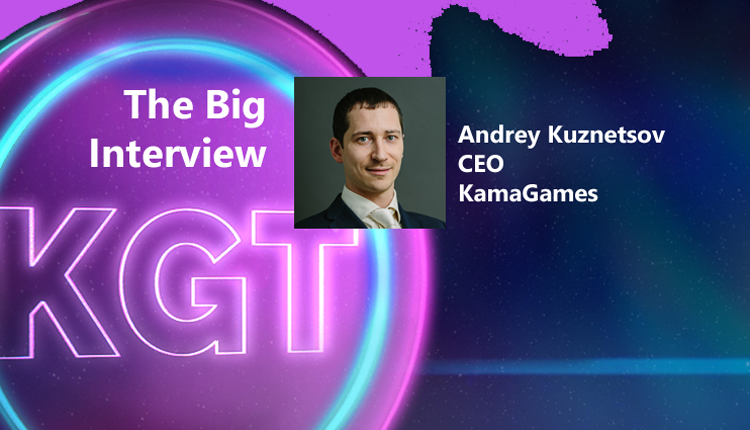 CEO Andrey Kuznetsov on playing for high stakes
In the cryptocurrency world, it's not unusual to be offered 100% success and wealth unlimited if you invest in this "one-time-only investment opportunity".
And as such patter goes, it would be hard to beat the claim of a guaranteed 11-fold increase in your tokens over the coming 36 months.
But Andrey Kuznetsov ain't no snake oil salesman. The CEO of KamaGames is deadly serious.
We're a proper, growing, profitable company. We are not interested in creating a speculative instrument.
"We're a proper, growing, profitable company," he explains of the Dublin-headquartered mobile social casino developer which saw 2017's revenues rise 63% to $58 million.
"And we are not interested in creating a speculative instrument."
Using blockchain to solve big problems
Best known for its Pokerist game, which was launched in 2010, the company has since added many other type of casino games such as craps, roulette, blackjack and slots into its portfolio, and is aggressively growing its business.
Which brings us to the decision to launch its Ethereum-based KamaGames Token (KGT). It will be made available in a tiered sales program starting in a mid-August closed presale and ending mid-November in an open sale, with all unsold tokens burnt.
But, as Kuznetsov is keen to point out, the reasoning behind KGT isn't about raising money, although it has the potential to raise $25 million, with another $6.25 million of tokens reserved for bonuses and airdrops etc.
Instead, KamaGames' strategy is to deal with the biggest issue facing mobile game companies – scaling their marketing in a cost effective way.
"We started looking into blockchain in late 2017 to see how we could benefit but we quickly understood it was still a young industry with some risk associated," Kuznetsov states.
Significantly he argues these risks – operational and reputational – would be fine for a startup but were uncomfortable for the management of an established company such as KamaGames, which ensures it follows all the gambling laws in the countries in which it operates.
In this context, the focus of KamaGames' blockchain research became realigned with its core business needs – How can we get a lot of new players?
Kuznetsov says KamaGames' attitude to marketing and user acquisition is fairly conservative. For example, it assumes the players it attracts through marketing will pay back that investment within 12 months. This is shorter time period than some competitors in the mobile social casino sector; hence it pays a lower per user amount.
Further complicating this situation, Kuznetsov says he didn't want to introduce blockchain-based incentives for new players that alienated existing players.
And that's how the audacious equation underpinning KamaGames Token's use came about.
HODL for 3 years
Simply put, each KGT = priced at $1 – will convert to 7 million in-game chips that players can then spend in any of KamaGames' social casino games.
But in order to moderate the flow of KGT into its ecosystem, KamaGames has structured a neat token retention system. Hence, once you've connected the blockchain wallet in which you're holding your KGT with your KamaGames' account, you'll earn an addition 25% conversation rate for each month you don't convert.
As with all interest rate calculations, the rewards quickly multiple, which is why KamaGames is limiting the program to 36 months. By that stage, each KGT will convert into 77 billion in-game chips: an eleven-fold multiplier.
What's important to note at this juncture is none of KamaGames' titles enable you to cash out your in-game chips for real money as that would be real-money gambling which, for obvious reasons, is regulated much more strictly than social casino, which is just about accumulating in-game (or soft) currency.
We're sure we won't get uncontrolled inflation and we'll be able to keep our economy stable.
Of course, as a decentralized blockchain token, people will certainly trade KGT on decentralized exchanges, but while KamaGames can't stop this, it certainly won't encourage it.
Similarly it won't facilitate the gifting for KGTs within its games, as from a legal standpoint, this would see its games moving from social casino to actual gambling.
Managing risk
Perhaps more significant, however in terms of risk, is what will happen following the KamaGames Token sale when 175 million in-game chips potentially flood into the company's mobile games.
"We have done extensive modelling of token cash-in," Kuznetsov reveals, explaining in part that the generous holding multiples have been designed to limit the number of chips cashed in on day 1.
"We're sure we won't get uncontrolled inflation and we'll be able to keep our economy stable."
One reason for this confidence is the number of game types, notably slots, KamaGames now operates that will take chips out of circulation. In contrast, PVP games such as poker merely redistribute chips between players.
Yet, as with all such projects, KamaGames' decision to enter the world of blockchain isn't without its risks. And that is what makes it such a fascinating example of colliding an existing business with a new technology with its own mix of great opportunities and challenges.
Kuznetsov is confident, however.
"This is the first token sale of its kind," he ends.
"We're looking to utillize some of benefits from blockchain. We're learning by practise. Maybe we'll do something even bigger in 2019."
For more information of the KamaGames Token and the token sale visit www.kamagames.io
Continue the discussion in our Telegram group and don't forget to follow BlockchainGamer.biz on Twitter, Facebook and YouTube.