Why IOST CEO Jimmy Zhong is looking for quality dapps not quantity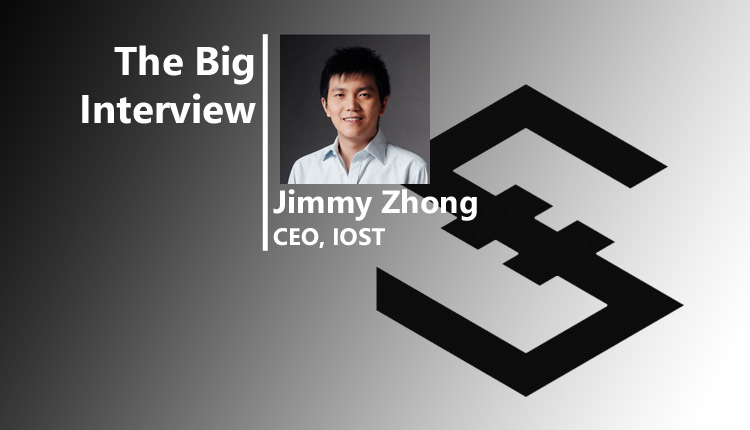 How to compete with EOS and TRON
Does the world need another blockchain?
Jimmy Zhong certainly thinks so, but then again, he is the CEO of IOST, the Singapore-based blockchain which launched its mainnet on 25 February and is about to complete its native token swap.
"We're six months ahead of schedule and our first dapps are now launching," he says, keen to position IOST as the fourth viable smart contract ecosystem behind Ethereum, EOS and TRON.
Real games will come to the blockchain, but we know using a blockchain won't make a boring game interesting.
It's a statement that highlights both the strengths and weaknesses of IOST's position.
Coming late to market means it can build on the experiences of others. Equally, in the battle for the hearts and minds of developers, Ethereum still maintains its #1 position, while EOS and TRON offer their high throughput and ability to fund developers thanks to their deep pockets.
Zhong is a firm believer IOST has the opportunity to carve out more than just its niche, however.
Partly this hope is built on IOST's technical design, which uses Proof of Believability consensus in which 17 validators nodes are ranked and selected every 10 minutes on the basis of their stake to create blocks and generate the rewards. This process also sees the validators burning a set number of tokens, hence strongly reducing the chances they're selected as the next set of validators.
In this way, IOST hopes to offer more decentralization than the delegated proof of stake consensus used by EOS and TRON, while matching their low latency, high throughput performance.
The opportunity remains
More generally, though, Zhong reckons IOST has an opportunity because he doesn't feel either Ethereum or EOS or TRON have fulfilled the enormous potential of the dapp ecosystem.
"If you look at the numbers, there are about 6,000 actual users. On EOS and TRON, we see lots of dice and gambling dapps, which attract a lot of bots. These games aren't fun. They aren't the future," he says.
This situation, he says, this is due to high barriers of entry for both developers and users, which impacts the supply of and the demand for blockchain games.
Of course, IOST will be attempting to address both elements. It has a $50 million developer fund and is especially making it easier to onboard users. Indeed, its ambitious goal is to have more than 20 million users by the end of 2019, which compares to around 1 million each currently for EOS and TRON.
IOST is working closely with crypto exchanges to use exchange APIs or do deeper integrations to help onboarding.
Zhong has various strategies to ensure users can easily onboard with IOST, ranging from existing solutions such as browser extensions and mobile wallets to working more closely with crypto exchanges whether using exchange APIs or deeper integrations.
But fundamentally he thinks supply will be key to driving demand.
The push for quality
"Real games will come to the blockchain, but we know using a blockchain won't make a boring game interesting," he warns.
"Tokenized items aren't interesting on their own."
That's why IOST is looking to work with a small number of experienced game developers, rather than funding a lot of inexperienced teams to boost its dapp count.
"The number of dapps running on IOST doesn't bother me at all," he says.
"100, 300, 500? I'd prefer to have 15-20 of high quality."
You can find out about about IOST via its website. 
And continue the discussion in our Telegram group and don't forget to follow BlockchainGamer.biz on Twitter, Facebook and YouTube.