Umbria Partners with head5 to Make deadmau5 x Smearballs NFT Series Available to a Wider Audience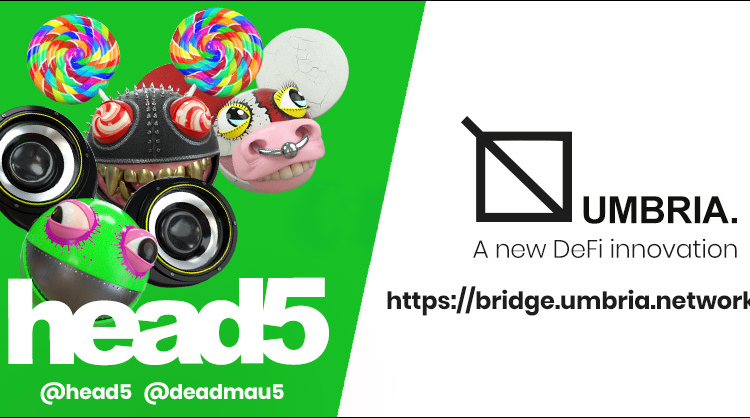 Deadmau5 has announced that his new NFT series is coming to the Polygon blockchain. Known as the Head5 collection, it's a 'multiverse-ready' avatar series between Deadmau5 and the visual artist – Smearballs (or Nick denBoer) – and the cornerstone NFT series of the future 'mau5verse'.
Spannning a broader library of music, games, literature, and NFTs, the Mau5verse aims to bring the existing community of fans and content closer together.
"NFTs in the Head5 collection have utility far beyond PFP, integrating different genres and opening up the metaverse to deadmau5's legions of fans," accodingn to Umbria Network Co-Foundner – Barney Chambers – "By electing to deploy their NFTs on the Polygon network, Head5 is alleviating high gas fees and speeding up transactions without sacrificing security; Umbria provides the last piece of the puzzle. The Narni bridge increases access from the Ethereum network, onboarding users more cheaply, quickly and with greater technical support."
To make this a reality, the project has teamed up with Umbria in order to provide a highly user-friendly experience. Leveraging Umbria's Narni bridge, Head5 holders would be able to access the metaverse through a fast and cost-effective bridge solution.
"We want to make things as easy as possible for friends and collectors to get involved with what we are doing in the mau5verse. Umbria Network is a prime option for access to the head5 NFT collection," said deadmau5.
Owners of NFTs in the head5 collection will get special access to a range of exclusive perks, including:
Guestlist to deadmau5 shows
Early and exclusive access to VIP experiences and live show tickets
Early access to deadmau5 music
Community votes on future mau5verse roadmap
NFT airdrops
Companion drops
Whitelisting for future NFT projects
Figurines, vinyl and plush toys
Prints and comics
Merchandise
NFT project collaboration perks
Find out how to buy one of these exclusive NFTs by visiting the blog post here. alternatively, if you already know how, you can dive right into the sale here.
And you can continue the discussion in our Telegram group, and don't forget to follow BlockchainGamer.biz on Twitter and YouTube.