Polygon And EPIC LEAGUE Reaffirm Their Strong Partnership with the launch of Dark Throne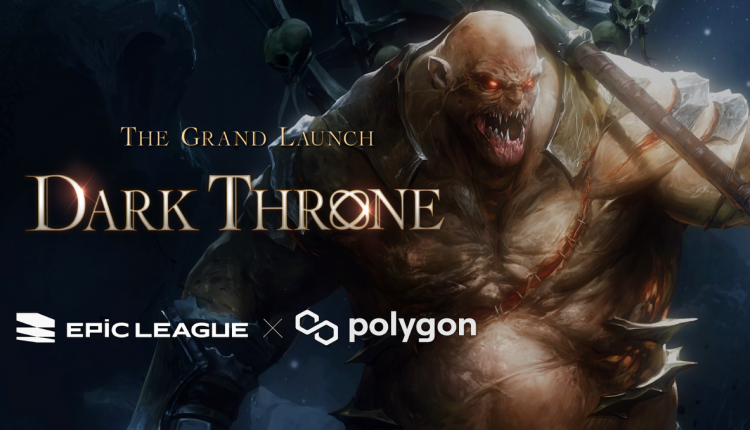 Polygon and the web3 games developer EPIC LEAGUE, have officially launched the latter's first game series – Dark Throne.
This partnership combines EPIC LEAGUE's industry-leading blockchain game development services with Polygon's layer-2 blockchain solution. Combining their expertise, they successfully shared the launch of Dark Throne during Web3 Connect – a side event of Token 2049.
Additionally, the launch served as a joint promotional following their strategic partnership announcement last month.
DARK THRONE launched on 28th September, completed a successful beta test in June 2022, demonstrating a notable 67.8% retention rate among its players on the seventh day of the beta test.
Urvit Goel, VP of Global Games Business Development at Polygon, said: "Epic League has the potential to bring new users to Web3 through its gaming ecosystem. The team's prior experience working with major gaming and entertainment firms bodes well for its future. We're delighted to bring Epic League into the Polygon ecosystem, and are excited for our customers to be able to play Dark Thrones and future Epic League titles."
Alongside the strategic partnership, Polygon Ventures also announced its strategic investment in EPIC LEAGUE, allowing the latter to secure its strategic & private round of $60m and $100m, with Polygon Ventures as one of its prominent investors, which includes Griffin Gaming Partners, Netmarble Company, Neowiz, WEMADE, YGG SEA, GBIC, and others.
The first game to be launched on Polygon is the AAA action role-playing game DARK THRONE, a hack-and-slash action RPG that allows players to explore dungeons and battle a variety of monsters. DARK THRONE boasts the striking and dramatic visuals of Art Director Jeehyung Lee (ArtStation-Jeehyung Lee), a cover artist for both Marvel and DC Comics.