The Sandbox opens new virtual neighbourhoods with 14 major brand partners with three LAND sales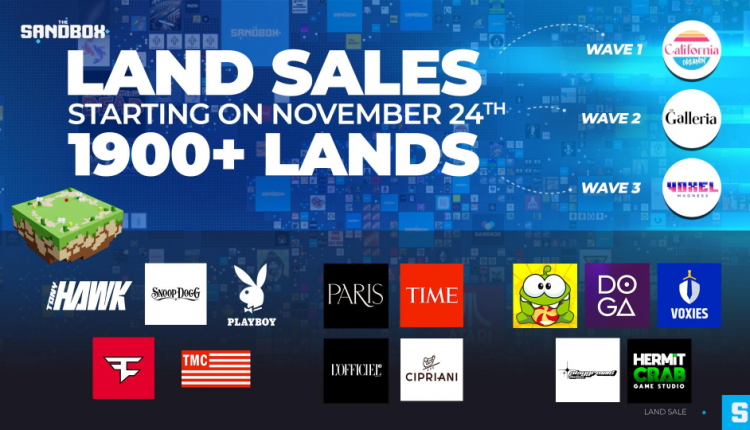 The digital, decentralised metaverse, The Sandbox has announced the sale of 1,900 LAND parcels in tandem with 14 major brands. Starting on November 24th, the sale will continue from November until early 2023.
The LAND sales will begin on 24 November 2022 for California Dreamin', with the second wave following on 1 December, and the third wave in early 2023. For more information, visit the website here.
Among the brands working with The Sandbox include Tony Hawk, FaZe Clan, Playboy, The Marathon, Cipriani, TIME, Paris Hilton, L'Officiel, Cut the Rope, Voxies, Dogami, Playground Studio, and Hermit Crab.
These sales will occur in waves including standard and premium edition LAND plots, with larger estates placed on OpenSea. Among those estates being put up for auction includes a plot next to Snoop Dogg's LAND – giving users a rare chance of being neighbours to the SnoopVerse.
Premium LANDs located in the neighbourhoods of major brands are particularly scarce and come with exclusive premium digital collectables for fans of those brands. Premium LANDs also increase staking rewards and allow owners to use their collectables in Game Maker to create unique experiences.
According to the company, to ensure a fair purchasing process, opportunities to be part of both its standard and premium sales, access will be grated through:
A raffle system, which will ensure fairness of access to LAND
A KYC process will validate that all entrants are individuals with sufficient SAND (at least 1,011 SAND) on the Polygon network to purchase a LAND in their account.
All raffles will be run similarly for each wave, where an individual can register for either the standard or Premium one or both.
"Our new themed neighborhoods allow brands, creators, and fans to live side by side in The Sandbox with shared passions and interests, forming a strong online community," said Sebastien Borget, COO and Co-Founder of The Sandbox. "By further democratizing the purchase process, we are giving our community full access to the best and most popular LANDs."
LAND owners in any one of these neighbourhoods will have the power to create new gaming experiences centred around three new themes:
California Dreamin' – Launching on November 24th at 1pm (UTC): This California-themed creative neighbourhood will host LANDs from brands with a sunny west coast feel to offer LAND owners a beachfront vibe in the metaverse.
Gamers can build next door (virtually) to FaZe World, while skateboarders can get close to skating legend Tony Hawk. California Dreamin' will also be home to Playboy and The Marathon City.
Galleria – Launching on 1 December at 1 pm (UTC): The Galleria is a neighbourhood built around fashion, media, and hospitality brands, with an upscale style for discerning LAND owners. LAND owners can become virtual real estate developers on TIME Square or be neighbours with Paris Hilton. The Galleria neighbourhood will also be home to Cipriani and L'Officiel.
Voxel Madness – Launching early 2023: This gaming-themed neighbourhood will be the home of game creators and studios, serving as the virtual local arcade for gaming fans worldwide. This is the opportunity for fans of Cut the Rope, Voxies, Dogami, Playground Studio, and Hermit Crab to create and host their games alongside their favourite gaming universes.