Animoca Brands and TinyTap aim to disrupt education with second Publisher NFT auction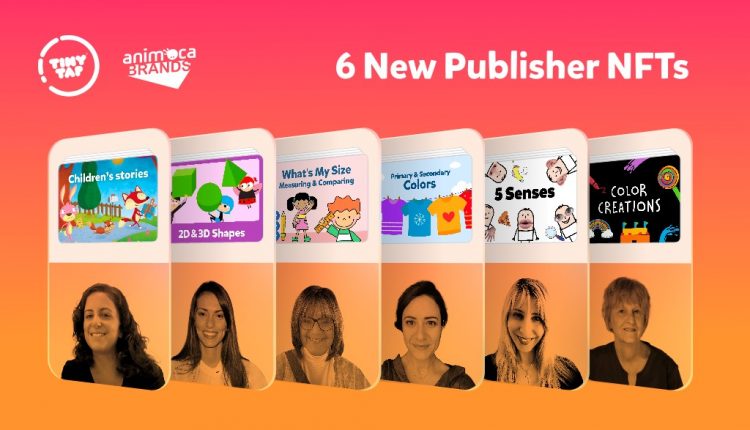 Animoca Brands has expanded its blockchain portfolio with a new auction with its educational gaming subsidiary – TinyTap. The two brands have announced that it will be hosting its second auction of teacher-authored Publisher NFTs – which will go live on OpenSea from 19:00 (EST) on December 15th.
TinyTap provides a code-free platform that empowers educators to create and share interactive educational content and to receive a revenue share when learners use that content.
In addition to this auction, TinyTap recently introduced Publisher NFTs that leverage Web3 technologies and community to improve further the opportunities for educators to bring in further revenue, while empowering its community through supporting learning growth.
A Publisher NFT grants co-publishing rights to a TinyTap Course, which is a curated bundle of educational games made on the TinyTap platform by one educator ("teacher")  in a specific subject. Buyers of these NFTs become co-publishers alongside TinyTap and the teacher who created the Course. In return for promoting and marketing the associated Courses, NFT buyers share the benefits of co-publishing efforts.  
Contrary to NFTs, TinyTap is a reliable source of income for teachers through a web2 framework. Instead, web3 publisher NFTs allow for more avenues of generating revenue.
Participating teachers receive 50% of the net proceeds from the auction of the Publisher NFTs linked to their Courses and a 10% ongoing share of any revenue generated by such Courses. Buyers of Publisher NFTs are entitled to receive up to 80% of any revenue from their NFTs' Courses due to their promotional efforts.
Already, TinyTap's publisher NFT auctions have a lot of viability behind them following a highly successful first auction back in November 2022. During this auction, the company generated 138.926 ETH or $228,000. Of that, 67.7 ETH (approximately US$111,000 at the time of sale) went to the teachers who authored the content linked to the NFTs.