Take your business to the next level in 2023 with Steel Media!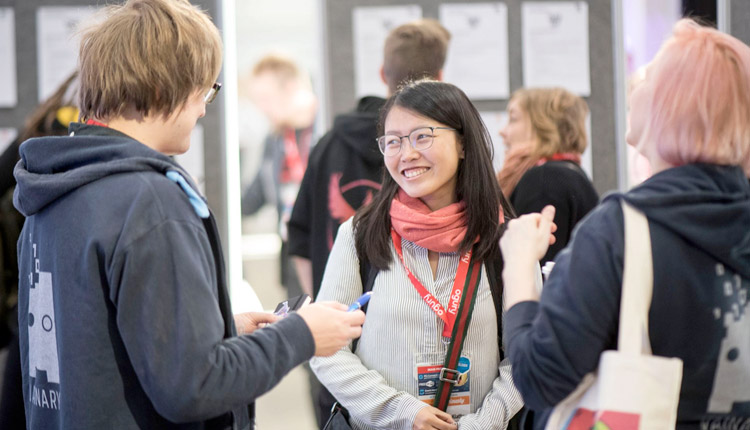 Ready to propel your business to the next level? See how working with Steel Media can help you achieve your goals this year!
New year, more new incredible opportunities for you to expand your business and achieve your business dreams!
In 2022, we got to help thousands of games industry businesses skyrocket their growth through our events and media. 2023 is looking like our biggest year yet, and we're committed to helping grow more businesses this year than ever before. Let us help your company become one of the success stories of 2023!
Ready to propel your business to the next level this year? Read on below for the abundance of opportunities there are to get involved with Steel Media, and why working with us will be the best investment you can make in your business in 2023…
Be among the best at our industry-leading games industry conferences

Pocket Gamer Connects events connect you with the best of the best in the industry. As Europe's leading b2b mobile games industry events, your best bet when it comes to skyrocketing your business is to be in the same room as the most exciting game makers, developers publishers alike, as well as some of the world's top investors, tools providers, platformers and more. In almost ten years of this conference series, we have welcomed well over 33,000 industry professionals from all around the globe, and we're incredibly proud of just how global and representative of the games industry ecosystem our audiences are.
Your next opportunity to see what the fuss is all about is to join us at our next conference, Pocket Gamer Connects London, this event is taking place this January 23rd to 24th. We are welcoming over 2,000 games industry professionals to The Brewery in the heart of London to network, discover, pitch and learn from over 200 of the industry's top thought leaders. This is a must-attend for anyone looking to take their business to the next level, as it's our biggest conference yet by all metrics! Head over to our website today to secure your seat at our show, you can currently save up £200 on your ticket with our Mid-Term offer! It's only available for a highly limited time.
For sponsorship opportunities please contact [email protected] by Friday, January 6th – we have very limited availability so don't miss out!
Our continued commitment to exploring emerging technologies
Our events are as forward-gazing as you can get, and we're committed to exploring the new frontiers and future of the games industry as new opportunities arise with emerging technologies. In 2021, we launched our BeyondGames.biz site, which is dedicated to the intersection of innovative technology and creative media and expanded our efforts on BlockchainGamer.biz, as well as increasing the presence of topics related to all things blockchain, the metaverse and web3 across all our events over the past year.
Looking to learn more about these cutting edge technologies? There's no better place than our upcoming show in London this January 23rd to 24th – Pocket Gamer Connects London 2023 is covering everything related to Web3 and the Metaverse across dozens of unmissable tracks, and one of the content themes for this year is Beyond Games. Explore emerging technologies and trends across a number of our dedicated content tracks tackling everything from blockchain to the metaverse to NFTs to esports and much more! You can learn more about our content themes and book your ticket over at our official conference site.
Promote your business to over 175,000 unique monthly users

Our flagship b2b media site PocketGamer.biz continues to thrive, remaining the very best for mobile games, and we have no plans to slow down anytime soon! In 2022 we published more than 2,500 breaking stories stories and opinions from the heart of the industry with an average of 175,000 unique users per month.
Joining the fray, we continued our commitment in 2022 to future technologies with BlockchainGamer.biz and BeyondGames.biz! These ventures will underpin, and be a central component in, our plans for 2023 – watch this space!
For more information on our b2b media sponsorship packages please get in touch with [email protected] today.
Get your project in front of consumers

In 2022 PocketGamer.com and our extended b2c portfolio continued to solidify it's position as the leading voice in mobile gaming with more than 100 million views from countries spanning the entire globe. The Philippines, India, Indonesia, Brazil, Thailand and Vietnam are all among our top 10 country readerships, our coverage and reach is at the heart of these populous, emerging markets. Pocket Gamer achieved global coverage with employees covering every timezone; the sun never sets on Pocketgamer.com.
There really is no better place than PocketGamer.com to promote your game to a huge consumer audience in 2023. Contact [email protected] today to find out how your business can take advantage.