Experience the cutting edge content on offer at PG Connects London 2024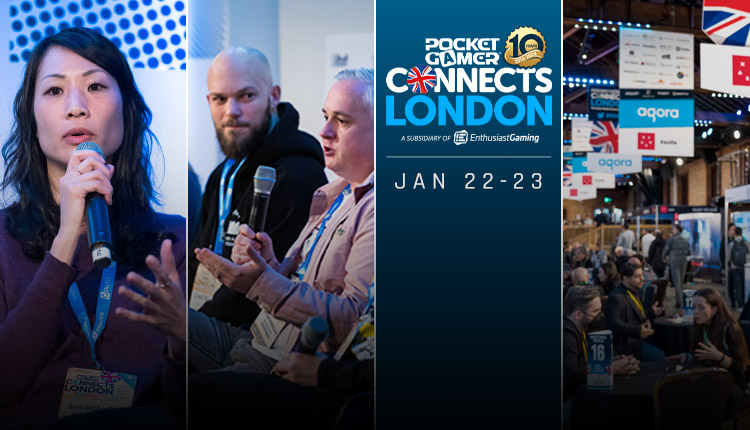 Insightful talks, the best kept industry secrets and much more revealed at this January's PG Connects conference in London.
Unmissable tracks
We're kicking off 2024 on a strong note with our flagship London event, and we're thrilled to mark the 10th anniversary of PG Connects, making this occasion truly exceptional. January is just around the corner, and many game industry professionals from around the world have already secured their spots for our London conference.
Pocket Gamer Connects is making its return to London on January 22nd and 23rd, welcoming more than 2,000 attendees from across the globe for two days dedicated to networking, exploration, pitching, and learning from over 200 of the gaming industry's foremost experts. Our London conference is our most popular and highly anticipated event, so you won't want to miss this opportunity.
Not only will we be celebrating all things PG Connects from the last 10 years, we also have all the forward thinking insightful content we've been famous for. Learn everything from setting up a studio to sourcing investment, discover the latest disruptive technologies, master user acquisition and more. And of course, it's the number one place to talk web3, blockchain, artificial intelligence and all the latest emerging tech that you'll need to stay ahead of the competition and thrive in new and emerging markets.
Cutting edge content across 28 themed tracks
In-game ads remain central to many studios' monetisation strategy – join us to discover the latest trends and advice
From art to scriptwriting and programming: machine learning and artificial intelligence will change the way we create and communicate
Alternative Revenue Models
Delve into alternative approaches aimed at enhancing your revenue generation capabilities.
Tips and guides for growing your game using the best UA and marketing techniques4
Where the cutting edge of games intersects with film, TV, comics, music, pop culture and more…
Beyond mobile: developing and publishing for PC, console, XR, cloud gaming and more.
An introduction to what blockchain means for any developer – with insights into the technology and how crypto works with games.
Creative insight into the latest & hottest industry trends from top British games companies.
Hear from games developers and find out what they are working on, how they have innovated and what lessons they have learned along the way.
Case studies from the front line, covering the likes of game design, audio, character design, UX, and narrative.
From East to West: facts, figures and insight into the latest industry trends from all over the globe.
Explore the unique features of hybrid casual games; simplicity, depth, easy access, user retention through monetization and the future potential.
How to survive and thrive as a smaller studio in today's competitive games development landscape.
Industry Visions & Values
How to build a better games industry and aspire to a more a more positive future for everyone
A track dedicated to explaining and improving your approach to live ops, the core of the modern games world.
Discover the latest tips and techniques from the personalities and agencies that are changing the media world.
Multiplayer games dominate the charts – but what tips, technology and secret sauce can help you compete!
Get the most out of the modern metaverse! Discover the cutting edge of communication and entertainment
Make the most of new advertising formats, IAPs and other monetisation developments in this focused track.
Get the most out of your publishing deal and take your game's launch to the next level
Industry experts share strategies for talent acquisition, diversity, resilience, and navigating setbacks
Get practical insight on securing the funding that will make a difference.
Everything a growing developer needs: essential, practical advice about all aspects of making games.
Essential insight into user acquisition, retention techniques, and how to grow your game.
Explore user-generated content, and discover strategies and inspiration to stay at the forefront of UGC trends
Enter the exciting world of virtual reality and augmented reality, featuring cutting-edge insights that redefine the possibilities of this rapidly evolving VR/AR/XR scene.
What's next for the blockchain gaming scene? Dive deeper into the techniques and strategies that are shaping this growing market
Discover the significance of webstores and how to use them in the monetisation of your games.
Book your ticket today
Our super early bird pricing offer for this unmissable event is available now – but not for long. Secure your ticket to our biggest show yet at the best possible price and save up to a whopping £470. Prices are rising soon, so don't miss out!