Alto.io on building the blockchain game ecosystem with its Cryptogame Challenge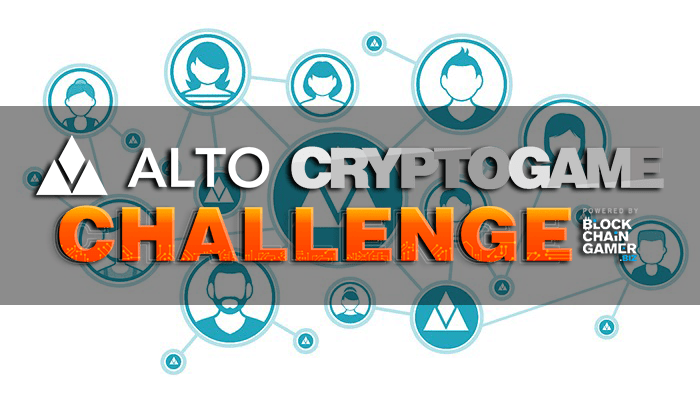 Using a competition to help create an industry
In March 2018, Altitude Games announced it would introduce a new company to help developers to build items and games in the realm of blockchain.
Since it was established, the Singapore-based Alto.io has worked to provide this support, while creating a platform aimed at equalising what it sees as an uneven industry for game development.
Speaking to both Chase Freo and Patrick Kreuch, Alto's CEO and marketing director respectively, we found out more about what they aim to achieve, while also showcasing their Cryptogame Challenge.
Game development is imbalanced
According to Chase Freo, Alto provides users with access to a decentralised marketplace for items which are completely interoperable with any other compatible game.
"Alto as a platform is a suite of tools which enable game developers, content creators or pretty much any blockchain enthusiast to connect their game items on the blockchain… we're making it simple for developers to enter the blockchain space."
Using tools like item and store builders, users can set themselves up as a marketplace for items which can be used across multiple games on Alto's platform.
The big idea is to create a standard where game items live outside of games to be interoperable across many different games and platforms.
One of the biggest obstacles that users and developers face in Freo's mind is the large volume of prior knowledge required to build and launch an effective dApp.
With Alto aiming at 'Lowering the barrier-to-entry, allowing these things to become easier to grasp' for those otherwise unfamiliar with things like solidity within blockchain development.
Alto's Cryptogame Challenge
One of the ways that Alto plans to lower this bar of entry for developers seeking to get involved with blockchain is its Cryptogame Challenge.
Kreuch was more than happy to provide details on how the contest will work:
"The crypto game contest is for developers to build the best game on the blockchain that utilizes a set of random items that we provide them to showcase this interoperability," he said.
Anyone interested in participating in the contest must submit an initial pitch for their game. If successful, they will move onto the next round as one of the five successful pitches chosen.
To develop the items from their pitches, developers will have access to a bespoke marketplace which Alto has recently gone live. Freo mentions current users of the platform will also have access to this marketplace as a means of supporting the successful designers.
"We'll be opening this marketplace where the separate 49 items will be available for purchase using Ethereum," he says.
"These will be open to everybody, not just those taking part in the competition, including those that want to support the contest and not just those participating."
The prize and competition details
Those that go on to win the contest will get a cash prize of $150,000 including access to business, development and advertising support from the Alto platform. This will allow them to create their minimum viable product and even launch, as Freo puts it, 'their own Initial Item Offering for their game.'
Entrants have until the 4th of July to submit their pitches for consideration. Though with the recent release of Alto's marketplace, they may consider pushing back the deadline to give competitors a fair chance.
"We currently have 30 developers already signed up for the competitions, but registration is still open for those interested. But we're thinking of extending the registration period to synchronise it with the opening of our platform's marketplace."
It's a really good learning experience. Not just for the developers but also for us, the entire ecosystem, and the blockchain gaming community as a whole.
"We want to give everybody equal opportunity to see the items available so they can put together an effective pitch," Freo explains.
Cloud Alliance partnership
Recently, Alto partnered with the Singapore-based Cloud Alliance to support Alto's user acquisition and secure new revenue streams.
The partnership will serve both companies in their exploration of how to use ERC721 as a non-fungible token.
Alto will also obtain access to Cloud Alliance's existing MOO store, their upcoming in-game item trading platform.
The details remain vague, but as Freo made clear, this is just one of the many announcements that Alto will be bringing forward with further details.
"The partnership we're exploring with them runs deeper than we've announced, It's still really early on to have a detailed list of what we're partnering up on. This is just an early announcement, but in terms of details, we will be announcing a full list in the near future," he says.
"That's just the first of many announcements to come in the near future from us."
And don't forget to follow BlockchainGamer.biz on Twitter, Facebook and YouTube.
You can also check out our Telegram news-only feed.