"Change always finds resistance" – interview with Codeglue's Peter De Jong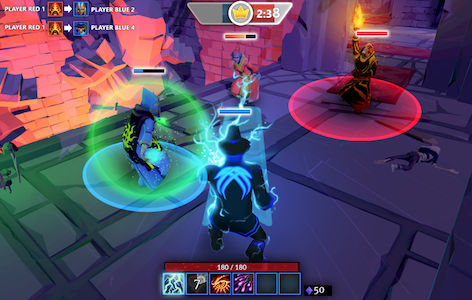 On the final day of Blockchain Gamer Connects Helsinki, the winners of the Alto Cryptogame Challenge were revealed.
The contest was part of an effort to lower the bar of entry for games companies looking to edge their way into the blockchain space. After a call for a string of pitches and various prototypes submitted, the competition fell down to the final five competitors before BGC Helsinki.
The winner was developer Codeglue – known for work in the past on titles such as Rocket Riot and Terraria – for its game Crown of Carnage. The title incorporated blockchain tech for its various cards and items, impressing the judges with its successful implementation.
As a result of its win, the team walked away with $40,000 in cash and Alto coin, as well as $30,000 in marketing support to launch an initial item offering for its game.
We caught up with Codeglue co-founder Peter de Jong to find out more about their winner project and what it is about the blockchain that interests the team.
PocketGamer.biz: Could you tell us a bit about the team at Codeglue and your experience?
Peter de Jong: Codeglue was founded in 2000 by me and my business partner Maurice Sibrandi. We started with the development of games for mobile phones – not smartphones, but the old ones with stamp-sized screens. But after a while we decided to take a gamble and develop a game for the Xbox 360.
That game was Rocket Riot, an arcade shooter set in funny 3D pixel worlds and it landed on Xbox Live Arcade in 2009. Since then we've been co-developing the puzzle platformer ibb & obb with Sparpweed, which will be released on Nintendo Switch soon.
We've also worked with some great publishers developing successful ports, like Terraria for mobile phones. Nowadays we're with 11 people and we have an office in the city centre of the coolest city of the Netherlands, Rotterdam.
What attracted you to making a game that harnesses blockchain technology?
I started reading into blockchain two years ago, after talking to a friend who was starting up a blockchain company. Since then, I am convinced this technology will play an important role in the future as it can be used to solve so many issues.
But I am interested in how it can be used in games of course. The one thing that triggers me most is true ownership of in-game items. We live in a digital world and everybody is under the impression he or she owns their digital files and data. But they're not. Blockchain can change that.
Imagine you played a game for six months and finally earned that special magical sword. If you put that sword on a blockchain, you can trade it with your friends, for example. Players are in control of what they want to do with their digital in-game items.
So when I heard of the Alto Cryptogame Challenge, it was the little push we needed to start implementing blockchain into our games.
Could you tell us about your winning game Crown of Carnage at the Alto Cryptogame Challenge and the inspiration for it?
Three times a year, Codeglue is doing an in-house game jam. Employees pitch their idea to the team and the best ideas get selected. Crown of Carnage was one of these ideas.
In Crown of Carnage players select spell cards for their wizard-y character and then enter an arena and fight with other wizards to gain control over the Crown. It's all about balancing which spell cards you and your teammates use.
A similar game mechanic of combining spells to customise characters can be found in Guild Wars. The game mechanic was much loved by its players but hasn't been used much in later games.
On Reddit people still express themselves how much they miss this kind of game. This is an important reason why we came up with this title during the game jam. And, not unimportant, the spell cards and the character customisation make ideal candidates to be tokenised.
Why did you enter the Alto Cryptogame Challenge in the first place and how has it helped the team?
The first reason was that, as a business, Codeglue wanted to explore blockchain technology and this competition was the perfect opportunity to get some hands-on experience. The second reason was that we had the perfect game idea that fitted the competition.
Participating in the Alto Cryptogame Challenge has given the team the opportunity to explore blockchain technology and get really enthusiastic about it.
Will you be developing Crown of Carnage further to release on the market?
Yes, that's definitely our goal. Part of the prize we won with the competition is an initial item offering for the game. As soon as we have a more polished version of the prototype we will start planning this initial item offering together with Alto. So more on that soon.
Right now blockchain seems to be in a similar place to the early days of mobile gaming – with strong feelings from those who love it and hate it. Do you think there's a real future in blockchain gaming over the next few years?
I think in general blockchain will play an important role in the near future, so it will also find its way into gaming.
Change always finds resistance, especially with a technology like blockchain, which is likely to disrupt a lot of existing processes.
And mobile gaming is now the biggest player in the games industry, so if that analogy works for blockchain…
Will Codeglue be focusing on blockchain gaming now or do you plan to continue working on more 'standard' games as well?
In our own games, we will definitely try to pioneer with blockchain technology. We've always liked to experiment with new technologies and we feel blockchain will play an important role in the near future, and we want to be ready for it.
But we will also continue working on more 'standard' games as you call them, as we regularly port games to new platforms for publishers.
I think it will take some time before these games also have a blockchain component, though.
Blockchain Gamer Connects  – London Registration 2019 – PGConnects – London
Continue the discussion in our Telegram group and don't forget to follow BlockchainGamer.biz on Twitter, Facebook, and YouTube.