Why blockchain TCG Volition is looking to physical cards for its edge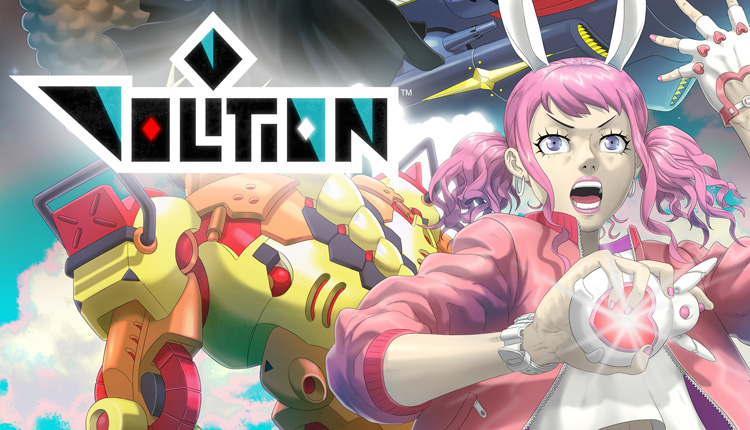 In the world of blockchain games, the concepts of value, scarcity and collectibility are oft mentioned.
Of course, the consensus is bringing the blockchain's transparent and decentralized ownership model to digital collectibles will unlock a new paradigm in terms of available and acceptable in-game economics.
We see the potential for a new ethos based on strong ownership of digital assets with temporary physical manifestations
And while US startup Cryptogogue no doubt agrees, its trajectory and destination are different.
A card in the hand
Currently working on its game Volition, Cryptogogue's approach is shaped by the co-founders' previous experience with 2006 physical trading card The Spoils, which despite strong critical acclaim, was shuttered by the demands of the retail environment.
"We spent a lot of time on the phone to mom and pop stores trying to persuade them to stock a new game," recalls CEO Patrick Meehan of the experience.
Throw into the mix the issues of physically printing cards, distribution and other supply chain challenges etc and the game's failure to gain the investment required to scale saw its commercial development shuttered, although it lives on as a cult product.
Yet it was the power of trading card games (TCG) in terms of their synergetic gameplay, metagame and physical embodiment – leading to a strong community built through face-to-face social play – that continued to entice Meehan.
"I was working on an experimental print-on-demand card collection game in early 2017 and around the same time I started looking into cryptocurrencies," he explains.
The idea of a TCG using blockchain coalesced.
"It seemed like a fun notion, and while I considered launching other blockchain projects, it just gained momentum," Meehan says.
Roll your own
In this way, while Volition may look like many other blockchain games based around digital, tokenized collectibles, it's been designed from-the-ground-up to be playable with physical cards.
Indeed, the ability to print your Volition cards promises to be a core element of the experience, even if few players ever do so.
Building on top of this will be the ability to customize your cards, combining them to level up their stats, as well as adding gear. There's a neat user generated art concept too.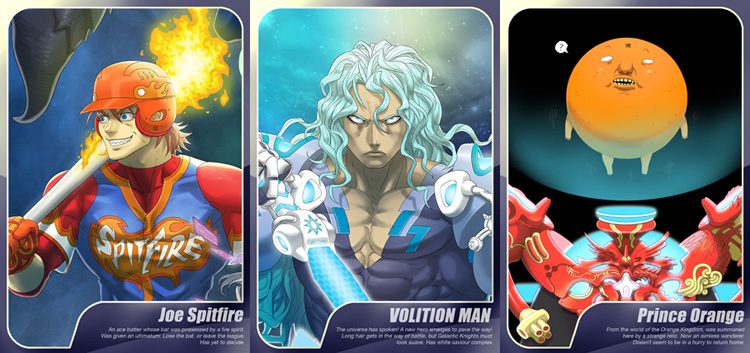 Volition will ship with what Meehan calls reference art, which is itself striking, but which will give anyone the ability to modify it to their own tastes by attaching their own custom art and adding comments. This idea extends to the ability to sell custom art, including editions limited by smart contract-style licensing terms.
The game's underlying blockchain will also have a dedicated way of enabling players to print out high quality cards, including handling CMYK process color and foil layers.
The result is something that Meehan hopes will combine the best facets of the psychological power of physical ownership, the flexibility of digital play, and blockchain's ownership transparency.
Or as the game's whitepaper states: "We see the potential for a new ethos based on strong ownership of digital assets with temporary physical manifestations."
Goldilocks positioning
In terms of where Volition sits in the TCG taxonomy, designer Ken Pilcher describes it as somewhere between Magic: The Gathering and Hearthstone.
"It's closer to the depth of Magic but it has an easy learning curve," he says.
Volition will run on a custom blockchain and use a mining mechanic to release new sets of cards
The game's theme will change regularly as new sets are released.
What's also interesting about the project, however, is its approach to the blockchain.
Not only will Volition run on a custom blockchain and it will use a mining mechanic to release new sets of cards. When each new block is mined, a booster pack will be released, until the set is depleted.
Fuelling this activity will be the VOL cryptocurrency, which will be used for trading cards and handling transaction costs, which includes customization activity. Cryptogogue will take a small proportion of each transaction to operate the game too.
Meehan hopes that the Volition blockchain and VOL tokens will become more widely used than in just this case.
"We'll certainly encourage other developers to use the protocol," he says. Options available to thirdparties will include building their own wallets, exchanges and tournament management tools.
As for Volition's roadmap, it remains early days. The current focus is community building with the first paper playtests expected "soon". All being well, the open source mining nodes will be released in late summer, with Volition's launch planned for late 2018.
You can keep up-to-date with the project via the Volition website.
And don't forget to follow BlockchainGamer.biz on Telegram, Twitter and Facebook.