Saltwater Games on building Celeros; its Fortnite for motorsport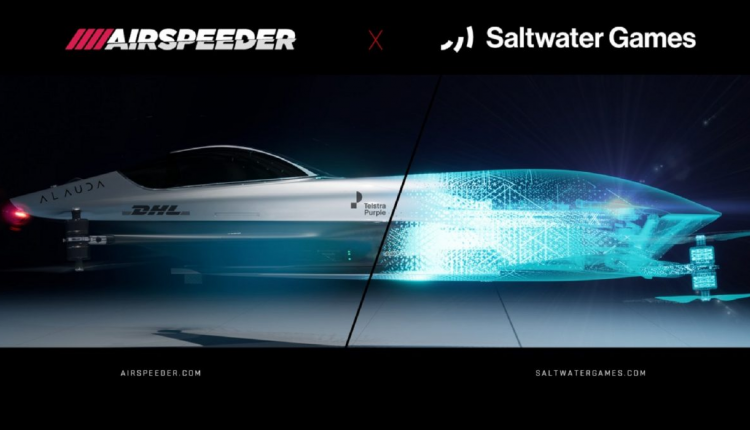 Setting out on a mission to create a sustainable motorsport game, Saltwater Games is now a team of over 30 games enthusiasts who all left their jobs to embark on the journey of making Celeros.
We spoke to company CPO Chris Abbott about its ambition to build this immersive gaming experience that not only serves as entertainment but also positively impacts the world.
BlockchainGamer.biz: Can you tell us more about Saltwater Games?
Abbott: SWG was founded thorugh a slow ramp-up in June 2023, where the founding team members all quit their jobs slowly. The core founders created Celeros, our first title, with the ambition to drive positive impact through the largest, most engaged audience in the world – gamers.
AirspeederXR is the first race series in Celeros, but not the last. As early investors and advisors into Airspeeder, the founders of SWG recognized the opportunity to begin their Play2Impact vision via a game-changing IRL motorsport, Airspeeder. We share the vision with Airspeeder of a future where innovative, sustainable motorsports rule the real/virtual entertainment world. We signed an exclusive rights deal with Airspeeder to develop AirspeederXR as the first race vertical in Celeros.
Unique in our contract is that Celeros will be:
The interactive place for fans to experience AirspeederXR.
A recruitment mechanism for Airspeeder to source the best global talent via Celeros.
An opportunity for gamers to start a professional career in esports racing, with the potential to go on to become a real-world pilot/racer.
The vision for Celeros is big and broad, and it requires a broad set of skills across gaming, tech and racing to be able to deliver what we have planned. You will see this in the founders. The team now is over 30, including our partner network with a broad set of skills and backgrounds, with experience in blockchain, racing IRL (F1 drivers analysts and economists, Airspeeder pilots), gaming infrastructure/ development, AAA racing game experience (Wipeout, Needs for Speed), product development, brand and
creative, XR, immersion, and cinematics.
What makes Celeros different from other web3 racing car games?
Multiple user types: The vision for Celeros is to bring to life all aspects of a real-world race series, including but not exclusively for racers across multiple race verticals, investors in tracks with economic returns, broadcasters of content and races, governors in the evolution and direction of Celeros, race team managers, mechanics and much more.
Multiple game modes: free-to-play or compete-to-earn professional pathways, starting in the Celeros Academy, competing in professional esports competitions and then onto our race partners' real-world race academies and IRL professional racing careers.
In what ways will blockchain enhance players' game experience?
There are things we can do with web3 technology that are hard to achieve in traditional games.
Transparency in outcome: Trustless consensus system (fair rules that can not be interfered with or misinterpreted by us in the game studio. This is even more important when competing in esports for financial returns.) Provable digital scarcity (anti-dilution of digital items).
True Ownership: Free market dynamics and genuine price discovery (trade, buy, sell, give) allow our gamers to transact across multiple race series in Celeros and offramp into fiat like a professional using a salary to maintain their lifestyle requirements.
Composability: IP created in Celeros can be owned, leveraged and used in other experiences, such as community-built modifications. Increased utility for items driven by community development.
Sustainability: Community/studio-aligned incentives. meaning holders of items and game fans want the best for their assets and the game. Rewarded both ways for mutually beneficial work.
Governance: Real stake and say in the direction and outcomes of the development of the digital ecosystem proven on the chain. The community is a part of the decisions about the profit-taking and use of funds from the treasury.
In terms of your ambition to raise environmental awareness and people's larger impact on the
world, what prompted you to go down the route of blockchain gaming?
In terms of environmental awareness, we only partner with sustainable real-world IP such as Airspeeder. We believe that entertainment must have less impact in the future.
We watched on the sidelines as Axie Infinity made efforts to make a positive impact on scale as it scaled globally. We loved that. But we also watched as their economic model failed to sustain impact on scale due to a lack of sinks and faucets in their model. Our Play2Impact model doesn't rely on a constant stream of new users bringing more capital for stability by design; we will aim to maintain economic stability through our yield-generating impact investments via our treasury.
Celeros' assets are currently on Ethereum; is this the blockchain the game will deploy on
eventually?
We believe that for web3 gaming to succeed and scale, the leading projects will maintain an agnostic approach to chain integration; we are already seeing things move this way. We think about digital assets and their mechanics concerning their proposed functionality and user behavior.
We think slightly differently than our web3 predecessors; we want to build an AAA game experience first, using web3 technology only to serve the best experience and solution to our gamers. As we start to deliver this, it will be much easier to attract organic attention from traditional gamers.

Chris Abbot
Examples of this are what we call 'meta' digital assets, those that provide ongoing rewards unique to a holder where holders are not incentivized, to flip on the larger EVM-type chains and a chain that supports high volume transitions for high volume in-game transactions.
What purpose does your SWG token serve for the larger ecosystem?
As a player-focused asset, SWG acts as a vital payment barrier, incentivising high-performing players through competitive gameplay and enabling access to higher levels of competition, tournaments, challenges and training modules.
As a coordination asset, SWG is used for voting on proposals emerging from the SWG Foundation, fostering a decentralised governance model with token staking to maintain a shared vision and ensure the integrity of the Impact Investment Treasury. SWG further plays a central role in in-game governance, allowing players to actively participate in decision-making through the Decentralised Regulatory Bodies and as a peer-to-peer tool for team managers to coordinate, enhancing team recruitment, management and participation.
The SWG ecosystem functions similarly to a cooperative. Those who contribute and participate the most will be rewarded with SWG, reflecting their ability to have their voice heard above those who have less vested interest in the ecosystem's success. Token rewards are distributed to selected NFT holders who participate and contribute.
How do you plan to reach a wider game audience outside the realms of web3?
Our roadmap has been focused very much on web3 gamers as a highly engaged group of early adopters. The Celeros Champions are already showing significant value as contributors to many aspects of Celeros. Noting this audience is also the most agreeable to early-stage technology solutions that provide 'web3 friction'.
Core to the vision is making Celeros accessible and attractive to a large user base of gamers. This means solving these issues and delivering the front-end experience of Celeros through a 'technology agnostics' solution. As we work through these challenges, we are already starting to get attention from quality advocates who partner with us as we progress. We have some credibility in the clear commitment we
have from our current partners and sponsors. These include Ayrton Senna Foundation, IWC, Intel, Bridge Tower Capital, NextGen Cloud and Google, to mention a few.
We think slightly differently than our web3 predecessors; we want to build an AAA game experience first, using web3 technology only to serve the best experience and solution to our gamers. As we start to deliver this, it will be much easier to attract organic attention from traditional gamers.
PC, mobile, VR/AR, and console – please tell us more about your distribution plans and when
players can expect the first playable launch of Celeros.
We want to attract the largest audience possible, so we will only be delivering solutions across PC/web and mobile (console for F2P and/or if the console providers open up to web3) in the near term. As the best of our gamers progress there will be exclusive opportunities to access our partner's leading tech, like real-world SIM and VR.
What are your long-term plans?
We want to be the Fortnite for motorsport, exposing our gamers to exclusive real-world racing IP, where Celeros acts as a live platform with its direction driven by its community.
Stay up-to-date via the Celeros website.