Europe's leading mobile gaming conference comes to San Francisco in 2024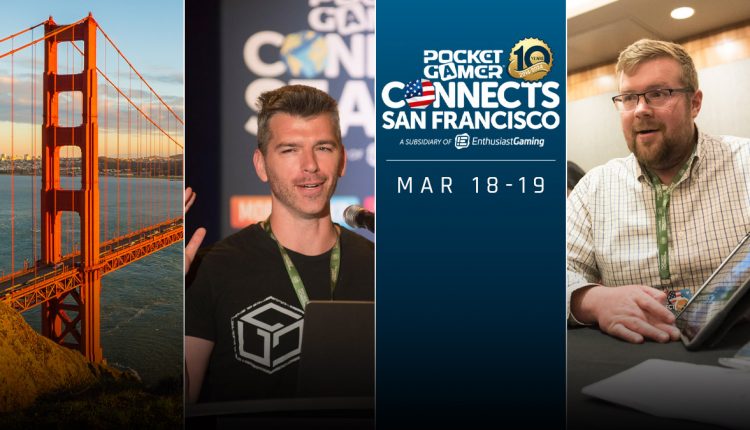 Pocket Gamer Connects, the leading global mobile games industry conference, is coming to San Francisco in March ahead of GDC.
Over 45,000 delegates from every corner of the games industry have attended our well-loved Connects series in London, Helsinki, Seattle, Toronto, Vancouver, Hong Kong, Jordan and Bangalore, since its debut in 2014. With a new focus on future technologies like AI, virtual reality, web3, blockchain, the metaverse, as well as our well established offering on all things mobile, you're guaranteed to be inspired and meet leading industry figures at Pocket Gamer Connects San Francisco.
Mobile, PC and console, blockchain, VR/AR and more will be covered across multiple track rooms. Our speakers and panellists will share their expert insight into design and development, monetisation and growth, new technologies, company culture and loads more
Taking place on March 18th and 19th, as a prelude to GDC week of events we have teamed up with MeetToMatch to be an official MeetToMatch San Francisco meeting point. We will also offer the MeetToMatch meeting platform free and unlimited to all PGC delegates, so you can find that perfect contact and arrange to meet them in person.
MeetToMatch
MeetToMatch: The San Francisco Edition will run all week while people are in town for PGC and GDC. Trusted by hundreds of publishers, investors, and developers, the MeetToMatch messaging and matchmaking platform enables you to get in contact with the right people from game companies around the world.
A ticket to Pocket Gamer Connects gives you access to MeetToMatch all week.
We've partnered with MeetToMatch to ensure that a ticket to Pocket Gamer Connects enables you to use the platform to make meetings all week at locations around the city. And with a Pocket Gamer Connects ticket, you will be able to use the Pocket Gamer Connects meeting zone at the lovely Hibernia Hotel to hold your meetings (even non-PGC users of MeetToMatch will be able to join you at our meeting tables).
MeetToMatch provides an opportunity to search attendees and connect. But we know it can be hard to find the perfect person to meet with if you're looking for a publisher or investor. So we will also be running Publisher SpeedMatch and Investor Connector sessions at the event. These curated sessions pair developers in rapid succession with publishers and investors in a series of speed-dating style meetings.
All About The Indies
Indie devs are the lifeblood of the mobile games industry. Pocket Gamer Connects champions their work to our international audience. We will once again have a dedicated Big Indie Zone for known names and newcomers alike to display their talent to an industry audience. This is a vibrant and varied expo area for publishers looking to sign promising titles. And, of course, the hugely popular Big Indie Pitch pitching competition will be part of it, with indie devs competing to impress a panel of expert judges. The winners walk away with instant feedback, online promotion, and a prize.
What will my conference ticket include?
Ready to book your ticket? Here's what you can expect with your conference ticket.
Entry to the main conference including access to all content tracks expo and dedicated meeting area on both days
Access to fringe events such as The Very Big Indie Pitch, Publisher SpeedMatch, Investor Connector (if eligible – additional application required)
Entry to the Global Connects Party
Free coffee, tea and refreshments on both days
Free wifi
Personal and company profiles on the MeetToMatch meeting system and unlimited meeting invites
Access to video recordings of all talks after the event in our Video Vault
You can save hundreds of dollars through our Super Early Bird if you purchase your ticket here today.