2018 in Review: Nicolas Gilot, co-CEO, Ultra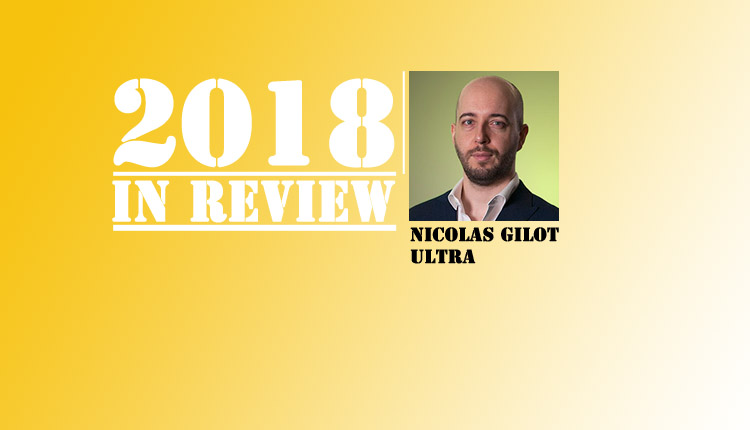 Driving the adoption of blockchain in 2019
As a turbulent year in the blockchain game sector draws to an end, we're getting the opinions of some of the key players about what happened.
And as well as finding out what they thought were the most significant events in 2018, we're looking forward to what will occur in 2019.
Nicolas Gilot is the co-CEO of Ultra, which is looking to use a version of the EOS blockchain to create a platform handling everything from game sales, item trading, tournaments and wider community features.
2018 was the year in which people began to look at gaming as a potential catalyst for blockchain adoption.
BlockchainGamer.biz: What was the most important blockchain game sector trend in 2018 for Ultra?
Nicolas Gilot: In 2017 and early 2018, there was minimal interest in the gaming sector from investors.
However, the gaming industry has always been at the forefront when it comes to embracing new and emerging technologies and 2018 was the year in which people began to look at gaming as a potential catalyst for blockchain adoption.
What do you think was the biggest blockchain game trend more generally?
As one of the first blockchain-based video games, CryptoKitties was an important development within the gaming sector this year as it allowed people to see, perhaps for the first time, how blockchain could be utilised in gaming.
What blockchain game did you play the most this year?
I played Spell of Genesis most in 2018 because it reminded me of a game I liked playing previously called Smash Land from Supercell. There are lots of interesting games in development at present, so it will be exciting to see what developers come up with in 2019.
What do you think will be the biggest trend in 2019?
In 2019, I believe movement toward additional content aggregators and blockchain tools will emerge. This will ideally help the mainstream game developers and current blockchain game developers merge and remove barriers to the technology.
On the consumer side, I'm looking forward to more transparency and innovative game designs around blockchain for gamers to be able to enjoy.
What's your resolution for 2019?
In 2019 our aim is to focus on the continued growth of Ultra, cementing our place as one of the key players in the gaming and software industry.
The ability to work closely with the team by allocating less time on the road and more time for collaboration internally is something I look forward to in the new year.
You can find out more about Ultra via its website and check out all of our 2018 in Review interviews here.
Continue the discussion in our Telegram group and don't forget to follow BlockchainGamer.biz on Twitter, Facebook and YouTube.