2018 in Review: John Linden, Mythical Games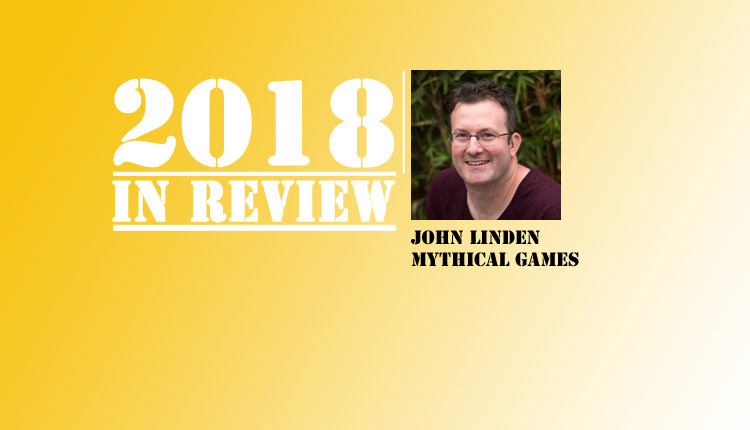 Going big in 2019 with EOS
As a turbulent year in the blockchain game sector draws to an end, we're getting the opinions of some of the key players about what just happened.
And as well as finding out what they thought were the most significant events in 2018, we're looking forward to what will occur in 2019.
The fact most new projects don't start with the word Crypto shows the market is quickly evolving.
John Linden is the CEO of US startup Mythical Games, which recently raised $16 million.
BlockchainGamer.biz: What was the most important blockchain game sector trend for your company in 2018?
John Linden: Aside from some early experimentation, I feel like 2018 was the first commercial year in this new segment of game development and publishing. There were two distinct focal points for 2018.
The first half was dominated by CryptoKitties and the introduction of concepts around NFTs, which showed what early digital ownership means for "gamifying" marketplaces and game object trading.
The second half of 2018 started to bring focus on UX (at least in spirit). While I don't think we are there yet, the focus by many companies on the importance of blockchain (as a technology rather than being in the face of consumers) has been key to future growth for the market.
The fact that most new projects don't start with the word Crypto (as opposed to the first half of the year) shows that the market is quickly evolving into something that mainstream gamers might actually be able to play and understand.
What do you think was the most important news/trend generally?
As a new company, we spent so much time researching and understanding the current blockchain offerings. To us, EOS (and TRON potentially as well) is paving the way as the best trend to make blockchain into a technology that is more seamless for consumers.
Outside of the often talked about latency and transaction processing improvements, EOS's ability to allow apps to stake and pay the fees involved on behalf of consumers was the most enlightening trend that will allow mainstream gaming to be a reality.
Personally, we were very excited by the fact that Mythical Games was able to show the Blankos Block Party teaser trailer to millions of viewers on the Gamers' Choice Awards via broadcast television. It was exciting to show that a game utilizing blockchain technology can be shown alongside other mainstream games with consumer acceptance.
What blockchain game did you play the most in 2018?
As we have done for years with console and mobile, we try to play everything for a bit. I definitely spent some time with EOS Knights mostly because I am so blown away by their ARPU stats which massively exceed free to play game metrics by several orders of magnitude.
In terms of playing for enjoyment, I probably spent the most time with some of the dice-style games particularly on mobile via EOS Lynx. The ability to very easily make a purchase and see the immediate effect in your wallet is pretty compelling.
What do you think will be the biggest trend in 2019?
I believe we will see much more activity around real games (Unity, Unreal, Cocos, etc) in 2019 vs. the web-based projects that dominated 2018. I also believe that one of the biggest trends will be around assets on the blockchain with Fiat game economies vs games solely using cryptocurrencies in 2019.
This is a concept that will allow mainstream gamers to easily adopt blockchain concepts. It is a natural evolution of current gaming behaviors to have assets that players buy and earn in-game when then can optionally be traded in and outside of the game itself.
I believe one of the biggest trends will be around assets on the blockchain with Fiat game economies vs games solely using cryptocurrencies.
I think this will naturally lead to consumers understanding the power of blockchain within our industry. If we can achieve these trends, this will lead to other incredible concepts (e.g. player and content creators participating in game economics) that have the ability to change the addressable market for the game industry.
What's your resolution for 2019?
We plan to deliver a mainstream PC/Mac game (and hopefully a few other platforms in late 2019), with Blankos Block Party showing our vision of a player-owned economy.
We want to introduce the concept of true digital ownership using blockchain to millions of gamers without them really understanding that blockchain made it happen. We also hope to help standardize the adoption of NFTs on other chains like EOS as well as begin to see natural integrations with wallets and potentially even big exchanges. It should be an exciting year!
Keep up-to-date with Mythical Games' activity via its website and check out all of our 2018 in Review interviews here.
Join us for two days of discussion about the blockchain game sector at Blockchain Gamer Connects London 2019 on 21-22 January.
And continue the discussion in our Telegram group and don't forget to follow BlockchainGamer.biz on Twitter, Facebook and YouTube.