Beluga Global will be hosting the Global Traffic Conference on Oct 24-25th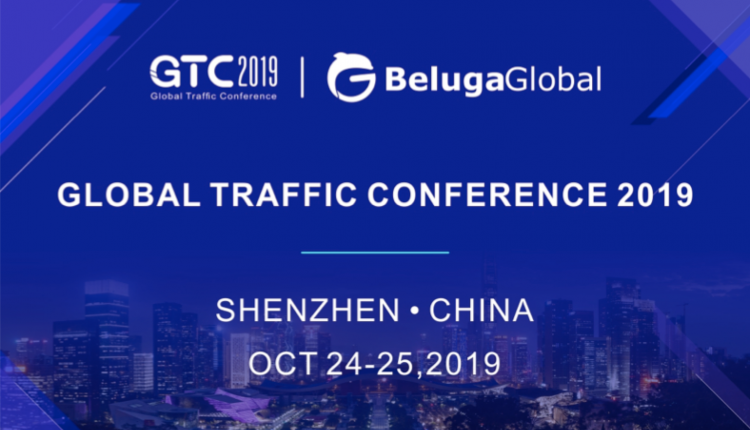 There are about 80 days before the formal opening of Global Traffic Conference (GTC) 2019. As the host, BelugaGlobal is now in busy preparations. Shenzhen is still as the host place, and the event is two days from October 24 to 25 and open sign-up starts formally from today. The discount of free expo tickets will be launched within one month after the event is online!
What is GTC? 
The GTC, the name tells the meaning, serves the enterprises to gain to-overseas customers and profits, and it is the only China's international exhibition focusing on Internet enterprises going to-overseas.
Since 2019, the penetration of smartphones and mobile networks is gradually approaching the top growth and the trend of the domestic ageing population structure (median of age is 37.4 years old), most Chinese Internet enterprises take to-overseas as the key to continue the growth.
The game industry is the most typical example that, the issue of game version number has been suspended in 2018, and Chinese game user expenditure in 2018(iOS) only increased by 4% compared with 2017.
However, data from App Annie indicates that to-overseas income of Chinese game manufacturers enhanced by 48.8% in 2018 compared with the same period last year, and 2-year growth rate of such to-overseas game income in American market is even high up to 140%.
The same outstanding industries are E-commerce, live broadcast, audio and video social, etc., which should rely on the contribution of high-income users from mature overseas markets and the traffic dividends on emerging markets.
In observing the market, not only the case is found that thousands of game users could feed a developing team, but there are some short video and live broadcast platforms of great sales and offline for no more than months, the factors to which though include the quality of the product how to fit the market demand, and the importance of the traffic quality is no less than the product itself as well.
When an Internet enterprise initially enters some market, it will face the difficulty to cold start-up because of completely different cultures and users and business habits, and the subsequent pace of buying amount is also vital to the sustainable products and cash flows.
Why come to GTC?

In view of the main point, as the service platform dedicated to assist Chinese Internet companies to-overseas and collecting tens of thousands of developers, since 2018, BelugaGlobal has started to organize the GTC event to build up the bridge between Chinese to-overseas Internet enterprises and overseas Internet service enterprises in the form of exhibitions to provide services and complete multi-point docking.
In GTC 2018, BelugaGlobal invited more than 80 exhibitors to participate in B2B expo, including 50+ top-level to-overseas traffic service platform, in such way to reduce an enterprise's cost in communication and trial.
In addition, there are three summit forums in two days, inviting overseas mainstream platforms such as Facebook, Google, etc. and outstanding overseas developers to share their international successful experiences.
Deeper & More Diverse GTC 2019
Later statistics shows that, more than 8000 attendees participated in the GTC 2018, and this year the scale is going to be further expanded. It estimates there will be 10,000 participants in 2019, which can be expected becoming the largest GTC.
In order for a deeper service, in addition to the original two-day of B2B exhibition area and 3 summits forums, including the main venue and 2 sub-meeting venues (game to-oversea, e-commerce independent website), newly adding the to-overseas game matchmaking, 2 Workshop of to-oversea special share, and the GTC 2019 Awards Party.
In the to-overseas game matchmaking, BelugaGlobal will invite more than 300 game developers and publishers together to explore global business opportunities, to help some outstanding projects to land overseas markets successfully.
On October 25, the second night of the GTC 2019, BelugaGlobal is also going to host the awards party and evaluate prizes such as the top 10 to-overseas games, the top 10 to-overseas pan-entertainment Apps and top 10 overseas publishers in 2019, etc. by considering the trend of going to-overseas, income, download, project quality and progress, etc.
Beluga Global's GTC Early Bird deal
The key point! Global Traffic Conference 2019 is formally open for sign-up today. The expo tickets are free of charge within 1 month after the event is online!
The top 300 silver ticket is only CNY 299, the top 100 gold ticket is only CNY 499. BelugaGlobal expects to meet all to-overseas practitioners on October 24 and 25 in Shenzhen Great China International Exchange Square to talk about global trends and business opportunities.
The link of GTC 2019 event: http://www.baijingapp.com/gtc/en. Sign-up NOW!
---
And continue the discussion in our Telegram group and don't forget to follow BlockchainGamer.biz on Twitter, Facebook, and YouTube.