South Korean conference G-STAR 2019 kicks off 14 November, including speakers from Hashed and The Sandbox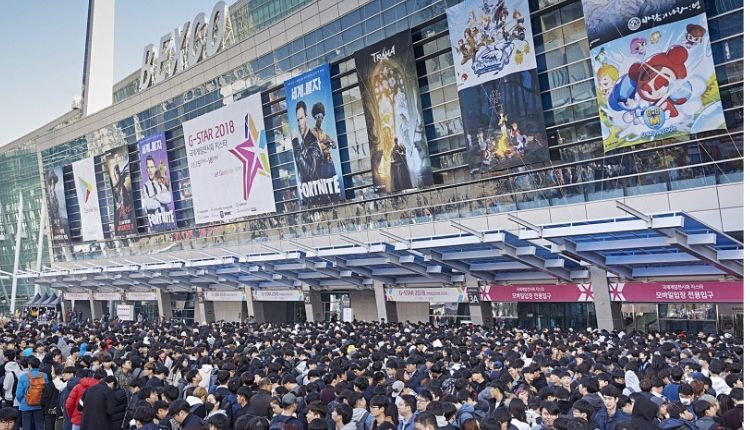 Gateway to Asian games market
The global games industry is descending on South Korea to attend G-STAR 2019.
If you do business at GDC in the US or Gamescom in Europe, G-STAR should be next on your schedule for this and every year.
The games market in South Korea is booming. It's one of the top five in the world.
And the Asian market, from Korea to China and Japan, represents a huge opportunity for Western companies, making G-STAR an excellent decision for any team or individual looking to expand into the region.
G-STAR attracts the biggest names in gaming from all over the region and the world including Supercell, Netmarble, Micronics, Epic Games, Google, YouTube, Pearl Abyss, LG and more.
There's great potential for productive business meetings, and you'll also learn from world-class speakers including Koji Igarashi (now at ArtPlay but famous for his work on Castlevania at Konami), Hilmar Veigar Petursson (EVE Online creators CCP Games), Janos Gaspa and Pawel Wojs (UK Sega studio Creative Assembly), Randy Varnell (Gearbox Software), Linda Fane (Bungie), Frank Keienburg (Supercell), plus recently-added Tae-won Yun (Super Evil Megacorp) and Sebastien Borget (The Sandbox game).
The ultimate games industry schedule
G-STAR features a huge number of events and activities packed into a few days between the 14-17 November. 
Starting with the 2019 Korea Game Awards on 13 November, closely followed by the G-STAR Welcome Reception, the event bursts into life with a huge Opening Ceremony, the G-CON Global Game Conference 2019, Business Networking Party, G-STAR Indie Showcase, Game Industry Job Fair and Game Investment Market, plus other fringe and parties creating so, so many excellent networking opportunities.
It's particularly worth planning substantial time at G-CON, where the talks will cover all areas of the games industry including game design, development, monetization, apps, 3D scanning and more plus there are plenty of networking opportunities as you mingle with the other attendees. 
The Game Investment Market on 15 November is also going to be where those seeking funding will want to spend some time – away from the main exhibition halls, this quiet area is perfect for talking and closing deals.
All about the indies
The G-STAR Indie Showcase takes place 14-16 November, in BEXCO, 2nd Exhibition Building, 1st Floor Exhibition Hall. 
This year, the event will be showcasing a huge amount of indie talent with a huge showcase hall dedicated to indie developers. 
With more than 30 indie studios selected to take part from all over the world and so many different game genres, styles and designs on display the competition for the G-STAR most popular game is sure to be hotly contested. 
G-STAR will also be the venue for the last round of Steel Media's Big Indie Pitch competition, where developers compete in a unique speed dating style format in front of a panel of judges.
And if working for a bigger company is your goal, the Game Industry Job Fair on 16 November from 9:00 in the nearby 1st Floor Conference Building, is for you. 
There will be a raft of huge games companies participating including Pearl Abyss, Rovio Entertainment, Next Games, Ubisoft RedLynx, and Housemarque and there will be presentations, career talks, job consulting and a recruitment center.
No time to waste
G-STAR starts a party atmosphere in South Korea and this continues all week with all the other major players in town throwing parties and gatherings really adding to the gaming festival vibe that this event creates. 
With a strong English-language program, welcoming but professional atmosphere, and a stone's throw from the biggest centers of Asian business, G-STAR could be the start of your Asian outreach for 2020. 
Can you afford to miss this? Online ticket sales have now closed but don't worry, entry passes to G-STAR are available on-site at the conference.