Warner Bros releases Lord of the Rings: The Fellowship of the Ring as an NFT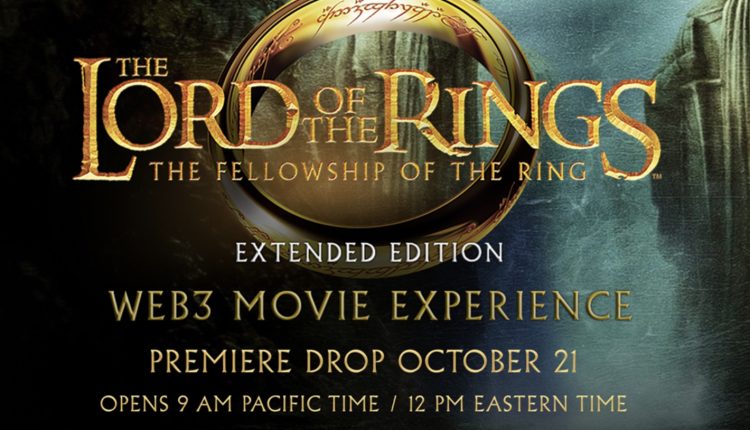 It's the first movie that Warner Bros is releasing as an NFT but a new marketplace could see more titles added in the future
In a first for a major film production company, Warner Bros has announced it is releasing a movie as an NFT. The movie being sold is 2001's The Lord of the Rings: The Fellowship of the Ring.
In a report from Variety it is stated that Blockchain company Eluvio is on board to launch the extended version of Fellowship of the Ring as a Web3 movie experience – two different editions are out now.
Warner Bros and Eluvio are minting 999 copies of the Epic Edition each priced at $100 and a Mystery Edition which will have 10,000 copies made each of which is being sold for $30. Both editions will grant viewers access to the 4K UHD extended version of the movie.
Those who purchase a copy will also have access to over eight hours of special content such as images and hidden AR collectibles. The Epic Edition includes navigation menus for locations that feature in the movie and specific location key art.
These NFTs are set to be the very first in the "WB Movieverse", a marketplace that the company intends to add more titles to in the future. Movie fans will be able to use the platform to buy, sell and trade movie NFTs as more titles are included.
One Movieverse to rule them all
General Manager and executive vice president at Warner Bros. Home Entertainment, Jessica Schell stated that "First and foremost, we're always looking at ways to delight and surprise our movie fans and collectors, and that's especially true for 'The Lord of the Rings" Schell then commented on the new NFTs saying, "It lets fans experience the movie in a whole new way".
Warner Bros and Eluvio have described the Web3 movie experience as a "living movie" rather than just a standard copy. Warner Bros aimed to create enough copies of the NFTs so that they could be available to fans but also present a level of exclusivity for those that make a purchase.
Warner Bros seems to be using the widely loved movie to kickstart its release of NFT titles and now such a well-known production company has taken the dive into selling its movies as NFTs, could others soon follow?