Luís Figo is Football-Stars' new brand ambassador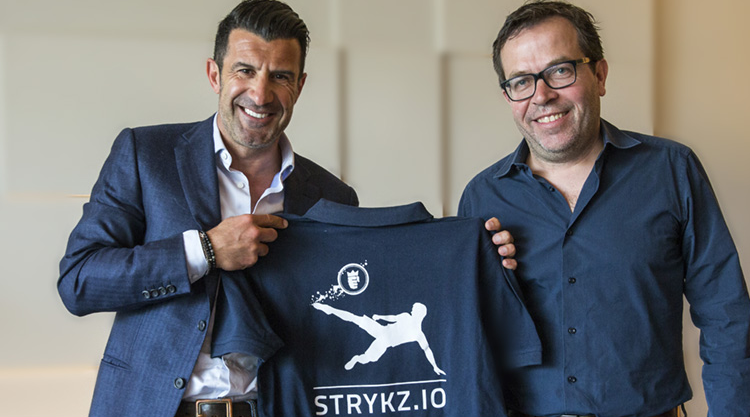 Fantasy football management game gets blockchain boost
Stryking Entertainment has signed Luís Figo as brand ambassador for its platform Football-Stars.
The Ballon d'Or winner and former FIFA World Footballer of the Year will actively engage with users in in-game challenges and other activities.
The game puts football fans in the virtual coach's seat with two modes based on football players' real-life performance data. Challenge Mode lets users face daily challenges with their self-assembled teams, while they can manage their individual teams to fight for the title over the course of an entire season in Manager Mode.
Users will earn experience points and climb up the levelling system as they unlock achievements and features such as new user titles, additional profile pictures or the in-game currency, STRYKZ.
Fantasy figures
Dirk Weyel, Founder and CEO of Stryking said, "The partnership with Luís Figo is a great achievement and an equally great incentive for us to take the next steps with full energy.
"We have invested a lot in the development of Football-Stars in recent years and will now introduce our own STRYKZ crypto token to create a decentralized and user-centric fan platform. The enormous potential in the fantasy sports segment can be clearly seen in the North American market, where 20% of the population regularly play fantasy sports. With Luís Figo we have gained a competent supporter and an active consultant with whom we want to propel the growth of Football-Stars worldwide".
Figo said, "When I heard about Football-Stars for the first time I immediately liked the idea. Football becomes more and more data driven with detailed statistics about all aspects of the game – this is what Stryking's platform utilizes to create a compelling fan experience. I am happy to support the experienced team at Stryking and spread the word about their platform that allows fans to engage with the teams and players they are backing. With the upcoming Token Sale Event, Stryking will scale tremendously and I am excited to be part of this journey".