Unicorns are collectible too in UnicornGo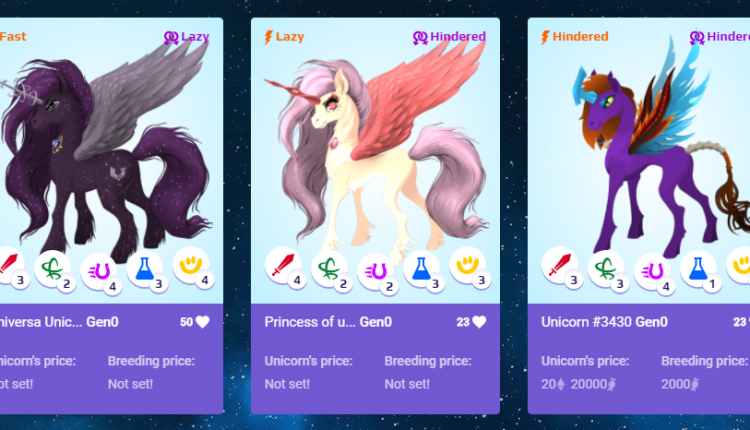 Limited first generation will sire future cryptocorns based on real science.
Gamers can now buy, sell, exchange or sire unicorns in mythological cryptocollectible game, UnicornGo.
Generation zero
The first generation, GEN-0, is limited to 30,000 unicorns and will form the predecessors to all subsequent generations. GEN-0 unicorn genes are randomly generated with a 30% higher chance to get rare traits than in following generations and any player who gets a Legendary Unicorn will also get a $10,000 prize.
Players can also buy Land, an in-game asset that allows production of MegaCandy by growing magical trees from planted CandyCoins, the game's internal currency. MegaCandy, a special treat for unicorns, is used to shorten the breeding and tournaments cooldown.  
Celebrity science
The mechanics of cross breeding and hereditary traits are based on real scientific genetic research. In fact, every player can contribute to the development of science by breeding and creating new species. As genetic crossovers occur, scientists can make new discoveries with the help of blockchain technology.
Every unicorn can also build its market value by gaining popularity through likes and views to become a celebrity – and command a premium on the price of breeding.
Ethereum based
UnicornGo's CandyCoin uses smart contracts on the Ethereum platform with a release cap of 12,000,000 tokens. At the moment, it's traded on the ForkDelta exchange, and is also listed for voting on Cobinhood and other popular crypto exchanges. A planned move to the Universa blockchain, is intended to offer faster transactions and almost zero fees.
Further future tech
The mobile version of the game, which is under priority development, will bring the player into augmented reality, with the Izetex team working on the integration of cryptounicorns into the real world.
Further ahead, work is already underway on including an innovative neural interface for the game, based on the research and development by tech startup, BasisNeuro.