Cool Cats Group partners with Animoca Brands and OneFootball Labs to launch new NFT collection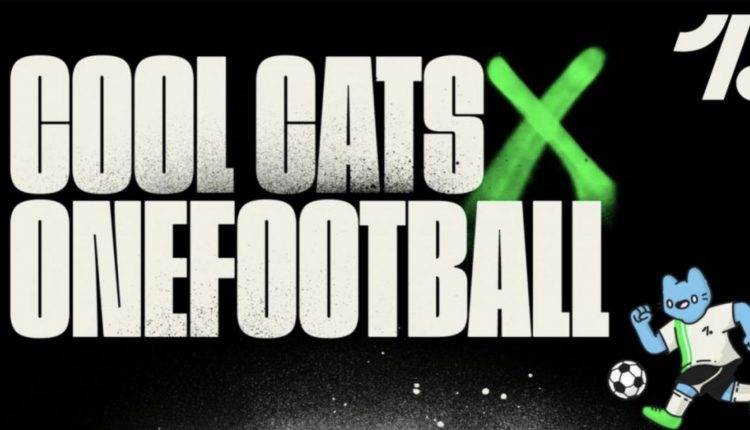 The collection will see both digital and physical incentives
Cool Cats Group, Animoca Brands, and OneFootball Labs have announced that they will be partnering up to launch the new Cool Cats FC NFT collection on the Ethereum blockchain.
Cool Cats Group is the Web3 company behind the blue-chip NFT collection Cool Cats which is a collection of 9,999 randomly generated NFTs. OneFootball Labs were previously formed with Animoca Brands to offer fans digital assets and tokens based on the blockchain. This latest partnership will see the creation of a new 4000-strong collection of Cool Cats FC NFTs, these assets will offer holders the opportunity to become a part of the Cool Cats an OneFootball community, by combining digital and physical football-related utilities.
The collection hopes to bring together Cool Cats lovers and football fans across the world in celebration of the world's favourite sport. Just the thing for World Cup season.
Various rewards will be available such as limited-edition and autographed merchandise, player meet-and-greets, VIP experiences, and more which can be earned through interactive experiences.
A unique experience for football fans
CEO of Cool Cats Group, Stephen Teglas commented on the partnership saying, "We are excited to partner with Animoca Brands and OneFootball Labs on the innovative Cool Cats FC collection, which brings Cool Cats and Cool Pets holders together in celebration of the upcoming global football/soccer tournament season. With the opportunity to cheer on national teams and earn exciting IRL experiences and products, fans get to enjoy a truly unique experience that money cannot buy".
CEO of OneFootball Labs, Jean-Charles Gaudechon also commented on the partnership and what it means for the community, "Cool Cats is an inspiration for us at OneFootball, the way it has built a strong community and worked with that community to create something awesome. I cannot wait for this winter, to watch France defend the trophy and see the launch of our Cool Cats FC collaboration with Animoca Brands. We're excited to be working with such great partners on delivering something unique and culturally relevant around the biggest sporting event of the year".
The allow list minting of the Cool Cats FC collection will begin at 5:00 pm EST on November 17 and end at the same time on November 19. 1,900 Cool Cats FC NFTs will be available for Cool Cats, Cool Pets, and winners of pre-mint giveaways for 0.069 ETH. Public minting will then start from 10:00 am EST to 10:00 pm on November 19, with a further 1,600 NFTs being made available at the price of 0.1 ETH. The final 500 Cool Cats FC NFTs are intended to be reserved for community events and team drops.
Executive chairman and co-founder of Animoca Brands, Yat Siu stated that this new partnership acts as a "sterling opportunity to expand the Cool Cats, OneFootball, and Animoca Brands communities and drive the mass adoption of Web3".