WEMIX3.0 enhances its platform through new investment and '40 WONDERS'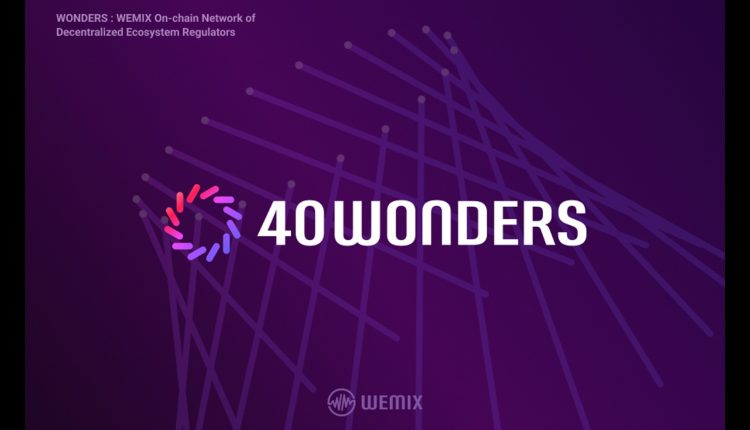 WEMIX3.0 continues its build-out, attracting more big names to the platform and ensuring stability and security as the ecosystem grows. In the latest moves toward wider adoption Wemade have announced the existence of '40 WONDERS' – 40 Node Council Partners that will become the foundation Web3 development built on WEMIX3.0.
The term WONDER being derived from 'WEMIX On-chain Network of Decentralised Ecosystem Regulators'.
This new announcement comes hot on the heels of investment news earlier this month which saw parent company Wemade secure $46 million in funding to push out its blockchain growth and standing as a platform.
The investment is remarkable in that in addition to investment from Shinhan Asset Management and Kiwoom Securities it also includes funding from Microsoft – contributing $14.8 million to the deal through convertible bonds – marking the tech giant's first worthwhile investment in Web3 and blockchain and indicating a potential pivot and new field of interest in the future.
"This is a meaningful investment by reputable financial and strategic investors with proven track records," said Henry Chang, chief executive of Wemade, in a statement. "Wemade and WEMIX will continue to exert efforts to attract more capital and actively invest to build the global digital economy platform."
Welcome to WEMIX3.0 40 WONDERS
WEMIX3.0 40 WONDERS (aka their new Node Council Partners or NCPs) are 'senior members' of the WEMIX community who have been chosen to represent the interests of the group as a whole and as such have been granted collective governance. NCPs are granted on-chain voting rights in the decision-making process and are able to implement changes or improvements to the blockchain protocol.
These partners while offering their services individually each combine to flesh out the WEMIX3.0 landscape, contributing the the growth of what Wemade refer to as 'the mega-ecosystem' all the while providing impenetrable security via the system's new layer 1 mainnet.
As authorised members of node operation, NCPs are responsible for the facilitation of infrastructure and (optionally) hardware but will also play a vital role in ensuring integrity and security of the WEMIX network by sharing block information to neighbouring nodes.
Crucial data and network status for blockchain operation is calculated through SPoA (Stake-based Proof of Authority) and a RAFT(Reliable And Fault Tolerant) consensus algorithm ensuring consistency of datastores on all nodes in the cluster.
As part of their dedication and work in running the platform each of these 40 NCPs have staked 1,500,000 WEMIX to their allocated validator node and as official council members and representatives of the community, the NCPs are then given full authority over consensus and access to mainnet parameters
Welcome to the club
And Wemade have made it worth their while to join up, offering a guaranteed APR of 21.024%. The permanent minting reward (PMR) is 40% which is awarded collectively to the NCPs, meaning that each node receives 1% (1% per node being equal to approximately 21.024% APR).
Elsewhere 10% has been allocated to stakers, 25% goes to the ecosystem and 25% towards the maintenance of the mainnet and ecosystem.
And – in the pursuit of further expansion – Wemade are looking for more WONDERS with further recruitment further securing the community and the mega-ecosystem.
Established back in 2000, Wemade began as a PC and then mobile developer, starting with the MMO giant The Legend of Mir 2. Since 2018, the company decided to make a stronger pivot to developing blockchain technology through WEMIX.
MIR4, for example, was a flagship example of the cross-development of conventional and blockchain gaming. The game launched with blockchain support, such as the inclusion of NFTs and the DRACO token.
Find out more at 40wonders.