IMVU onboards 1 million users to web3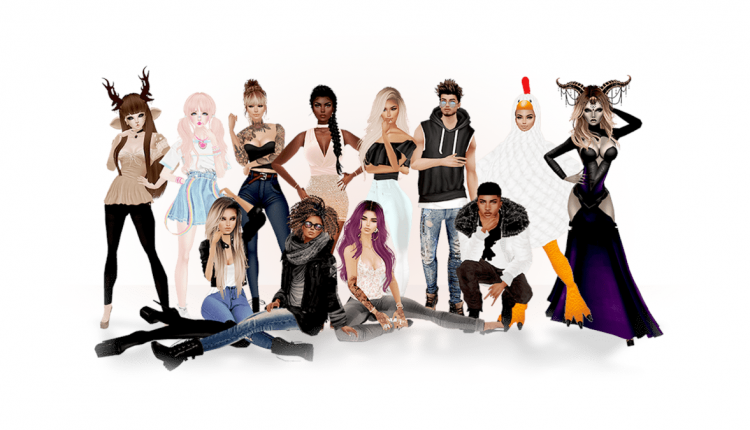 Welcome to the latest in our series of weekly features from Jon Jordan at Gamestx
---
One of the most interesting transitions of a large, existing web2 community to web3 has been that undertaken by social metaverse IMVU.
Originally something of an ad-hoc 3D dating/flirting site, since it's developed into an online platform with a heavy focus on personalization, online events, fashion, creativity and even ad-hoc business creation, such as people creating custom skins, nails, hair and jewellery for you; something economists jokingly refer to as "new service sector jobs".
And over the past two years, developer MetaJuice — the blockchain subsidiary of US outfit Together Labs — has slowly been adding blockchain elements starting with the VCOIN token payment system.
(It also raised $35 million in the process to give it the runaway to overcome market conditions.)
Indeed, the significant of VCOIN — which was launched as an in-app stablecoin in early 2021: $1 = 250 VCOIN — is likely under-estimated in the wider industry in terms of how it provides users with a crypto asset, offering more features than its fiat option, but one without the sort of price volatility we've seen most blockchain games suffering from in the past 18 months.
Over this period, it's also the main reason MetaJuice now claims that over one million IMVU users have opened in-app web3 wallets, which are custodial wallets controlled by MetaJuice, and required to hold VCOIN.
Obviously, it doesn't highlight that VCOIN is a cryptocurrency, merely a new digital currency, with additional features compared to IMVU's standard credits.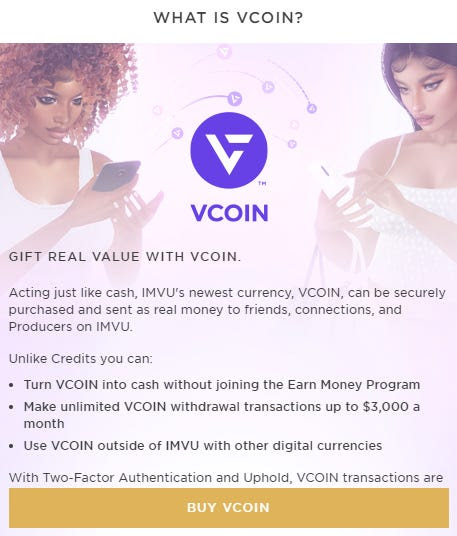 In particular, this trend has been accelerated by the launch of NFTs such as clothing and hairstyles on the ImmutableX blockchain during November 2022.
These NFTs launched as weekly drops of limited edition items, making them a more exclusive option compared to the ongoing creation and trading of standard centralised digital items within IMVU.
Notably these standard items are bought with credits, while NFTs have to be bought using VCOIN.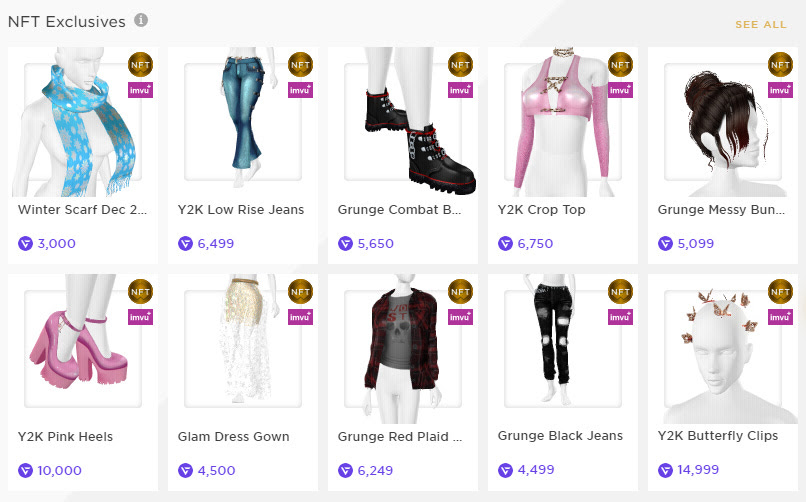 Unsurprisingly, it's the 18-24-year-old GenZ demographic that's driving the majority of such purchasing and trading activity.
However, the driver for MetaJuice's future ambitions is its forthcoming VCORE cryptocurrency, which will fulfil more of a governance and community reward purpose, compared to VCOIN's pure payment utility.
It will also be required for creators who want to mint their digital assets into NFTs. MetaJuice claims there are currently over 200,000 active creators in IMVU, generating around 350,000 new items each month, with a total of 20 million items traded monthly.
And VCORE's potential will be more fully realised in MetaJuice's new mobile-based social metaverse WithMe — "building a positive, friendship-focused online space" — which is currently in open beta on iOS devices, and which will be its first web3-native product.
As everyone always says, it's a marathon not a sprint and Metajuice seems to have two years headstart on everyone else.
Funding The Funders news
The investor now has more than $1 billion in assets under management with blockchain game investments including Animoca Brands, Yield Guild SEA, Xterio, Heroes of Mavia and Kamaverse.
A spin-off of Chinese automotive parts conglomerate Wanxiang Group, HashKey was among the first investors into Ethereum in 2014. In total, it's made more than 50 investments into the sector.
IP Creation Together news
Formed from the team at Japanese developer Pokelabo, which was acquired for $174 million by GREE in 2013, Murasaki is a multi-media outfit covering games, manga, anime and webtoons.
This is reflected in the structure of Cyberstella; an attempt to generate conceptual and collaborative IP creation, in which NFT characters and their stories are controlled by the owners, as they play through the game, with the optionality to spin out other media releases in the process.
Another Hypercasual Publisher Goes Web3 news
TapNation has also partnered with the Ternoa blockchain, which I've never heard of, but which — apparently — is the "first NFT-centric blockchain" and also appears to be based in Paris.
More generally, the 100-strong publisher is also opening an office in Turkey during 2023.
Media Mashup news
CryptoSlam is well known as a provider of NFT data while Hong Kong-based Forkast.news is a more general crypto news site.
The new company will start by launching flagship data indices, APIs, and business intelligence products to measure the digital economy based on real-time on-chain data.
---
Jon's Gamestx Substack is home to his on-going thoughts on the collision of gaming and player-owned value networks and is sponsored by HiroCapital.
Sign up for the free weekly newsletter for a big slice of all the key trends happening in this dynamic sector, and for a daily dose and full access to the archive, sign up for the paid option.