Twitch Co-Founder expands Solana-based marketplace, Fractal, to Polygon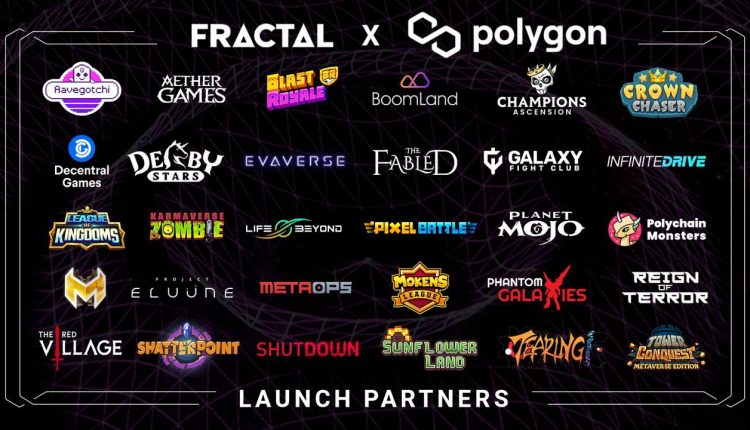 Polygon Labs, the development and growth team for the decentralized Polygon protocol, today announces that Fractal, the leading Web3 gaming platform, is expanding into the Polygon ecosystem. Fractal's product suite, F Studio, will be available on Polygon, including its launchpad, marketplace, tournaments, developer SDK, game launcher and Sign-in with Fractal service. Additionally, Polygon Ventures will make a strategic investment in Fractal, deepening the partnership and allowing the team to serve Web3 game developers and players better.
Originally established in 2021 by Twitch Co-Founder – Justin Kan – Fractal supports game developers by providing tools to solve some of their most pressing issues with blockchain and infrastructure. F Studio is an entire suite of developer tools for incorporating Web3 technology into projects quickly and easily, with features such as a gamer-friendly wallet and account management system, in-game marketplace APIs, fiat on-ramp, and NFT minting on demand. F Studio also helps game studios grow their player base via tournaments and NFT drops.
Under this new partnership, Fractal will work with 30 of the top games on Polygon, such as Aether Games, Champions Ascension, Phantom Galaxies, Life Beyond and more. Fractal and Polygon Labs will also launch a campaign of tournaments and game-centric activations leading up to GDC in late March. With this collaboration, these titles will have exposure to a larger player base, helping to expand and integrate the whole Web3 gaming community.
Harnessing Polygon's high-performance speed, scalability and ease of transactions will be valuable in supporting Fractal and the game projects it will go on to support. So far, over 200 unique titles have been launched on Polygon, all of which have seen 54% increase in unique addresses on the network. Bringing Fractal's tools into the fold will ensure that Web3 game developers can continue to invest their resources into building top-quality games​​.
Sandeep Nailwal, Co-Founder of Polygon Foundation, said, "Fractal has emerged as a crucial hub for the discovery of blockchain games. By teaming up with Fractal and combining their impressive suite of developer tools with our own, we aim to make 2023 the year we bring Web3 gaming to the mass market."