Big Blockchain Game List breaks 1,000 titles as 29 TON titles added in September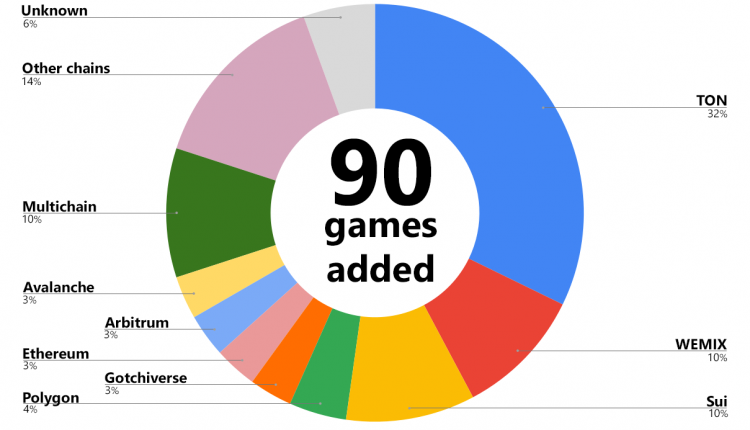 Sign up to our Substack, follow us on Twitter and connect with us on LinkedIn.
Crunching data for September's update to the Big Blockchain Game List, we've added a massive 90 blockchain games. Indeed, a total of 177 games have been added during Q3 2023, up 19% compared to Q2 2023, bringing the total number of live games or projects in development on the list to just over 1,000.
In-and-of-itself this number is not remarkable, but in the context of the larger hit the gaming market has taken recently, and blockchain games in particular, the increase reminds us that more than just the big brands and studios are trudging on, despite extremely challenging circumstances.
TON is the chain coming out on top in September, which has had 29 live games added. Titles include TON Planets Mars, Ton Squid, Battle Planes and Tonlanders, of which most aren't widely known in the industry. Powered by Toncoin, TON, which is short for The Open Network, is an open source tech originally started by Telegram and since runs externally. However, the two are closely linked with TON and increasingly well integrated with the 800 million-strong Telegram app. As blockchain game developers are still trying to work out the best distribution channels for mainstream adoption, TON might prove to have the answer, in that it operates on an already existing widely popular social platform.
Coming out in second and third position are Sui and Wemix each with 9 blockchain games added.
Another trend noted during September was the continuous growth of titles going cross-chain and deploying on Coinbase's L2 Base.
Finally, three games have announced their development, or at least their blockchain integration, have discontinued. These include Wemix-based Giant Monster War, Polygon and Ethereum-based metaverse Ethlas, and Forte-based Proxi from Will Wright's studio Gallium.