Most Popular Blockchain Games: October 2022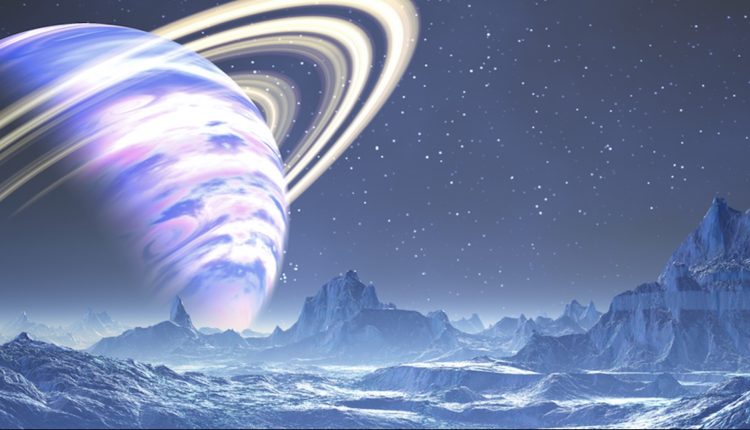 Blockchain gaming's Wile E Coyote moment
End of a month is becoming an increasingly busy time for those of us maintaining too many Google spreadsheets about blockchain games.
Let's tackle the most popular blockchain games first.
TL;DR — watch this 13 minute video.
Not much changed in October. Indeed, it could be argued that there's been a lack of change throughout this year, albeit that's more about a lack of growth than change per se.
Plenty of projects have or are experiencing audience declines.
One way of visualizing this is by plotting their on-chain performance now compared to their all-time highs and lows of daily activity.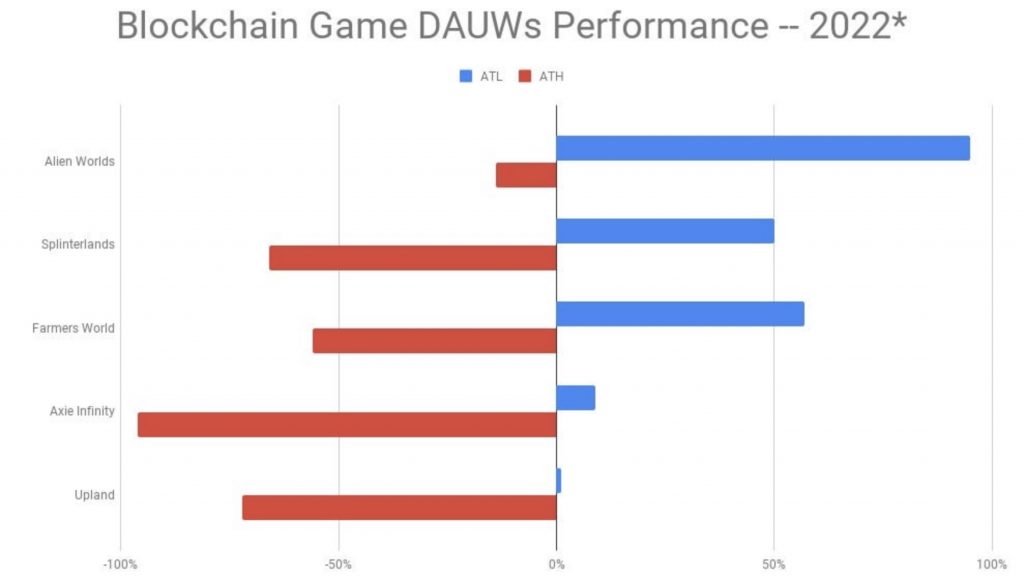 Today's most popular on-chain game Alien Worlds has done the best, currently up 95% from its 2022 low and down only 14% from its high.
In contrast, Upland is down 72% from its high and up just 1% because it's been in steady decline since May.
Investment stats
Over the past couple of months, it's a similar story when it comes to funding for the blockchain game and metaverse sector. As ever, the caveats are that this data is based on when deals are publicly announced, not when the money actually changes hands: there can be a lag of a couple of months.
But from what I'm seeing I wouldn't now expect much to change in the final two months of 2022. Market conditions are neutral, at best, and I don't see too many reasons for VCs to be pushing through deals quickly. They know they can wait and perhaps even get better terms in early 2023.
Sadly that means plenty of projects that completed their first raise in late 2021 or early 2022 are now struggling to close subsequent funding rounds, especially in terms of nailing down lead investors.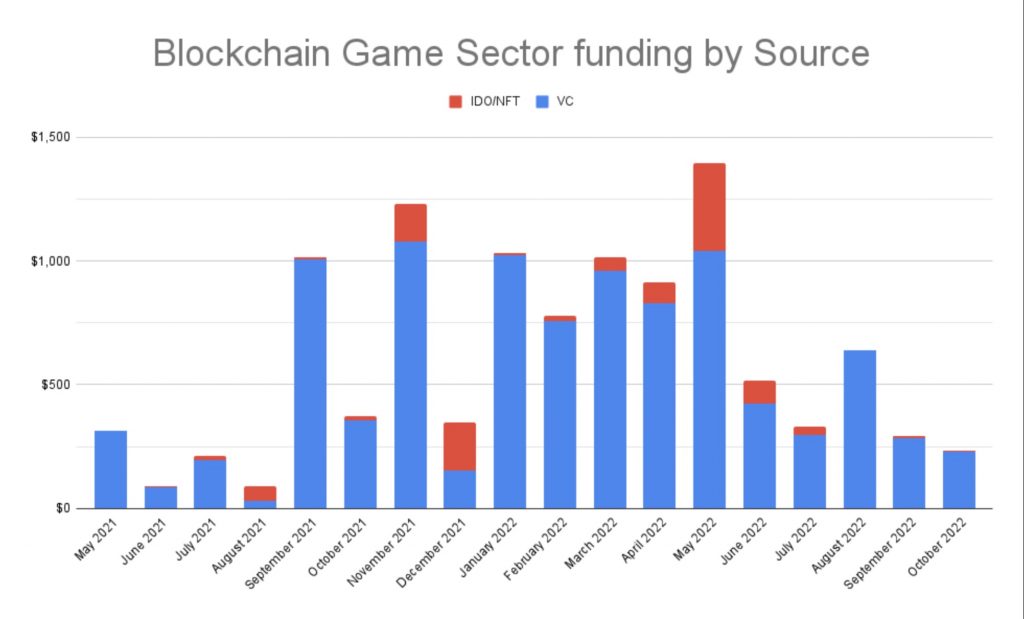 As for October's numbers, I noted $235 million of announced investment into the blockchain game and metaverse sector, which is the lowest since $89 million was announced in August 2021.
In terms of 2022 to-date, the first 10 months of the year have seen $7.2 billion of funding announced, which linearly extrapolated would give an annual total of $8.5 billion, or $7.7 billion if we continue at the rate of the past two months.
However, I think November could still be a big month relatively-speaking because companies and VCs alike prefer to bulk announce investments before to the December shutdown.
Nevertheless, this is a lot different than the $10 billion total for 2022 that people were discussing just a couple of months ago.
But it's also worth pointing out that the decline in terms of the numbers of deals announced is less pronounced than the decline in the total value of the deals. This is because the majority of deals now are smaller Pre-Seed, Seed and Series A, with fewer of the larger Series B and C cheques being signed.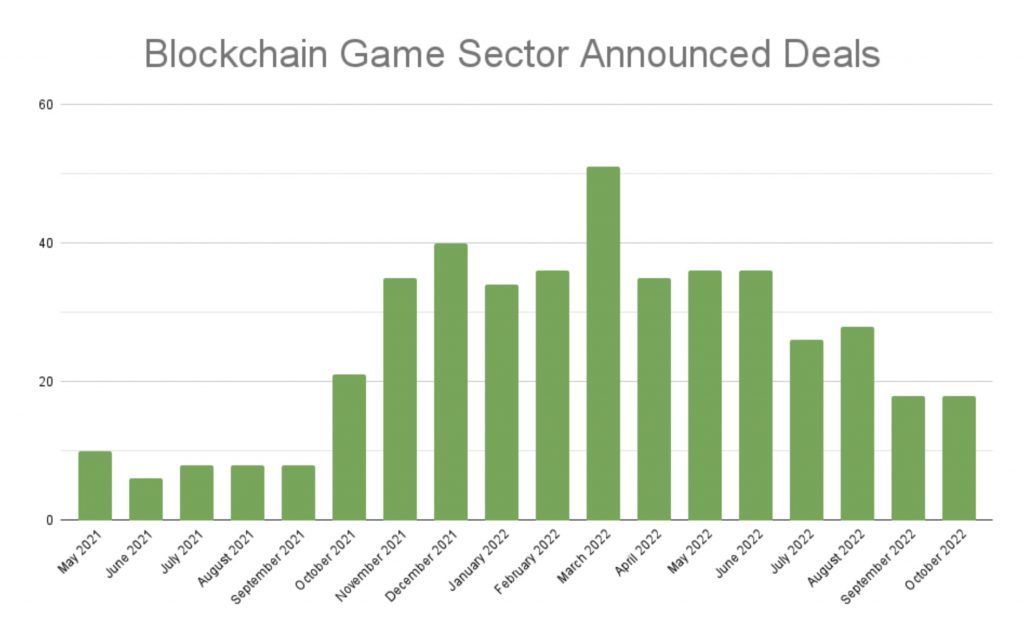 Still, given the continuing crypto winter, none of this should be a surprise. Bitcoin and Ethereum are still 80% off their all-time highs, albeit 50% up from their June 2022 lows and macro conditions remain uncertain, although perhaps better than some of us thought earlier in the year.
Looking forward, though, I wonder if we're now reaching a critical point in terms of actual product going live.
The next six months will see a lot of games with blockchain elements either entering open beta or formally going live.
The Most Anticipated tab for the Big Blockchain Game List contains over 40 titles — the total list is now almost 700-strong — and personally I've noticed I'm now testing a lot more games, mainly PC client, which are of a much higher quality than what we've seen to-date in terms of browser-based blockchain games.
And depending on how Apple's new App Store guidelines play out, maybe Q1 2023 will also see an explosion in mobile blockchain games with NFT minted in-app and paid via IAP.
Certainly the likes of Mighty Bear Games and Mythical Games seem to be full speed ahead for their high quality mobile games' app store debuts.
In other words, there's not a lot of positivity at the moment, but I don't think that's going to be significant in terms of what happens in 2023.
---
Jon's GamesTX Substack is home to his on-going thoughts on the collision of gaming and player-owned value networks and is sponsored by HiroCapital.
Sign up for the free weekly newsletter for a big slice of all the key trends happening in this dynamic sector, and for a daily dose and full access to the archive, sign up for the paid option.