Most popular blockchain games — November 2019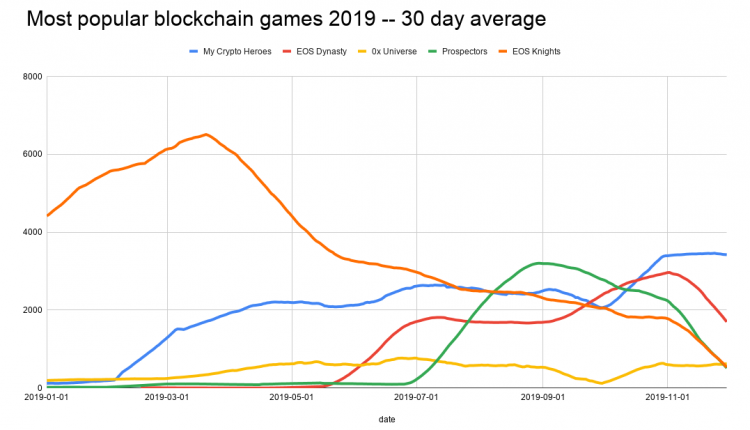 Who's up, who's down, and why
Welcome to our regular look at the most popular blockchain games.
November proved to be a very difficult month for any dapp running on the EOS blockchain, and that was no exception for games.
Ironically, over the previous months, some of the most popular blockchain games were running on EOS, so the ongoing congestion caused by the EIDOS airdrop has been a disaster for them.
That stated both EOS Knights and Prospectors were already experiencing decline during October (all data from DappRadar).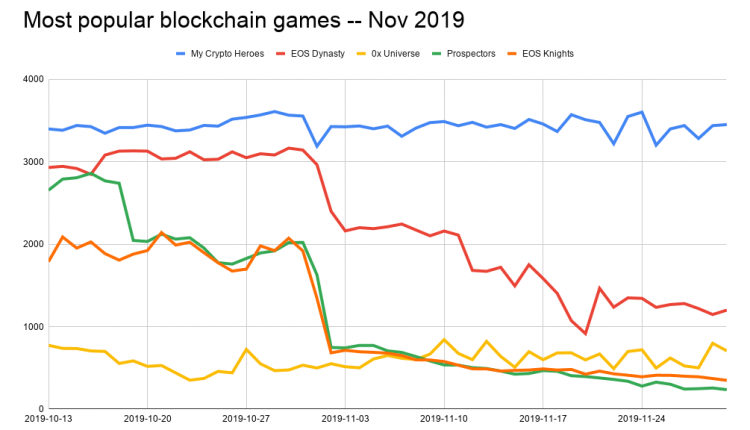 Nevertheless, all EOS dapps experienced a cliff-edge drop in early November that continued throughout the month as these games effectively became unplayable unless players significantly increased the amount of EOS they had staked for system resources. 
In terms of games running on Ethereum, however, November was business as usual. Both My Crypto Heroes and 0xUniverse maintained their audiences. 
The impact of EOS's EIDOS congestion can be seen more clearly using a 30 day trailing graph, with all EOS games declining at the same gradient.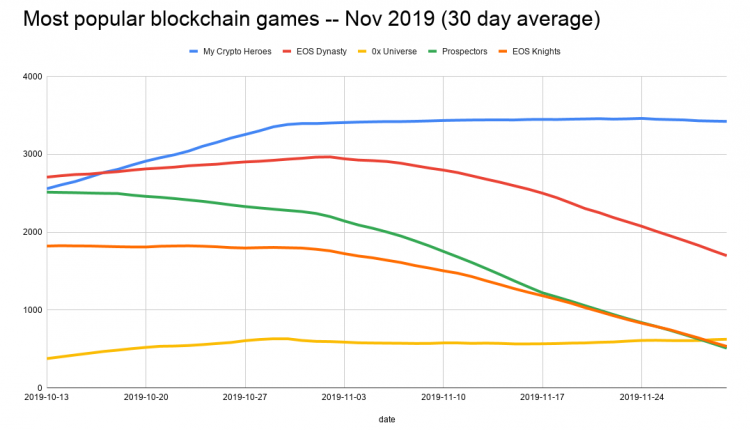 This also shows Ethereum-based games bouncing back following that blockchain's gas price issues in September.
Finally, it's worth considering the year-to-date view, particularly to remind ourselves that in March EOS Knights peaked at 7,000 daily active wallets. Now it's well under 1,000.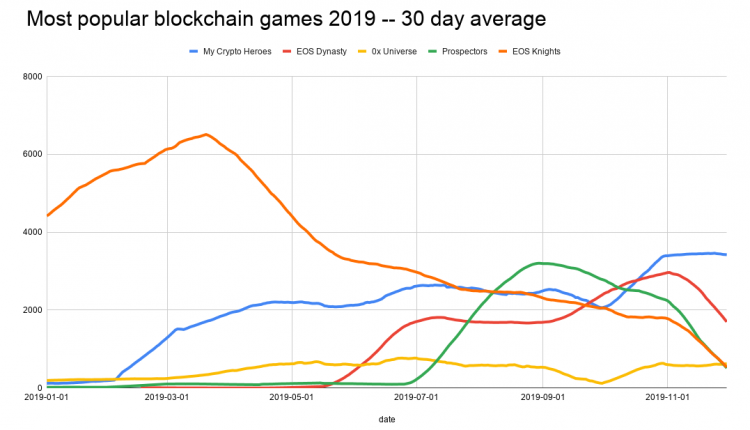 My Crypto Heroes is ending 2019 strongly through, maintaining over 3,000 daily active wallets.
Join us for two days of discussion about the blockchain game sector at Blockchain Gamer Live London 2020 on 20-21 January.
Continue the discussion in our Telegram group and don't forget to follow BlockchainGamer.biz on Twitter, Facebook, and YouTube.