Most popular blockchain games — September 2020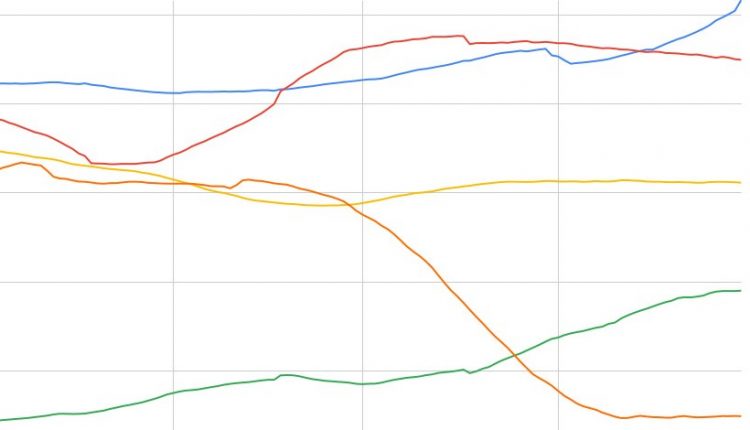 Who's up, who's down, and why
Welcome to our regular look at the most popular blockchain games, using data from DappRadar.
September was an interesting month for blockchain games. 
In part, there was a continuation of previous trends.
Splinterlands remains the #1 blockchain game in terms of daily activity. 
Despite a modest decline arising from its new feature gating the access tournament rewards via a power ranking of player's owned cards since mid-September, it has almost double the daily audience of the next most popular game.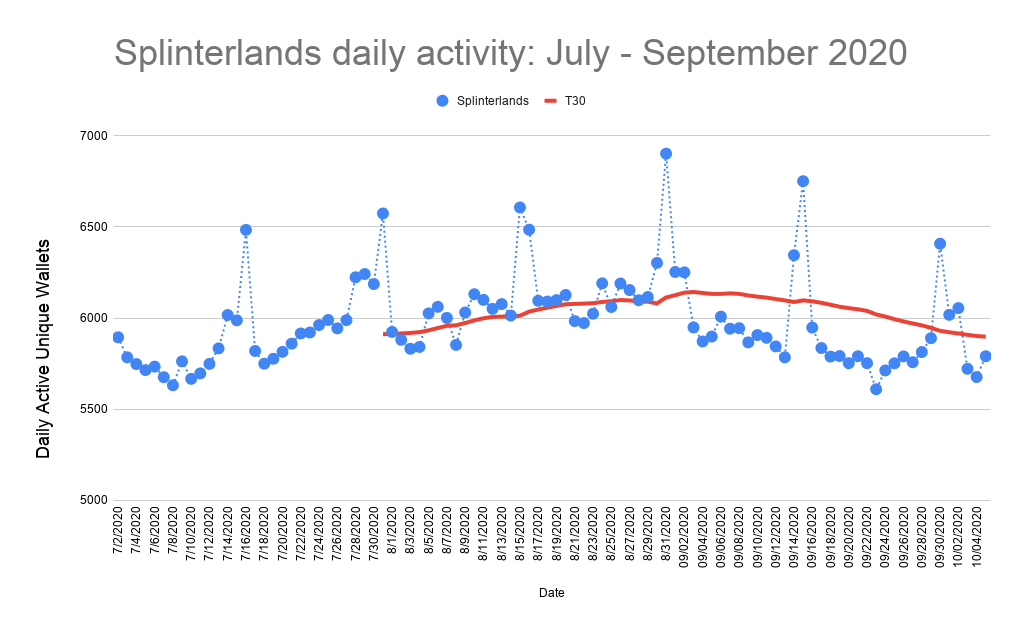 Similarly, Crypto Dynasty has continued its decline; down from over 4,000 daily active unique wallets in April – when it was the most popular blockchain game – down to under 2,000 dailies at the end of September. 

The second ranked game, Prospectors hasn't changed its audience: 3,000 daily active unique wallets split across the EOS and WAX blockchains.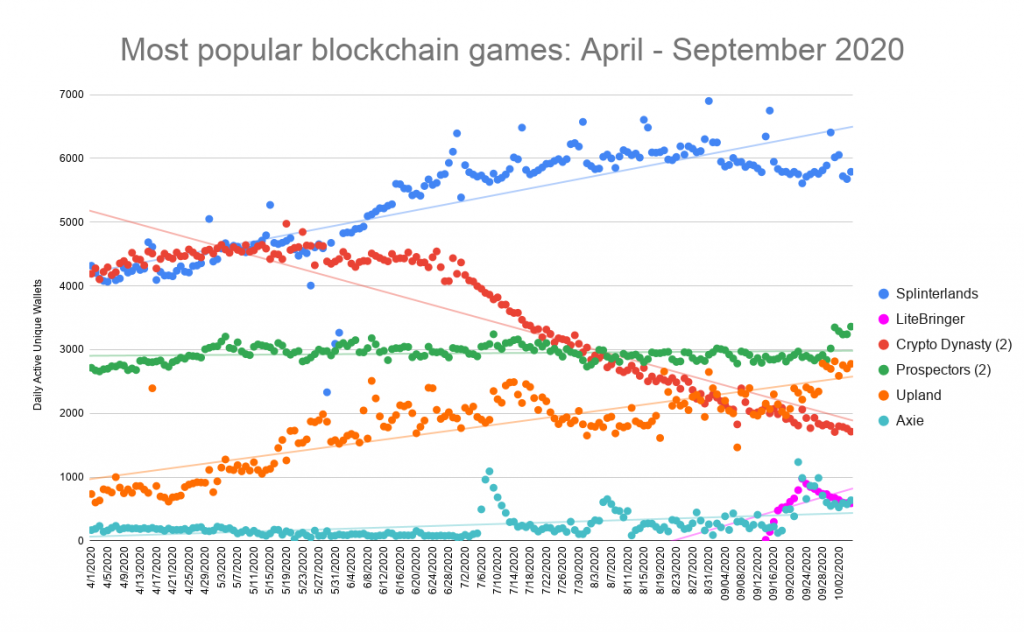 There was plenty of growth among some of the smaller games, however.
Monopoly-style mobile game Upland continues its rise particularly driven as it unlocked new locations. Starting in San Francisco, the next city opened up was New York and amongst other new features, Upland recently enabled fiat trading (in and out) for in-game assets.
Its daily total is now approaching 3,000 daily active unique wallets, making it the third most popular game. 
As for Axie Infinity, its growth since July has been off the back of the explosion in DeFi dapps.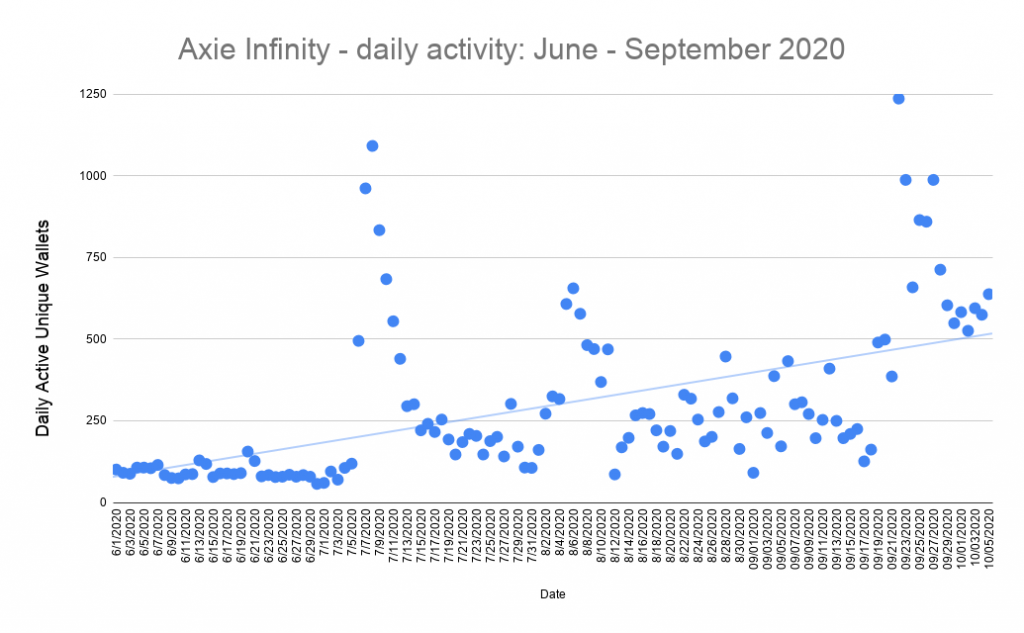 Initially this was due to the speculative price increase of its Small Love Potion (SLP) token – at one point up 100-fold – but now the focus has shifted to its high value NFTs. The headline in this context was the $160,000 spent by crypto investment outfit Delphi Digital on five rare Axies NFTs.
Of course, thanks to high gas fees on Ethereum, the daily audience for Axie Infinity (in this case we're measuring traders) remains relatively small even in blockchain terms, but it is up four-fold compared to its June average. 
The final game worth highlighting this month is CipSoft's LiteBringer.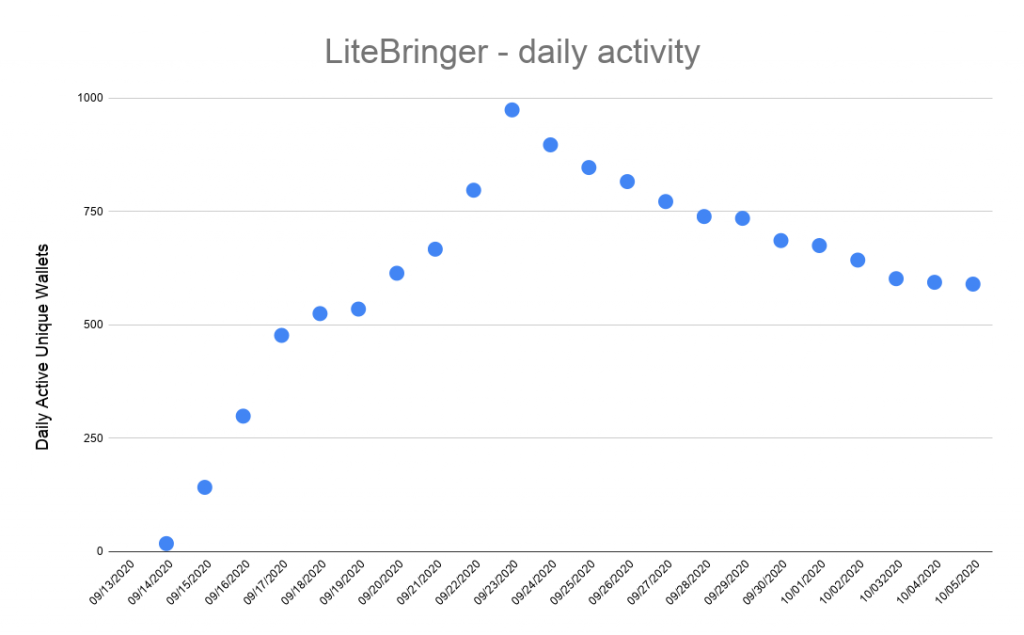 An idle RPG running on the Litecoin blockchain, it requires a PC download and a small amount of LTC crypto to play. 
Launching on 15 September, it quickly rose to just under 1,000 daily active unique wallets. This total has since fallen back to around 600 dailies.

---
Check out our Top 50 Blockchain Game Companies list here.

And continue the discussion in our Telegram group and don't forget to follow BlockchainGamer.biz on Twitter and YouTube.