Most popular blockchain games — September 2021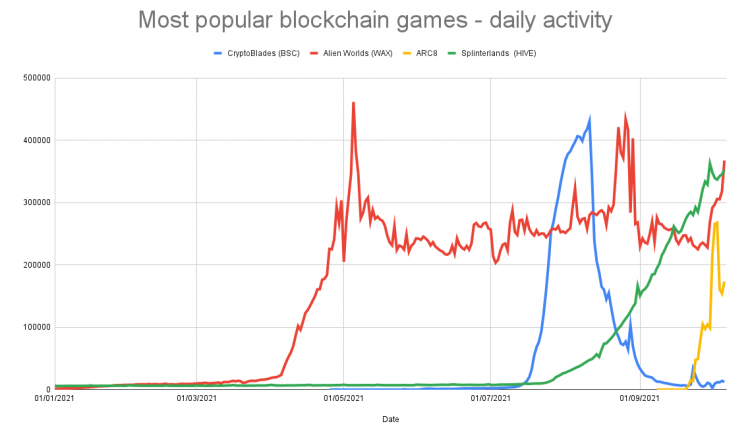 Who's up, who's down, and why
Welcome to our regular look at the most popular blockchain games, using data from DappRadar.
Having started 2021 as the most popular blockchain game with around 8,000 daily active unique wallets, Splinterlands regained its crown for a time thanks to the enormous success of its SPS airdrop and staking feature.
It's currently attracting over 350,000 daily actives and recently welcomed its one millionth registered user.
The only reason it's not the undisputed most popular blockchain game is the revitalisation of Alien Worlds.
It's just launched a nice new UI and has plenty of plans for the future including its mission feature. This momentum saw the title jumping from 250,000 to 350,000 daily active unique wallets and just pipping Splinterlands as the most popular blockchain game in early October.
It's a very different story for CryptoBlades, which has collapsed from a peak of over 400,000 DAUWs down to around 10,000. Unsurprisingly its SKILL token is down 92% from its all-time high of $184 recorded back on 24 July.
For the first time, we've also posted the data for ARC8, which isn't strictly a game but is a blockchain gaming platform from the Animoca-owned GAMEE. The app is just a glorified token distribution experience at the moment, but we'll be keeping an eye on its performance as more features are rolled out.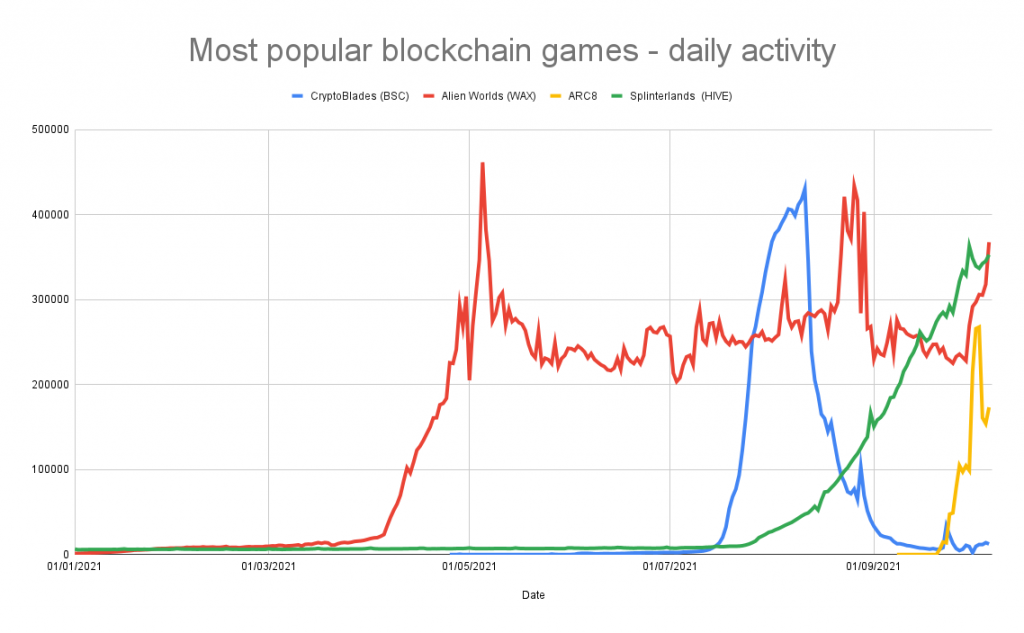 Looking at some of the games with smaller audiences, there was less action during September.
Upland is maintaining an audience of between 40,000 to 30,000 daily active unique wallets, while Axie Infinity's on-chain activity dropped off from its July peaks. The vast majority of its players don't make on-chain transactions so aren't recorded in this data.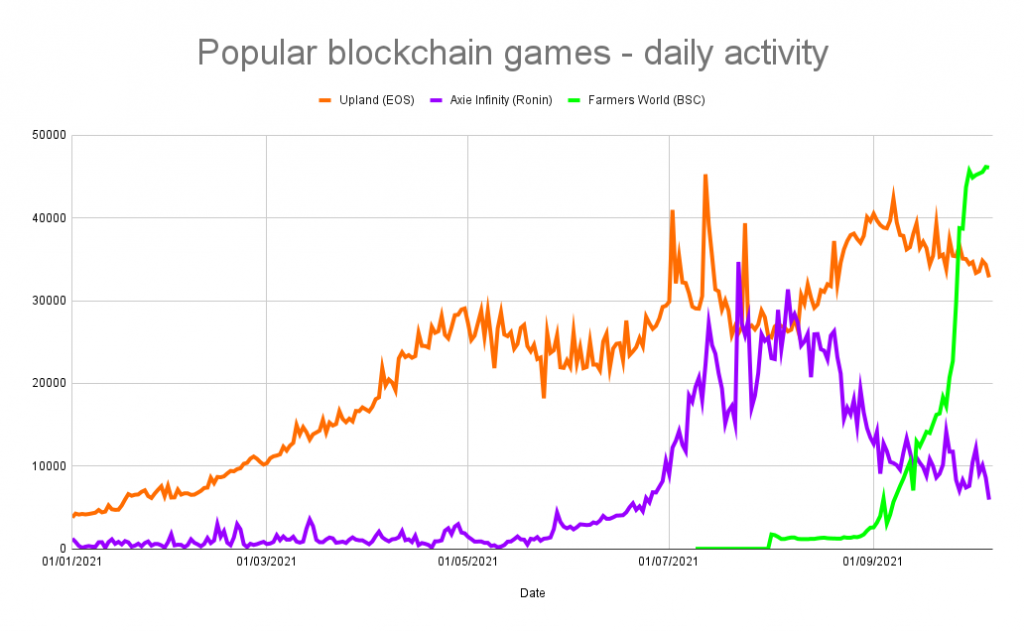 One newcomer was Farmers Worlds, an NFT-farming game running on Binance Smart Chain. It's rising quickly, breaking the 40,000 DAUWs mark in September.
Is it an Alien Worlds or a CryptoBlades? We'll find out in October.
Check out our Top 50 Blockchain Game Companies list here.
And continue the discussion in our Telegram group and don't forget to follow BlockchainGamer.biz on Twitter and YouTube.