Most popular blockchain games — February 2020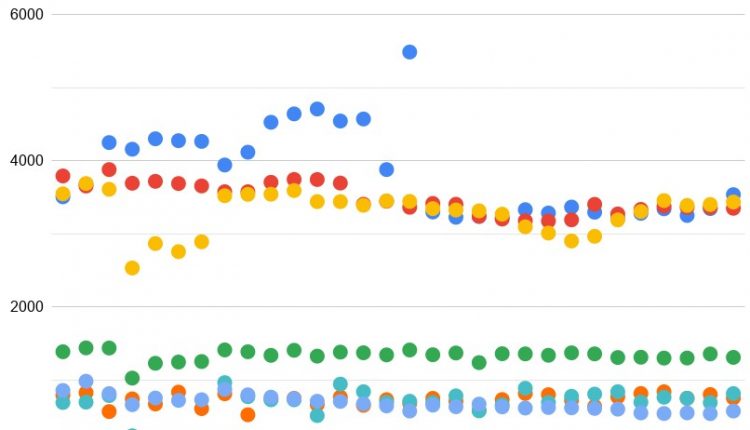 Who's up, who's down, and why
Welcome to our regular look at the most popular blockchain games.
During February 2020, we saw the launch of Brave Frontier Heroes, a new game from the developer of My Crypto Heroes. 
It's proven to be very successful, immediately becoming the fourth most popular blockchain game, with over 1,000 daily active unique wallets.
(That's something we consider a mark of a successful blockchain game at the moment at least. Note: All data is from DappRadar.)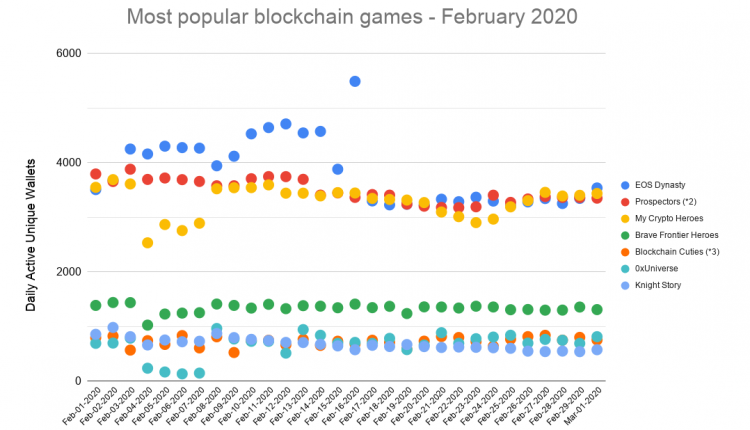 But in terms of blockchain games, other than Brave Frontier Heroes, the trends are broadly the same as January. 
EOS Dynasty, Prospectors (combined EOS and WAX wallets), and My Crypto Heroes remain the three most popular blockchain games with roughly 3,500 daily active unique wallets. 
There's also a cluster of smaller titles, with less than 1,000 but more than 500 daily active unique wallets. These are Blockchain Cuties (combined Ethereum, TRON and NEO wallets), 0xUniverse and Knight Story.
Popularity trends
Looking at more medium term trends, we switch our analysis to consider each game's trailing 30 day wallet activity average. These lines are much smoother to reduce daily noise.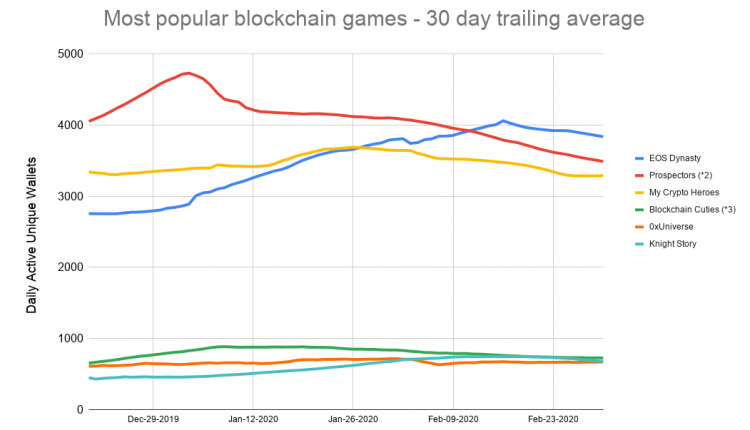 This shows that Prospectors has experienced a decline from its WAX launch in mid-December.
EOS Dynasty's growth also appears to have peaked in early February.
My Crypto Heroes' total has remained broadly the same, despite the launch of Brave Frontier Heroes, which appeals to a very similar audience.
Check out our Top 50 Blockchain Game Companies list here. 
And continue the discussion in our Telegram group and don't forget to follow BlockchainGamer.biz on Twitter and YouTube.