Most popular blockchain games for September 2019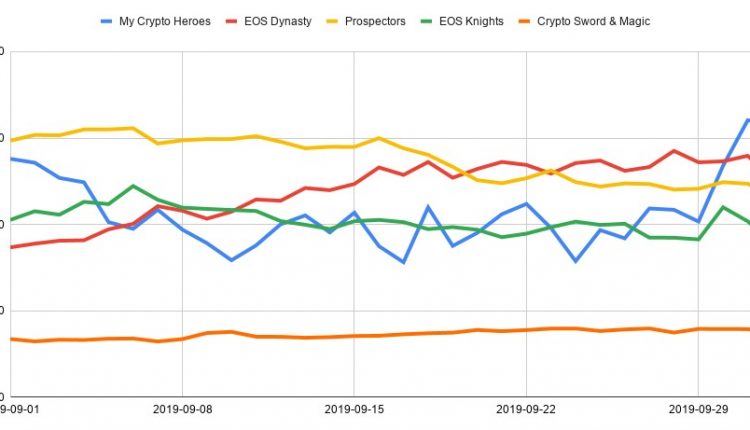 Who's up, who's down, and why
Welcome to our regular look at the most popular blockchain games.
During September 2019, there was plenty of activity, both in terms of movement up and down the top 5 rankings, as well as structural issues with some blockchains themselves.
My Crypto Heroes regains #1
Looking at the raw daily active wallet totals (from DappRadar), we can see that the game that started September as the most popular game – Prospectors – didn't end the month as such.
Peaking at just over 3,000 DAUs early in the month, the wild west economics sim, which runs on EOS, then experienced a steady decline, ending September in the #3 position.
The big winner was My Crypto Heroes, with the Ethereum-based RPG recovering from a month-long decline as changes to the Ethereum ecosystem, including the increase of block gas limits, reduced the gas cost of each transaction.
It ended the month with over 3,000 DAUs.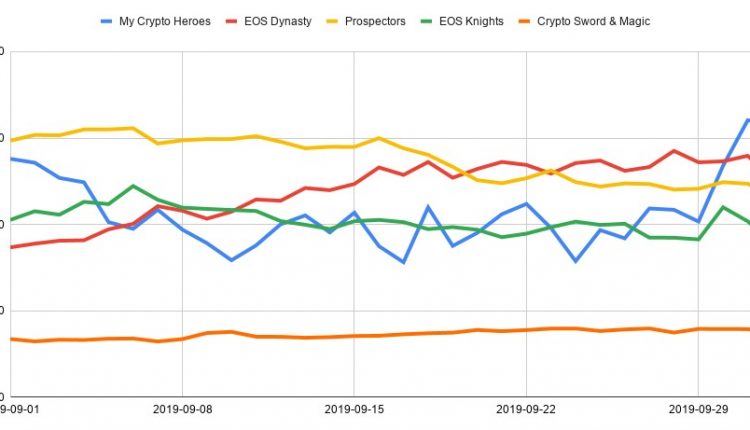 Indeed, while the end of the month was good for games running on Ethereum, it looks like the reverse for games using EOS. Both EOS Dynasty and EOS Knights dropped DAUs.
Of course, it should be pointed out that these four games have very similar audience sizes; roughly somewhere between 2,000 and 3,000 players.
The game in fifth place is Crypto Sword & Magic. The EOS-based RPG is growing slowly but remains well under 1,000 DAUs.
Deeper data
Looking at the data in a slightly different format – I used a trailing 30 day average – we can see longer term trends.
Prospectors' decline looks is made more clear as is EOS Dynasty's rise. For much of September it was the most popular blockchain game.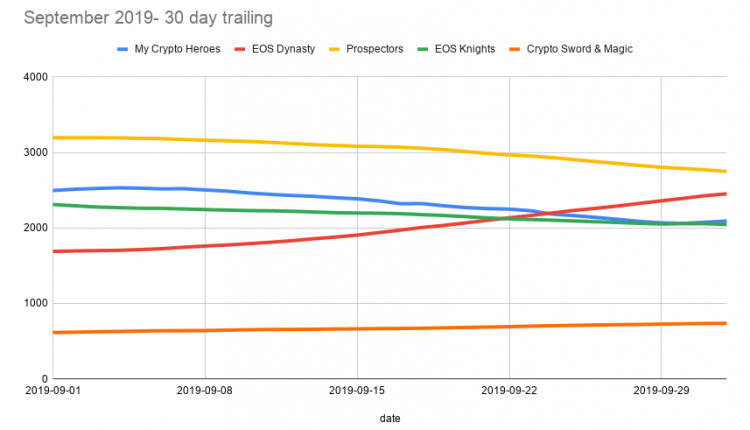 Finally, the impact of Ethereum's gas price can be most clearly seen by checking out the DAUs for 0xUniverse; a game which has a complex smart contract and hence uses a lot of gas.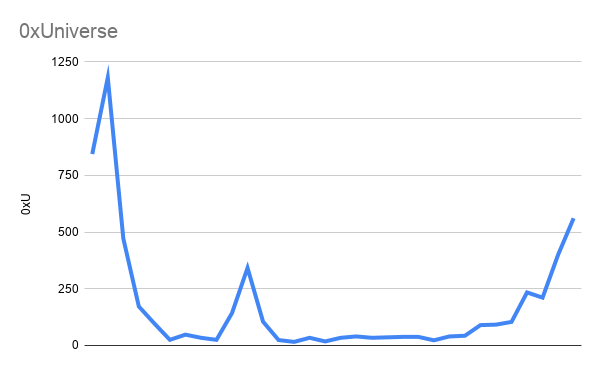 Peaking at over 1,000 early in September, the rise in gas prices, which saw single transactions in the game costing over $2, destroyed the daily user base, although it now looks to be recovering.
Continue the discussion in our Telegram group and don't forget to follow BlockchainGamer.biz on Twitter, Facebook, and YouTube.