Speaker profile: Arthur Madrid, Pixowl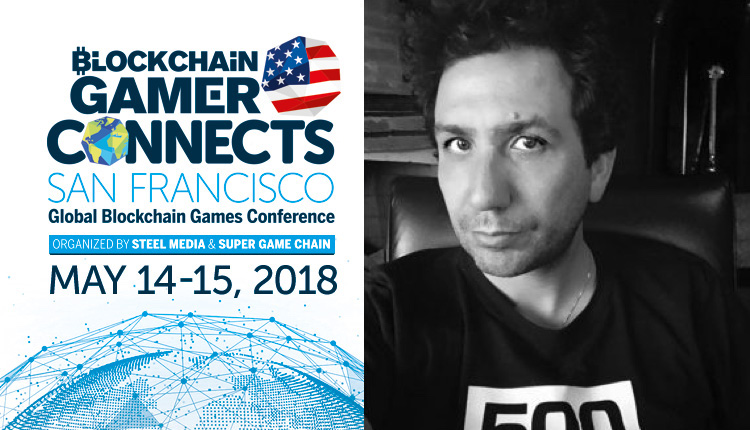 Find out more about one of the 40 world-class blockchain gaming speakers appearing at Blockchain Gamer Connects San Francisco
Arthur Madrid, CEO at Pixowl, is one of 40 world-class blockchain gaming speakers appearing at Blockchain Gamer Connects San Francisco on May 14-15. To hear him speak in person, book your ticket now!
Q: What do you do?
A: I'm CEO and co-founder of Pixowl.
Q: What makes you most excited for blockchain gaming?
A: The possibility of true decentralization and ownership of content for the players. Whatever they possess in the games, it's truly theirs thanks to the openness and transparency of blockchain technology. The use of Blockchain applied to user-generated games content, often over-centralized by the companies that host them, will disrupt the industry leaders in the space.
Our goal is to decentralize ownership and distribution of UGC in a virtual world with true ownership, decentralized control and ability for players to profit in cryptocurrencies from items created in a fun environment.
Creating virtual worlds is a new medium of expression, widely adopted by millions of creators and the application of blockchain to our open platform is a more than promising space where we want to establish ourselves as the next leader.
Q: What are your thoughts on the way the sector has grown in the last 12 months?
A: Blockchain technology in the last year has had an exponential growth of mainstream media exposure, allowing it to be known by larger amounts of audiences every day. I believe this will steadily increase the perceived trust of the general public towards this innovative technology, leading to more people actually purchasing and trading goods through it.
It's overwhelmingly exciting and we are confident this is just an initial stage to prepare for a second phase.
Q: What major trends do you predict for blockchain gaming in the next 12 months?
A: I predict that many gaming related companies will start experimenting with this concept and we will be able to see lots of different new experimental games. Those might not be the best games, but they will pave the way to a brand new and transparent era of gaming.
There is currently too much friction and loss of potential customers, as most people tempted by joining a game are churning due to all the steps involved in creating a wallet and getting ready to enter the game.
Additionally, we think that tokenized gameplay will certainly evolve to be less purely website-based and to enter the realm of video gaming experiences as traditional gamers have been accustomed to on mobile and PC over the last 10 years through casual or mid-core gaming.
You will see many web based crypto collectible games, and major improvements in the on-boarding process to play.
Q: What will you talk about in your presentation?
A: Most developers think about the success of games that are instant hits from their first day on the app store.
The long-lasting success of our game, which is now six years old, is greatly related to the time and energy spent by Pixowl in community management, versus traditional User Acquisition and marketing dollars.
I'll share the best practices of our community oriented strategy, from basic social actions to real world events gathering players as well as key facts, numbers and concrete tips for developers to start, grow and nurture a fantastic community of players around their game and think of making games as running live operations.
The story I would like to share is that it is possible to build a success that can last over years with a smart strategy consisting of community management, regular updates and empowerment of players.
I'll also reveal details about the game's third sequel, which will be 'Minecraft on the blockchain' and how we plan to engage a community of contributors from the alpha version of the game.
But most of all, I'll share with the audience how we are planning to move our franchise from mobile to PC and focusing on the blockchain. I'll talk about what our challenges are and how we can involve the community right from the start.
Q: Which part of Blockchain Gamer Connects/PGC San Francisco are you most looking forward to and why?
A: Building a network of cryptogames and people that agree to build work together to bring standard and increase adoption in the next 6-12 months.
Don't miss your chance to hear Madrid speak about building on a game's success on user-generated content and moving it to the blockchain at Blockchain Gamer Connects San Francisco, at 14:40 on Tuesday May 15. Book your ticket now!
About The Speaker
Arthur Madrid is the Co-founder and CEO of Pixowl and a longtime social-gaming entrepreneur. He has sold two software companies, Wixi Inc. and 1-Click Media, and he is an advisor for a few startups in gaming, social media and software. Madrid began his career building a P2P delivery platform for media companies, one of the first Distributed Computing Software. (DCIA)
About Blockchain Gamer Connects San Francisco
More than 400 blockchain gaming delegates will gather at the Bespoke venue on May 14-15 for Blockchain Gamer Connects San Francisco. Over the two days of the event, there will be 40 expert speakers addressing the key issues for the blockchain gaming  industry, from global trends and new tech to tips, tricks and strategies. Tickets are selling fast, so don't miss out – get yours now!