How ClanPlay's using blockchain to create a marketplace for competitive gaming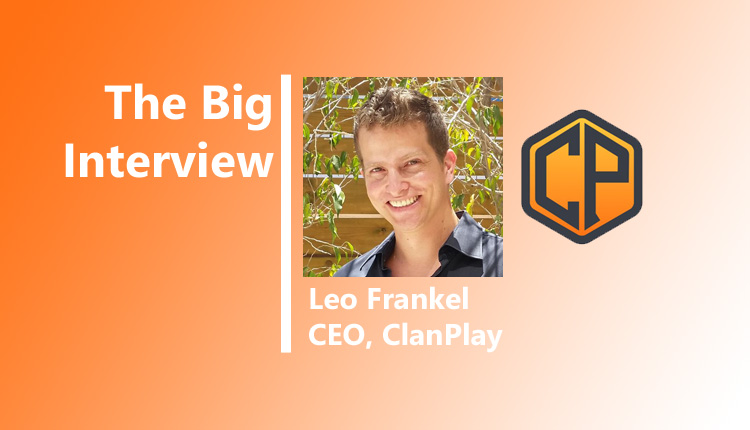 CEO Leo Frankel explains the plan
For some blockchain is an all-consuming passion, while for others it's an enabler towards their next business goal.
And that's the situation for Israeli startup ClanPlay.
If you're good, you will be able to make a living from playing on ClanPlay.
Initially focused on its mobile game messaging app, something CEO Leo Frankel is proud to highlight as the "highest rated app" of its type, blockchain is the opportunity to take the company's vision to the next level.
"We're the market leader on mobile but for our next phase we would have been competing with Discord," he points out.
So, following investor discussions and an additional $2 million equity seed raise, Frankel and his team decided instead to combine their previous experience of working with mobile game communities with a blockchain-based economic model to come up with a new competitive product based around PC and console games.
Tokenizing play
"One issue for game clans at the moment is there's no easy way to recruit players," Frankel says.
Taking the concept a step further, he argues some clans would be happy to pay small amounts to recruit the right sort of players, while there's always a large pool of players who would jump at the chance to be paid. That's also something that will appeal to advertisers, who could directly reward players for playing and gaining achievements in their games.
This sort of economy easily extends to players spending small sums to enter challenges and tournaments against other players, with the winners sharing the prize pot.
The result is ClanPlay's tokenized economy marketplace using its Good Game (GG) token, which will run on the Aion blockchain and enable all these use cases.
Aion-focused VC Bicameral Venture participated in the seed raise, while blockchain entrepreneur Ran Neu Ner (Onchain Capital) has recently joined its advisory board too.
Best of blockchain without the hassles
One thing that's significant about this new approach is its bottom-up approach. Thanks to open data feeds, ClanPlay can support community activity around PC games such as PUBG and Fortnite without requiring any interaction with their developers.
This is in stark contrast to the process ClanPlay had go through to get featured within Supercell's Clash Royale. "It only took 50 emails," Frankel smiles.
Nevertheless, getting featured within that game was how the app gained a decent audience, with over two million users signed up. Frankel now hopes to migrate that community to the new product giving it scale from the get-go.
And this will matter, perhaps more than for other blockchain game projects in terms of how ClanPlay plans to present its blockchain marketplace to its users. As with many projects now, it won't be onboarding people through a complex wallet set up, instead hiding the complexity to ensure a honed user experience.
"Gamers are used to owning currency as part of their profile," Frankel says, pointing out most won't care if that currency also happens to be a token on a blockchain.
In this way, gamers will be able to exchange their Good Game tokens for fiat currency automatically via an exchange integration that Frankel hopes will be a natural outcome of the large user base the product will attract.
The blockchain advantage
Still, it should be pointed at that there are already products offering this sort of real-money competitive play: mobile platform Skillz has been successfully doing this for years without using the blockchain for example.
Frankel say ClanPlay will be different because of its focus on core PC games, compared to Skillz's more casual mobile angle. But, like Skillz, he says it will be marketing itself as a product in which gamers have the potential to make a good living.
"Yes, if you're good, you will be able to make a living from playing on ClanPlay," he says.
"You can't do this immediately. You'll have to build up your reputation ranking in game before you can enter the top tournaments. And we'll also always have free tournaments people can play just for token rewards."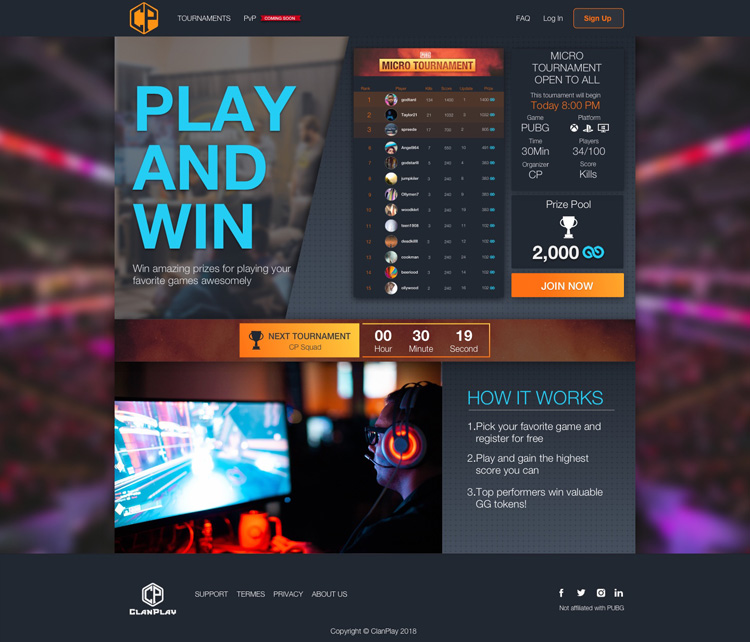 In that context, the flexibility provided by 'owning' its platform token should be be ClanPlay's biggest advantage over non-blockchain projects.
Assuming it can pull off its exchange integration, the Good Game token will function as a value resource which simultaneously has both financial and communal value. The best of both worlds then.
You can find out more about ClanPlay via its website. 
Continue the discussion in our Telegram group and don't forget to follow BlockchainGamer.biz on Twitter, Facebook and YouTube.