Meet our sponsors: the blockchain companies disrupting games in 2018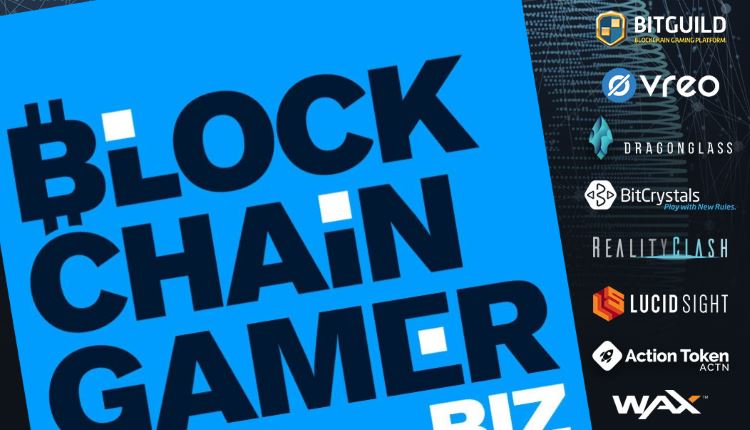 Eight industry leaders back new b2b blockchain media venture
Welcome to BlockchainGamer.biz! We're thrilled you joined us to discover the impact of the next games industry disruption.
Steel Media has launched this b2b web resource specifically to deliver quality journalism about the exciting new arena of blockchain-based gaming.
The editor of this site, veteran games journalist Jon Jordan, says: "Mobile games went from zero to become the largest sector of the $100 billion games industry. I expect blockchain's impact to be even more significant."
Helping hands
It wouldn't be possible without the sponsors who have leapt on board from day one to support this venture. We're joined right from the start by eight of the most exciting companies in this market.
It's clear that we're on to something here, given the calibre of patrons who are involved: Action Token, BitCrystals from EverdreamSoft, BitGuild, Dragonglass, Lucid Sight, Reality Group, Vreo, and WAX.
Our CEO, Chris James, comments: "I strongly believe that both BlockchainGamer.Biz and the Blockchain Gamer Connects events, together with support from awesome businesses like our launch sponsors, can play an important role in both helping to demystify the space and also stimulating connections and growth."
Here's a little more about these pioneers, in alphabetical order:
The Action Token team believe in an app development ecosystem that enables the best apps to surface and be discovered by users. In a world of almost limitless choice of apps, they want to connect the right users with the right apps. The key to unlocking wide accessibility of apps and opening up discoverability is democratizing mobile app data. By creating a decentralized marketplace for app data, developers are rewarded for participation, not being the biggest spender. App data is valuable, yet so few currently profit from it. Data should be owned by all developers to make better apps and improve experiences and also by the users to make their voices heard. By democratizing app data, Action Token aim to ensure a more secure and highly functional marketplace for data that isn't possible under centralized, privatized data networks.
BitCrystals is a division of EverdreamSoft, a Swiss-based company specialising in the development of games, tools and applications for the blockchain. EverdreamSoft is also the publisher and creator of blockchain-based collectable card game Spells Of Genesis that has had over 20k cards bought and traded. CEO Shaban Shaame says: "We're very pleased to be supporting BlockchainGamer.biz. The blockchain and its potential applications for games are growing exponentially, so it's great that there's a site dedicated to providing ongoing insight and education for this vital area of the games industry."
BitGuild's mission is to revolutionize the global gaming industry by creating a platform for a brand new class of games that live on the blockchain. Blockchain games completely redefine the relationship between players and developers by facilitating full and true ownership of in-game assets, cheap and safe item trading, cross-game compatibility of items and currency, and more. BitGuild's team consists of cryptocurrency and gaming veterans with decades of experience building international large-scale gaming platforms and communities. BitGuild aims to host the best blockchain games and the largest blockchain gamer community online.
Dragonglass is the world's first in-game cryptocurrency mining experience. Everyone can use it to mine Ethereum-based DGS tokens while playing an engaging mobile game. Since Dragonglass does not rely on computing power, players can use any iOS or Android smartphone, capable of running a 2D mobile game.
LA-based game studio Lucid Sight is managed by a team of successful entrepreneurs who sold AdColony in 2014 for $350 million. The development team consists of entertainment and gaming veterans from Universal, DreamWorks and EA. To date, the company has released games earning more than one million downloads on Steam, Gear VR, Oculus Rift, Daydream, and PlayStation. Its current focus is developing unique gameplay experiences that utilize the innovative advantages of blockchain technology.
The Reality Gaming Group is the developer and publisher of mobile AR combat game Reality Clash, which is due for release in late 2018 and utilises exciting blockchain technology. It's also the creator of a ground-breaking AR geolocation platform for mobile, which can be deployed across a huge range of content types. The Reality Gaming Group development team has more than 20 years' experience across mobile, PC, console, AR and VR games platforms. Co-founder, Tony Pearce, says: "We wholeheartedly welcome the launch of BlockchainGamer.biz. As pioneers ourselves in this fast-moving world of cryptocurrency and blockchain technologies, we know there's a huge desire across the games industry for more information and practical advice. We're delighted to be supporting this new site as a launch partner and look forward to sharing our experiences on the creation of our upcoming AR combat game Reality Clash, which utilises both blockchain technology and cryptocurrencies."
Vreo is developing digital advertising solutions that not only address current issues of in-game advertising, but also strive to consolidate brands, developers, and gamers with mechanisms that ensure a fair distribution of advertising benefits.
WAX is a functional utility token that supports a decentralized platform, enabling anyone to operate a fully functioning virtual marketplace with zero investment in security, infrastructure or payment processing. Developed by the founders of OPSkins, the world's leading marketplace for online video game assets, WAX is designed to serve the 400+ million online players who already collect and trade video game assets and crypto-collectables. With the inclusion of the WAX simple exchange widget, gamers will have access to a worldwide market with blockchain trust and transaction verification.
We're enormously grateful for all their support. To join the line-up and be part of this new media launch in the b2b blockchain gaming space, contact [email protected] for partnership enquiries.
Editorial requests and submissions should be directed to [email protected]. Look out for announcements about the Blockchain Gamer Connects events we will be hosting, starting in San Francisco, May 14-15, 2018.