Star Atlas and The Sandbox collide: Metaverse meets metaverse in intergalactic art competition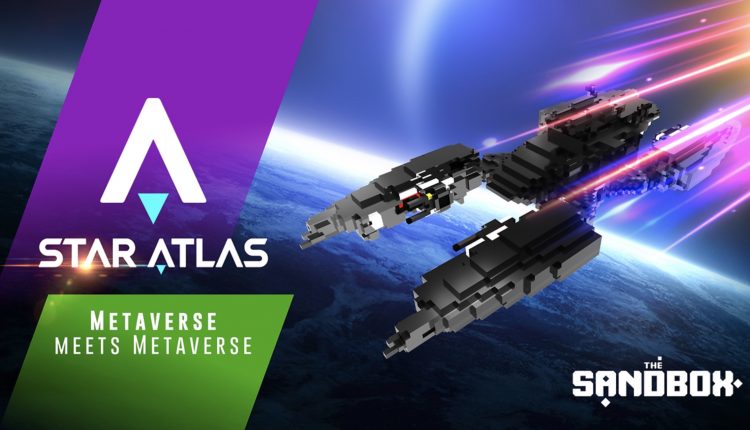 Gamers bring their favourite faction from one metaverse to another in the Star Atlas Vox Edit Contest
When worlds collide… Thanks to a collaboration between two of the blockchain's biggest players it seems we're about to witness the first (of what will hopefully be many) metaverse cross promotions allowing characters and players in one, to 'travel to' and enjoy the experiences of another, revolutionizing gaming interoperability between the Ethereum (The Sandbox) and Solana (Star Atlas) blockchains.
So far The Sandbox has partnered with major IPs and brands including Adidas, Gucci, Ubisoft, Square Enix, Snoop Dogg, and Deadmau5 among others but this new colab is interesting in that it not only straddles blockchains but takes the form of an intergalactic art competition…
Kicks off May 2nd 2022
Beginning May 2nd until May 15th 2022 players on The Sandbox will be able to 'visit one of the three main galactic factions in Star Atlas in order to create a report on what they find'. This report will take the form of a portrait of one of the faction's inhabitants produced in The Sandbox's free VoxEdit software.
The portraits will then be judged by the teams behind The Sandbox and Star Atlas with the winners (for presumably the best, or most inspiring, enchanting, or unusual portrait produced…) being announced on June 11th.
The top four winners will then split 50,000 in Sandbox in-game currency SAND PLUS "a fleet of coveted Star Atlas spaceship NFTs."
Metaverses meet art and music
And there's more. Producer and DJ BLOND:ISH – herself a pre-eminent player in both metaverses – will be creating music to enjoy in both experiences "to inspire" a further competition – the creation of a headpiece for an intergalactic Star Atlas faction member, also to be designed in The Sandbox's VoxEdit. The entry that "can best immerse and entertain a space traveller" will be chosen by BLOND:ISH and will receive Star Atlas spaceships as their prize.
"We're excited to announce the first of many cross-platform integrations, connecting the ecosystems of Star Atlas and The Sandbox," said Michael Wagner, Co-Founder and CEO of ATMTA, Inc., the principal development studio of Star Atlas. "We see this relationship as a pivotal moment to demonstrate the potential of interoperability of both game environments and blockchain protocols. The bridges we build today will serve as infrastructure of the future in seamless exploration of the infinite experiences digital world builders will create in the years to follow."
"We are proud to be partnering with Star Atlas and are excited to develop new projects with the franchise," said Sebastien Borget, COO of The Sandbox. "This contest is the beginning of a new bridge linking metaverses to each other, with the goal to bring more content and cross-platform integration to both of our audiences. We can't wait to see the amazing assets that our communities will create!"
"This innovative and collaborative Star Atlas and The Sandbox partnership is exactly what web3 is about and has the potential to create fully sustainable NFT future experiences while rallying the worldwide community around a message of creativity, curiosity and boldness to dream of what we might become. I am thrilled to activate my entire community and see what fantastic creations this contest will bring. LFG!" says BLOND:ISH
To learn more, players should visit StarAtlas.com and join a faction at Play.StarAtlas.com.