ZEBEDEE is using MoonPay to bring credit card top-ups to its app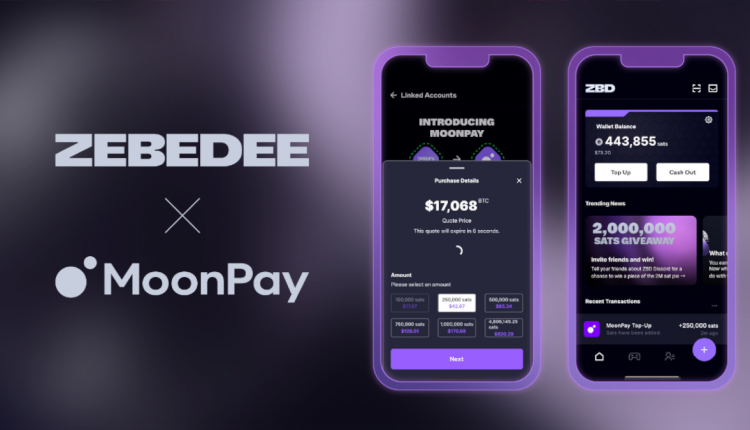 Previously users would need to leave the app if they wished to make a Bitcoin top but now it can all be done within the app
Next-generation payment processor, ZEBEDEE and Web3 infrastructure provider MoonPay have announced a deeper integration of MoonPay's services in the ZEBEDEE app.
This expanded integration intends to allow gamers in over 100 countries the ability to easily top up their Bitcoin balances with either a debit or credit card from within the ZEBEDEE app itself, removing the need to leave the app to connect with an exchange.
This is a logical step forward for ZEBEDEE and further cements its partnership with MoonPay which began earlier this year. Originally Bitcoin purchases via credit card were only eligible to those in the US however, it is now available in all countries supported by ZEBEDEE.
An all-in-one app
Chief strategy officer at ZEBEDEE, Ben Cousens commented on the new feature saying, "We're very excited about bringing MoonPay's simple credit card top-up functionality to our global user base. Adding funds to your account with minimum effort is key to bringing the full potential of ZEBEDEE to gamers, especially since these users usually don't want to deal with exchanges. They just want an easy and frictionless experience that enriches what they're getting from their time playing games".
The ZEBEDEE platform is for game developers to integrate Bitcoin into their games and for gamers themselves to earn that Bitcoin while playing. Before this new integration, users outside of the US didn't have an easy way to top up their balance with a credit card. This meant that users would need to earn enough in games to shop with just their ZEBEDEE balance or deposit Bitcoin from an alternate source. However, this is no longer the case as the new integration will allow users to do everything they need within the ZEBEDEE app itself.
Head of growth at MoonPay, Halsey Huth also commented on the role that MoonPay has saying, "MoonPay's mission is to onboard the world to web3. Gamers are, by nature, curious and tech-friendly, a great combination to shape the future of the internet. We're excited to expand our partnership with ZEBEDEE, make it easier for gamers to transact between web2 and web3, and, at the same time, get us one step closer to delivering on our mission".
ZEBEDEE also recently announced an integration with Bitrefill, which enables gamers to purchase gift cards without needing to leave the ZEBEDEE app. This addition along with now being able to make top-ups in the app itself and helping to ensure that the ZEBEDEE app is providing all of the user's needs without ever needing to leave.