Blockchain Gamer Connects San Francisco speakers: the second wave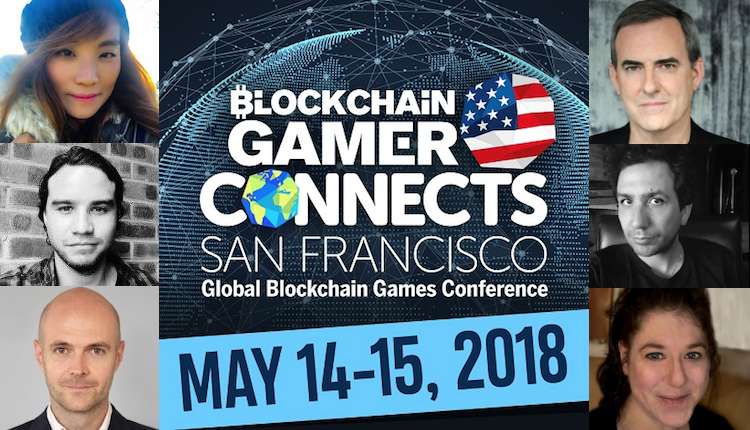 The new names joining our ensemble cast where blockchain is the star every time; Pixowl, WAX, BitGuild and more
It seems like it was only a couple of days ago we were telling you about the amazing speakers at next month's Blockchain Gamer Connects San Francisco – because it was! And we're already back with a second wave that we just can't keep quiet about any longer…
But let's dress the stage before the actors make their entrance. The backdrop in front of which they will deliver their lines is a two-day conference with four tracks entirely dedicated to blockchain technology and how it's already causing a revolution in the video games industry.
It's a brand new event for 2018, where 40 of the sector's biggest names will share their experience, insight and predictions across the two days of May 14-15 as part of the established Pocket Gamer Connects San Francisco.
Covering everything from the Blockchain Basics to the latest ICO updates and future trends, Blockchain Gamer Connects will host a wide range of seminars looking at the sector from every angle. Book your ticket now!
Enter stage left
Ladies and gentlemen, without further ado we present the players who will entertain and inform you as part of our show…
Wise as an owl
Local stars Pixowl have been making mobile games out of their San Francisco office since 2011. The studio is perhaps best known for Garfield: Survival of the Fattest, and The Sandbox, which has gained more than 15 million players since its launch in 2012. These guys know a thing or two about what it takes to make games that make money – and never more so than with the advent of the blockchain.
Co-Founder and CEO, Arthur Madrid, will take to the stage to deliver a seminar packed with first-hand experience of building on a game's success with user-generated content and moving it to the blockchain.
WAX on
It seems like everywhere you look at the moment, you see Worldwide Asset eXchange (WAX) as the company adds new developers and their game assets to its existing OPSkins marketplace. But Wax's ambitions are broader; no less than a decentralized plug-in market and cryptocurrency anyone can use to set up their own trading exchange for all in-game assets whether they support the WAX blockchain or not.
So we're delighted to welcome CEO William Quigley to our speaker roster as he explains to the audience how to use blockchain to overcome issues on transfer ownership of digital assets. This is one of the biggest areas of interest for developers looking to implement a blockchain solution, so we'd advise getting to this one early – it'll be standing room only!
More than a bit part
BitGuild is looking to disrupt the $100+ billion a year gaming industry by creating a platform for games that live on the blockchain, redefining the relationship between players, developers, and content. And it's off to a good start, having just raised $14.5 million through the ICO for its ERC20 PLAT token.
VP of Business Development, Sean Keith, is in charge of finding and potentially funding developers passionate about making blockchain games, and forging partnerships to grow the global blockchain gaming platform. So you won't want to miss his session if your studio is working on a blockchain game and looking for your ideal platform – or even funding for your project.
An ensemble cast
As well as a stellar schedule of standalone seminars, you'll also find a number of panel sessions where several speakers will debate blockchain from their unique perspective. One such panel features Ronan Sandford, co-founder at Etherplay, who will discuss the opportunities and obstacles presented by blockchain as payment.
Also taking his place on one of the panels will be Dean Anderson, co-founder and CEO at Gamestatix, a social platform for the co-creation of PC games that recognises, encourages and rewards user contribution.
A cast of thousands
OK, maybe not thousands exactly, but we reckon a non-stop parade of 40+ speakers is more than any delegate can manage in two days filled with end-to-end expert insight in our short, sharp sessions that are all dramatic climax and no understudies. If anything, our speakers are over-studied.
Blockchain advisor and investor Koh Kim will take her audience on a journey into the future of blockchain, while consultant Alexandra Damsker joins a speaker roster that includes Reality Gaming Group's Tony Pearce; DOGI's Shirley Lin; and Refereum's Dylan Jones; as well as Lucid Sight; Fathom; Streamstars UG; RadMule Labs; Alto.io; Terra Virtua and many more…
Bravo! Encore!
Apologies if we come across a bit breathless, but we forgot to pause in that soliloquy of speakers. And that's kind of the point; your two-day ticket grants you access to a stunning line-up of pioneers, innovators and entrepreneurs who will all take to the stage to deliver monologues where blockchain is the star every time.
More than a conference
There's a lot going on at Blockchain Gamer Connects San Francisco – and that's before we even mention the Indie Pitches, Indie Showcase, Speedmatching developers with publishers, networking made easy with our free Pitch & Match meeting organiser and the Global Connects Party – as well as the fact that your ticket grants you access to the whole Pocket Gamer Connects show, with an amazing 100 speakers and 10 conference tracks.
It's an unrivalled opportunity to discover blockchain or extend your understanding and explore how it can change the way you make, play and monetise your games forever.
If you're serious about making money as a games developer in 2018 and beyond, you can't afford to miss out on Blockchain Gamer Connects San Francisco. Book now!