A deeper look at blockchain gaming in 2022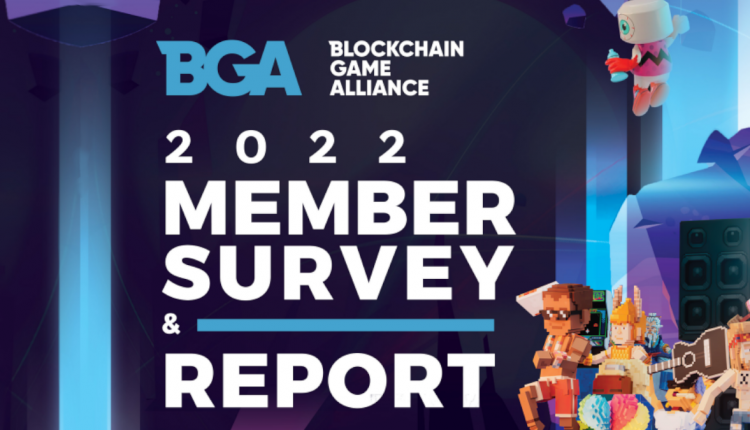 The Blockchain Game Alliance conducted a survey that shows that blockchain gaming is here to stay but play-to-earn may be out
As part of the Blockchain Game Alliance, a new report that reflects on blockchain gaming in 2022 has been released.
The Blockchain Game Alliance (BGA) is a membership organisation that is made up of over 500 members. These members include leading and upcoming gaming studios, venture capital firms and major blockchain protocols as well as individuals from within the blockchain gaming community.
A survey was taken to assess the views and opinions of BGA members and blockchain professionals. The goal was to focus on the state of the blockchain gaming industry and the challenges and potential that may lie ahead. In total 347 professionals representing 252 different projects or companies within the blockchain industry responded to the survey.
Respondents
Of the respondents, 65% were below the age of 35. The majority of respondents were young adult males working for blockchain gaming companies in middle, and top management positions. Males made up a huge 79.5% of respondents, while females accounted for 19%. Nonbinary individuals made up 0.6% and 0.9% preferred not to state their gender.
One significant change from the previous year is that respondents from Asia made up 55.9% of responses compared to that 33% in 2021. The survey was promoted during the Philippine Web3 Festival which may account for such a large increase for that region.
Now we know who took the survey, let's dive into what they had to say on the state of blockchain gaming.
"Our survey says"
Of those surveyed, 49.9% of respondents have been working with their current company for less than a year. Of these new entrants, 31.2% of them came directly from working previously in the gaming industry. This is nearly twice the number of respondents who have been in their current role for more than a year. This is interesting since a huge part of mass adoption is going to come down to the quality of the games being developed. With more staff that have previous experience in gaming, we could see potentially better blockchain games being built.
More than half, 55.9% of respondents accept a portion of their salary in the form of cryptocurrency. Female respondents were noted to be more likely to accept this offer than males. When participants were asked if they believed they would still be working in blockchain in a year, 89.3% said yes. Companies with less than 10 people showed the highest level of commitment, with that number decreasing with the size of the company. So, despite a market downturn and a turbulent year for crypto in 2022, many workers are showing they have long-term commitment.
When discussing the future of blockchain gaming, 35.7% of respondents said that gameplay improvements would be the industry's highest priority. The types of games that are actually on offer in the blockchain space have drawn much focus. High-barrier entry points and games that don't feel of high quality have prevented more gamers from exploring the blockchain space. With a focus on simply making a solid gaming experience, more gamers may transition over to blockchain gaming.
Mass adoption
Adoption by major games franchises and studios is also believed to be a key factor in driving the industry forward. Ease of use and improved user experience are other top factors that face wider adoption of blockchain gaming. A huge shift saw 22.5% of respondents stating they believe play-to-earn will drive the industry forward, this is in comparison to 67.9% in 2021.
With a total of $7.6 billion in VC funding being injected into blockchain in 2022, 21.3% of respondents believe that industry funding would be a positive driver of the industry. This is despite a generally slower year for investments overall. The following biggest driver was deemed to be the adoption of NFTs by major brands and celebrities. With 16.4% of respondents saying this was a positive indicator. The third driver, which 15% agreed on was traditional gaming studios moving into Web3.
These findings show a change in the blockchain gaming space. Play-to-earn played a huge role in the industry but now developers are looking toward new avenues. Companies will be looking to secure bigger investments this year to produce higher-quality blockchain games. If the industry can deliver on these titles, more traditional gamers could dive into blockchain.