Neopets raise $4M from web3 leaders to bring 90s classic to the metaverse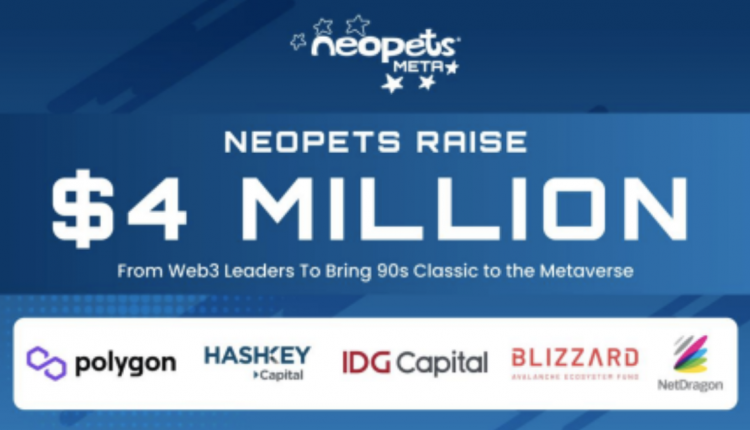 Neopets Metaverse has announced the successful closing of its latest investment round – bringing in $4. million in investment. The 90s browser phenomenon turned metaverse play garnered the attention of some major industry players, including Polygon Ventures, Blizzard  Avalanche Ecosystem Fund, Hashkey Capital, IDG Capital, and gaming giant NetDragon Websoft. 
Initially established back in 1999, Neopets gained its reputation as a classic browser-based game, capturing the attention of over 150 million fans worldwide. The company's latest project – Neopets Metaverse – aims to bring the highly appreciated virtual pet game into the decentralized world, allowing players to own and monetize their gaming experiences on the blockchain. The game will be free-to-play and accessible to crypto natives and casual players alike. 
With this round of funding, Neopets Metaverse is set to continue its growth, bringing the magic of  Neopets in a positively fresh light to old-time players and attracting and nurturing a new generation of Neopians. The company looks forward to working with its investors and the broader  Game-Fi community to make Neopets Metaverse a reality. 
According to Xiao Xiao, Investment Director of HashKey Capital, "We believe that GameFi plays a crucial role in the larger metaverse narrative, serving as the interactive layer in the value chain and a key driver of traffic across web 2 and web 3. The Neopets IP, in particular, has a massive fan base, and we see great potential in its NFT and P2E features, which truly allow gamers to own and control their assets. We are also honoured to have the opportunity to work with founders like Dominic, who can always execute and deliver." 
"We're beyond excited to helping a timeless IP like Neopets innovate and build their Metaverse,"  said Ed Chang, Head of Gaming at Ava Labs, "Ava Labs is investing Neopets to support their  goal of building an eco-friendly, fast, and low gas metaverse experience and will be working closely with them to bring a top-notch product to gamers." 
This successful fundraise follows from the well-received launch of Neopets Meta Alpha: Winter Edition, which debuts Neopia Central and Terror Mountain. The experience also featured popular minigames like 'Meerca Chase', 'Ultimate Bullseye', and 'Turmac Roll'.
The Alpha: Winter Edition is now available on the Neopets Metaverse website and will run until January 31, 2023.