TEAMZ announces strategic partnership with Animoca Brands K.K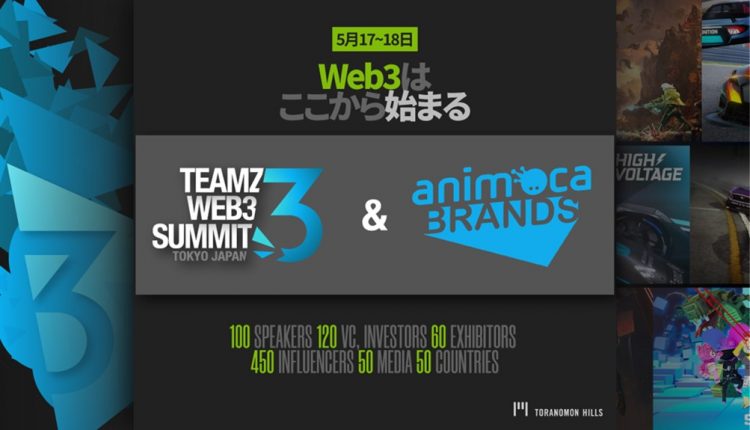 TEAMZ has announced a brand new partnership with Animoca Brands K.K. (Japan), to host the new TEAMZ Web3 summit this May. Previously known as TEAMZ Blockchain Summit, the web3 summit represents one of the most critical events for web3 and blockchain technology.
Aimed at boosting the representation of the emerging technology and web3 industry in Japan, TEAMZ Web3 Summit will boast over 100 speakers, including hundreds of VCs, investors, companies, influencers and visitors worldwide.
TEAMZ Web3 Summit website: https://web3.teamz.co.jp
Kyoya Okazawa, Co-Founder of Animoca Brands Japan
We are happy and honoured to have the opportunity to collaborate with TEAMZ, a company that has been actively promoting and providing information about Web3.
Since its inception, Animoca Brands Japan has held various discussions with Japanese companies on Web3. We have been trying to provide an improved understanding of Web3 and propose use cases based on the work already done by our global Animoca Brands ecosystem. 
We are confident that the TEAMZ Web3 Summit will help promote Web3 in Japan by discovering the latest use cases from overseas, creating a Web3 community among Japanese companies, and exchanging information about the latest developments in the industry.
Tianyu Yang, Representative Director and CEO of TEAMZ, Inc.
TEAMZ Inc. is a digital creative group that provides business strategies and solutions to Web3-related companies seeking new possibilities. We support our clients in Japan by providing a one-stop service from planning to development and subsequent support for Web3 products and services such as NFTs, DAOs, GameFi, wallets, and metaverse integration.
Together with Animoca Brands Japan, we aim to make the TEAMZ Web3 Summit a place where the Web3 community in Japan and abroad can exchange information and collaborate. We are honoured to be able to contribute to the Japanese Web3 ecosystem by leveraging the resources of the international Web3 community.