Kyiv to host Crypto Games Conference next month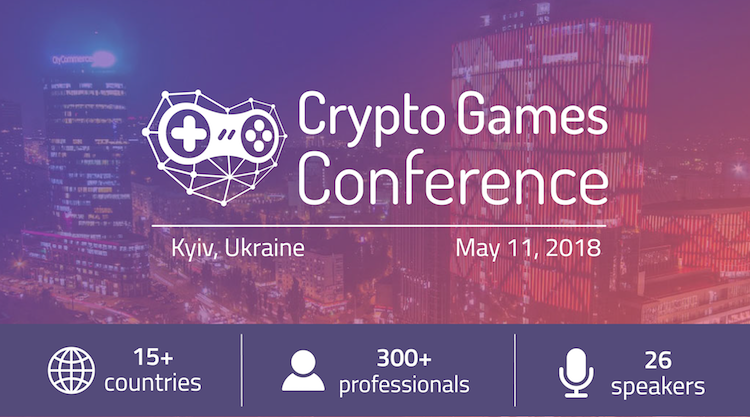 Conference and schedule highlights for May 11th event in Ukraine
Next month's Crypto Games Conference in Ukraine will unite the worlds of games, cryptocurrencies and blockchain to explore the amazing and transformative impact they are having on the future of entertainment and gaming.
Held on May 11th in Kyiv, more than 300 of the world's leading experts on blockchain, crypto and games are expected​ ​to​ ​gather for the 1-day summit, which will feature a keynote from CryptoKitties creator, AxiomZen.
Attendees can expect a packed day of lectures followed by an all-out post-conference party until the early hours sponsored by DMarket. Over 25 industry experts and executives – from companies such as Alto, DAO.Casino, BitGuild, WAX, EverdreamSoft, SiGMA – will speak on topics covering covering business, content, and technology issues of crypto games, games services and gaming based on blockchain or using cryptocurrency.
Highlights include:
Shaban Shaame, EverdreamSoft – 5 Things We Learned About Collectible and Blockchain Game Assets

Malcolm CasSelle, WAX – Cryptocurrencies Soon to Dominate Online Video Gaming

Sean Keith, BitGuild – Blockchain Games: Who is playing?

Benny Giang, AxiomZen – Beyond Community Building the Importance of

Exploring Extensibility for Blockchain Games   

Henning Rokling, Parsec Frontiers – Beyond Coins and Tokens: Virtual Assets and Blockchain Economies                                       

Gary Bracey, Terra Virtua – How the Games Industry Has Evolved from 8-Bit Computers in the 80's with the Emphasis on How Now We Are Looking at Blockchain and Immersive Realities

Konstantin Katsev, True Flip  – Use of Blockchain Technologies in Existing Gaming Projects

Davydov Aleksandr, DAO.Casino – Presentation of Products Based on Dao.Casino Blockchain
The organizers have been kind enough to offer our readers a 20% discount off the ticket price, just use the code POCKETGAMER.