NetMarble, launches pre-registration for Meta World: My City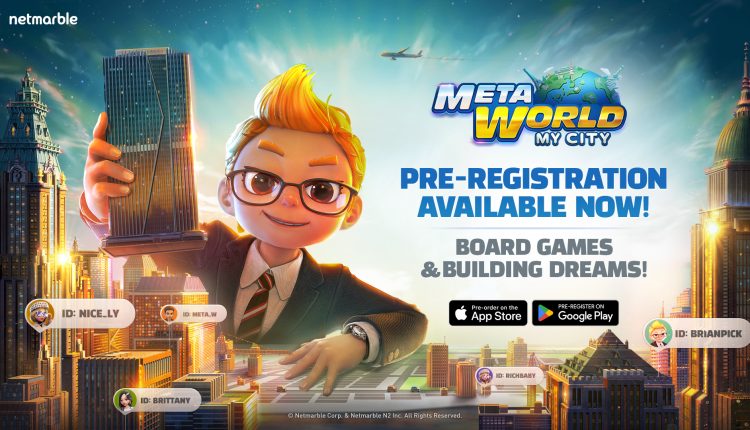 Netmarble, a leading developer and publisher of high-quality mobile games, announced pre-registration is now open for Meta World: My City, a new metaverse board game featuring virtual real estate and building investment. Starting today, players can pre-register and secure special in-game items by visiting the official website, Google Play, and App Store.
The following events are available to players who would like to participate in the pre-registration:
Pre-register on Google Play or App Store will provide in-game items such as the Seasonal Character Summon Tickets and Gold.
Selected participants who post content about the pre-registration, or retweet the official announcement with the hashtag #MetaWorld on Facebook or Twitter, will acquire the Epic Character Card (Beatrice), Seasonal Character Summon Tickets, and Diamond.
If pre-registration numbers exceed one million, all pre-registered players will be given various in-game items such as the Avatar Costume Set, Gold, Character Summon Tickets, Seulgi Character Card, and more.
Meta World: My City is the sequel to the company's title – Let's Get Rich – which garnered 200 million players globally. Within My City, players can purchase virtual real estate and buildings within a metaverse and based on real-life locations worldwide.
Netmarble plans to further develop Meta World: My City to be a platform where players can actively interact with each other and enjoy various types of games in the metaverse world. The game will be a part of MBX, a gaming blockchain ecosystem launched by MARBLEX.
Meta World: My City received an overwhelmingly positive response from fans of the original IP, Let's Get Rich when it was first introduced during an Ask Me Anything live session on the MBX Discord channel last month.
New details on Meta World: My City's features and tokenomics will be revealed at GDC (Game Developers Conference) on March 20.