Grease Monkey collabs with Konig to bring interoperable wheel NFTs to Torque Drift 2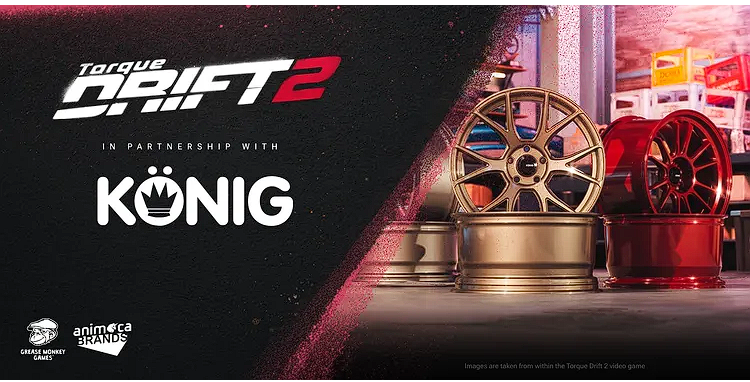 Australian developer Grease Monkey Games has partnered with wheel outfit Konig to create the first-ever wheel NFTs for its forthcoming Torque Drift 2 PC and console game.
In fact, these NFTs will also be interoperable across all Torque Motorsport games, including Grease Monkey's mobile games Torque Drift and Torque Burnout.
The first NFT drop licensed by Konig will feature its most sought-after alloys such as Ampliform, Dekagram, and Hypergram.
Torque Drift 2 hopes to provide an authentic racing experience for web2 and web3 players and is a part of Animoca Brands' REVV motorsport ecosystem, which is a metaverse focused on racing games. Grease Monkey Games is also owned by Animoca.
Holders of the Premium Grease Monkey Games keychain NFTs will get early access to Torque Drift 2 before the beta goes public sometime in the first half of 2023.
"We're proud to stand at the forefront of automotive gaming as it pushes into the NFT world. Our collaboration with Grease Monkey Games and Animoca Brands allows automotive enthusiasts to interact with and experience the Konig brand and wheels in a digital environment that gives players true digital ownership and asset interoperability," commented Konig America president Scott Weiss.
"We are honored to partner with Konig to launch NFTs for Torque Drift 2 based on some of the best available wheels in the world of racing. The NFTs will offer our players a new way to engage with our games, and the interoperability across all our titles will allow players to own and use their NFTs in a variety of ways," said Grease Monkey Games' CEO Arran Potter.
Find out more about Torque Drift 2 via the website.