Join us as a speaker at PG Connects Jordan and London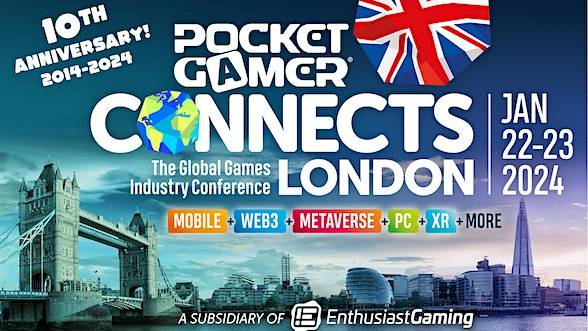 Share your expertise, inspire change, and shape the future – register now as a speaker at PG Connects Jordan, 4-5 November 2023, or PG Connects London, 22-23 January 2024.
The leading mobile gaming industry conference, Pocket Gamer Connects, returns to London in January 2024. Over 2,500 attendees from the games industry will gather at The Brewery for two days in January to network, discover, pitch and learn from 200 of the world's leading authorities.
Speaker call
Calling all industry professionals in mobile games, blockchain games, web3, the metaverse, and AI. We invite you to submit your talk today to share your insights, case studies and expertise at the growing and much-loved conference series for the global games industry, Pocket Gamer Connects. We are currently looking for industry experts to join us as speakers for our PG Connects Jordan and PG Connects London shows coming up towards the end of this year/beginning of next year.
Join us and share your experiences, insights, and innovations in an unparalleled opportunity to make your mark on the industry and gain recognition for your work. Speaking at a PG Connects conference is a great opportunity to engage with industry leaders, decision-makers and a growing audience of relevant contacts in your field.
Are you an expert in this industry and ready to share your wealth of knowledge with the wider industry in a solo talk or panel capacity, we would love to have you submit your talk idea.
As a speaker, you will receive a free ticket to the event which gives full access to all areas of the conference as well as use of the meeting platform and additional VIP benefits such as access to the VIP lounge, VIP lunch and invitation to the exclusive VIP reception.
There are many great benefits to speaking at our conferences, including:
Valuable networking opportunities and the chance to expand your network
Gain visibility and exposure to hundreds of professionals, potential collaborators, and investors from all around the globe
Sharing your knowledge and experiences can elevate your personal brand and business and establish you as a thought leader in the industry
Presenting your ideas enables you to contribute to the collective growth and advancement of the games industry as a whole
Offers the opportunity to develop your presentation process, style and public speaking ability
To get involved simply submit your talk today – for tips on what we look for in a great presentation at PG Connects, please see our speaker guide here.
Alternatively, if you have any questions or queries about speaking opportunities, please contact Charlie Scowen at [email protected]
Upcoming Events:
4-5 NOVEMBER – PG Connects Jordan 2023
6-7 DECEMBER – PG Connects Leaders Summit 2023
22-23 JANUARY – PG Connects London 2024
Head over to our website and register today.