Video: Why secondary markets are key to the success of blockchain game item trading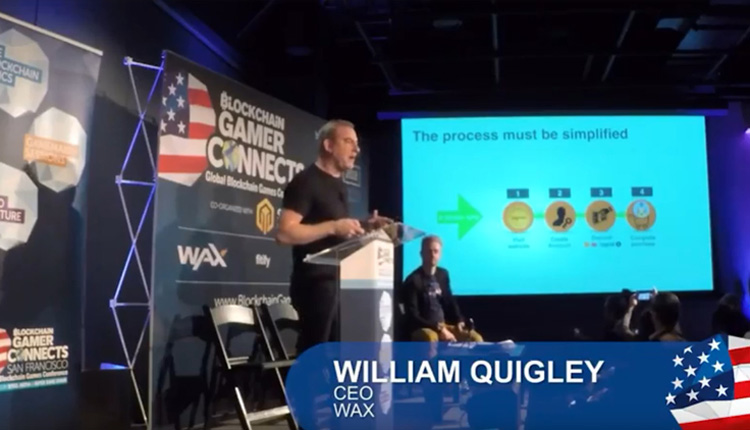 WAX's William Quigley on monetary and psychological value
At Blockchain Gamer Connects San Francisco 2018, William Quigley, CEO of WAX, spoke about the value of in-game items, especially when enabled by secondary markets.
"It's not obvious the blockchain solves all problems or that we need the blockchain," he stated, in counter-intuitive style.
"You don't need a blockchain for the vast majority of the things you do, but when you do it, there's nothing else like it."
The power of secondary markets
In that context, Quigley was keen to highlight the value of the blockchain for collecting and trading in-game items.
It's a market already valued at $50 billion a year through websites such as OPSkins, which Quigley and the WAX team previously created before leveraging that experience and the blockchain to create WAX. (WAX is using the EOS blockchain.)
He also pointed to the social value of owning and trading in-game items, whether Counter-Strike: Global Offensive skins or CryptoKitties.
Perhaps the biggest issue for game items, however, is the resistance of the game developers to supporting markets, especially secondary markets.
In the non-blockchain world, this has lead to a complex grey scenario but for any blockchain game, especially any game supporting the ERC721 standard, trading is clearly part of the experience, and that is what lead the OPSkins team to launch WAX.
Yet, Quigley also said there were currently lots of obstacles to widespread adoption, including the time for transactions to clear and the complex process required buying cryptocurrencies.
Blockchain Gamer Connects will return in Helsinki, Finland on 11-12 September. You can find out more details here. 
And don't forget to follow BlockchainGamer.biz on Twitter and Facebook.