Blockchain Gamer Connects London 2019 dates revealed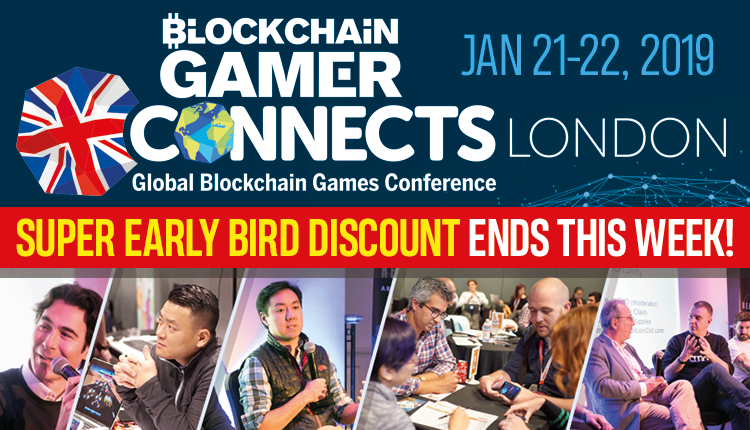 Super Early Bird prices end this week – save up to $500 and book now!
Heads up, London! Blockchain Gamer Connects is bringing its crypto circus to the capital on January 21st and 22nd 2019 for a conference and expo like no other. And if you want to attend, there will never be a more affordable time to buy your tickets than right now.
To say thank you for believing in us and booking your tickets before we've even revealed a single speaker ahead of the event, our Super Early Bird prices offer a massive discount on the full ticket price. You could save up to $500 on every single ticket – just make sure to sign up before midnight this Friday, 21st September.
The season of goodwill
Sure, we know there's this little thing called Christmas between now and then, but those savings could put some real pep into the office party – or buy a few rounds of mulled wine if you're solo. Get ahead of the game now and indulge this holiday season with a clear conscience – if perhaps not a clear head the morning after…
We like to think that we've built up some goodwill ourselves too, with Blockchain Gamer Connects already having taking San Francisco and Helsinki by storm this year. No sooner have we closed the doors on one fantastic show – thanks if you joined us in Finland – than we've already set our sights on making sure our 2019 season opener is an absolute stormer. Blockchain Gamer Connects will make its domestic debut in the heart of good old Blighty in the new year.
We also have previous form over the last five years hosting Europe's biggest B2B event for the mobile games industry, Pocket Gamer Connects. And because you can never get enough of a good thing, both shows will run at the same venue on the same dates – and your ticket gets you into both shows!
Making a list
We'll release more event details in the weeks to come, but you can be sure that we will once more present a world-class conference schedule featuring hundreds of the foremost authorities and biggest brands in blockchain and gaming as they share their insights with the audience.
You'll also find the first Big Indie Pitch contests of the year, the Big Indie Zone, and our traditional stonkingly good party – not to mention one or two surprises we're cooking up right now.
Be super early and save
Sign up before Super Early Bird prices end this Friday and save up to $500 as our way of saying thank you for believing in us. This is the absolute lowest cost of entry to the event and prices will only go up from here… Book now!
Speak and save even more
The only way your show tickets could cost any less, quite frankly, is if they were free! Which, curiously enough, is just one benefit to speaking at the event. Drop us a line using this form today to find out more.