NFTs can't stop. NFTs won't stop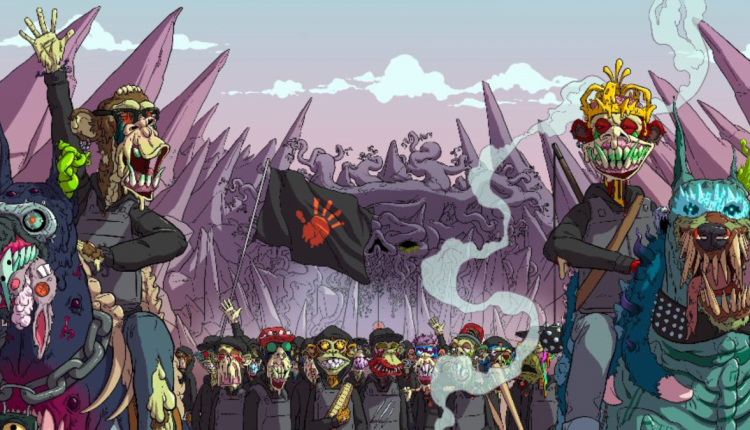 Welcome to the latest in our series of weekly features from Jon Jordan at Gamestx
---
Crypto never sleeps and it's certainly the case that despite sentiment, the past few days have seen an incredible amount of activity across social NFT and gaming projects.
And I'm not just talking about Yuga Labs and its forthcoming mint, which has kicked off with The Trial of Jimmy and massive buy up of Bored Ap Kennel Club NFTs — a topic for another day, as will be the latest version of Wolf Game, which despite being less on-chain than the original still looks fascinating.
Similarly I have no deep knowledge of Mutant Hound Collars but — now being revealed and the top traded collection — some NFT collectors are clearly excited, with three of most rare examples selling for over 35 ETH (around $43,000), with a floor price of 0.8 ETH ($1,000) for the 10,000 collection.
Notably, the art/community collection was created by the Mutant Cartel — an unofficial collection of Mutant Ape holders — and targeted towards Bored and Mutant Ape holders, who could mint at 0.25 ETH
Ownership of a collar will eventually allow holders to redeem a Hound NFT and part-take in the usual array of community events.

It's also interesting to see other high profile projects — which have strongly eschewed utility — also seem to be fulfilling the basic demands of ownership; that is people seem happy just to own them.
It's early days for both but — despite all the FUD — Donald Trump's 45,000 NFT collection is still trading at 200% above its $99 mint price; it remains a top 10 collection by trading volume.
Tim Ferriss' The Legend of C0ckpunch is also sustaining, with a floor price of 0.6 ETH, up 113% from its 0.3 ETH mint. It's generated over $6.5 million in trading volume, creating around $450,000 in creator fees to-date.
The accompanying podcast has started too. Many will — perhaps rightly — view this as woefully subpart Games of Thrones with chickens lore fest but that's clearly the curveball passion project Ferriss promised.
And I can't go on without mention of DigiDaigaku, which is now revealing its Villain Potion NFTs — the result of burning previously airdropped Dark Spirit and Dark Spirit Heroes NFTs.
Of course, compared to the aforementioned projects, DigiDaigaku is more complex, and designed to be much more commercial. It is also nothing if not about future utility — something infamous backed into a Super Bowl advert — however uncertain the eventual endpoint currently is.
And in all these cases, it has to be said that I wouldn't be writing about them if they didn't have some element of commercial success associated with them, which opens us up to the inevitable change that "the only use case for crypto is speculation".
However, while much market behavior during 2022 — including mine — has clearly been influenced by "number go up", I'd argue this is a feature not a bug of crypto in general, and blockchain-based projects in general.
The fact that some projects are now creating value from a vision is the positive flipside of the feature that saw most projects pretending to create vision from price trajectory.
That 99% of flippers have been driven from the market just makes it easier for the likes of Tim Ferriss to launch passion projects without utility and see if they can get anything to stick in the long term.
So much for the latest cycle of "NFTs are dead".
Axie Infinity Revving Up news
After many months of iterative process, Sky Mavis has announced the first version of Axie Infinity Origins has passed Google Play Store review and now will enter soft launch testing in Malaysia.
Of course, given existing T&Cs, compared to the PC/Mac build this mobile version is light on blockchain features, notably the ability to earn tokens.
I'm assuming this means no ability to earn tokens using an integrated wallet within the app rather than earn tokens per se. I imagine people will just have to access the blockchain elements using the existing Ronin wallet, which is available on mobile as an app or via browser, but it could be actually no earning ability at all.
Anyhow, Sky Mavis seems pretty happy about the news, saying "we remain committed to our vision of a player-owner digital nation, and will continue working with app platforms to unlock that in our builds".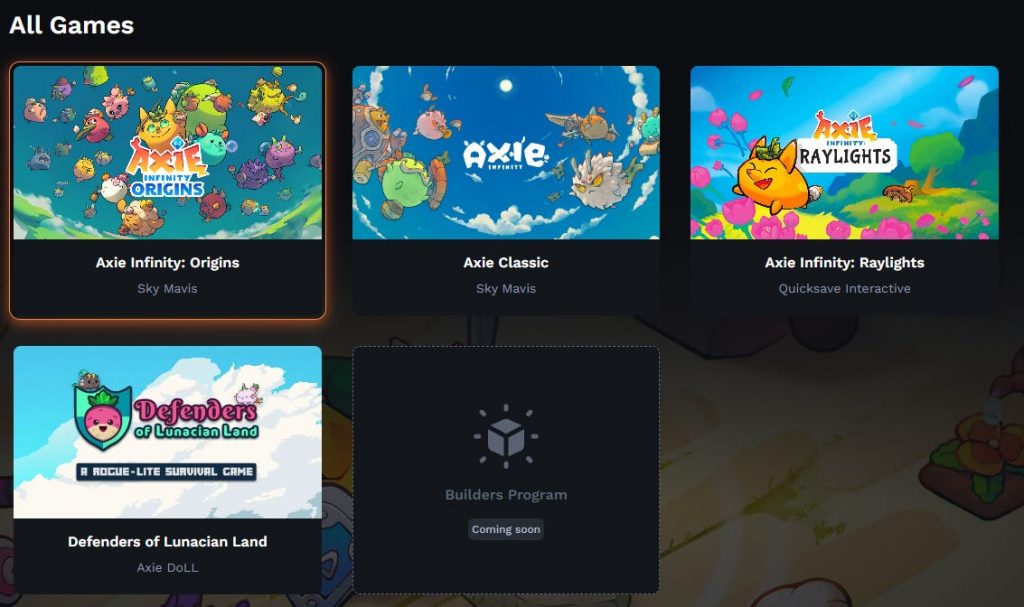 In unrelated news, Sky Mavis has also released the first of its community-built games that use Axie NFTs via its Builder's Program.
Called Axie DoLL (Defenders of Lunacian Land), this PC client game is a simple endless survival action game in which you take your Axies into battle. You can also upgrade their skills using the SLP token.
To further juice the experience, there's a reward pool for players who spend 1,200 SLP ($3) to enter Ranked Mode.
Those who rank in the top 50 leaderboard will receive a share of the pool with the winner getting 20%. All entrants will also get 10 free shields and a soulbound badge.
Going Alpha news
Good to see more and more games going playable, even if early and NFT-locked. The latest two are Eternal Dragons and My Neighbour Alice, which is a farming-style game with assets on BNB but which is running on the Chromia blockchain. Access to the alpha is gated by ownership of a land NFT, with the floor price currently around $500.
As for Eternal Dragons, it's demonstrative proof the gaming is still alive on Solana, with the floor price for its dragon NFTs — required for alpha access — currently $120 compared to a mint price of $80 during August; significant given the price of SOL has dropped 70% in the meantime.
As for the game, it's an interesting spin on auto-chess, with some intriguing strategy options in terms of whether players try to attack quick and messy or endure early damage to build out a powerful endgame. I also really liked the ability to swap between characters — you have a team of six but an overall squad of up to 10 — providing for even more strategic options.
Developer Trailblazer Games has a great pedigree so really looking forward to how this one pans out in the coming months.
MechaFightClub Now Roosting news
Solana-based MechaFightClub — another living Solana game! — has opened its NFT roosting feature, which allows users to earn rewards, as well as enabling as-yet unspecified future in-game benefits. These are expect to play into Tamagotchi-style attributes such as a mechabot's emotional state, comfort, sleep, health and other performance factors.
Roosting has also been designed to be a part of MechaFightClub's season cycle, locking NFTs into a reward structure. The game's first season will kick off in Janaury.
As well as acting as a safety mode — effectively turning the NFT into a soul-bound state — roosting also adds some friction into the sales process by encouraging players to roost until a season ends to gain full rewards.
The Sandbox Christmas Season news
Inching towards a persistent launch, The Sandbox has announced its fourth open temporary season — labelled Season's Greeting Event — which will run until Tuesday 3rd January 2023, and contain 16 experiences including those from IP partners Rabbids, Care Bears, The Walking Dead, Snoop Dogg, Warner Music, Steve Aoki and World of Women.
To reward users, 250,000 SAND tokens (around $110,000) will be available across three shared pools, plus three exclusive NFTs, two memorabilia badges, and various mystery boxes will be distributed.
Jon's Tweet Of The Day news
Additional Links
---
Jon's Gamestx Substack is home to his on-going thoughts on the collision of gaming and player-owned value networks and is sponsored by HiroCapital.
Sign up for the free weekly newsletter for a big slice of all the key trends happening in this dynamic sector, and for a daily dose and full access to the archive, sign up for the paid option.