Com2uS on the promise of blockchain gaming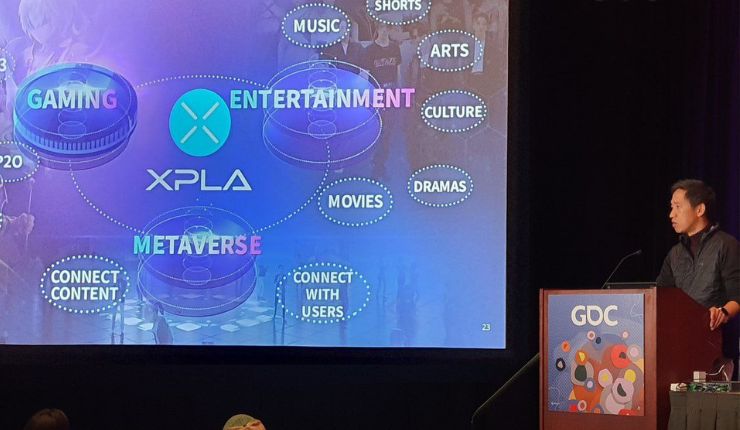 From its early days as one of the first mobile game companies to its expansion into the free-to-play space, it seems South Korean publisher Com2uS prides itself on being innovative. Since its 2020 investment in Coinone and the subsequent launch of the Terra-based CTX platform, the company has also doubled down on blockchain, becoming one of the biggest mobile developers to immerse itself in web3.
BlockchainGamer.biz sat down with Com2uS US president Kyu Lee in San Francisco during GDC to discuss how the company's blockchain evolution is going. In this interview, Lee shares his insights into the company's decision to embrace blockchain technology and its plans for the future.
According to Lee, it was an easy decision to make, as he believes it's inevitable that blockchain will play a significant role in the future of gaming. Chatting away from the GDC show floor, he touched on the risks and opportunities, what the web3 space needs, and what games we can expect to see.
Over two decades of experience in games
"We've been in the gaming industry for the past 22 years," says he. "We were one of the first mobile game companies in the world; one of the first companies to go on the App Store; one of the first companies to move into the free-to-play space. These market forces happened and significantly changed the gaming landscape. When we looked into what blockchain could do, it was a no-brainer for us. I think for a lot of companies, they might be thinking it's a big risk that they are taking. But I just feel like it's inevitable – so why not go there first?"
But blockchain has had its ups and downs. Last year the fall of FTX seemed to cap a period of people pushing back on NFTs and crypto. Have things calmed down? Lee is keen to discuss how the vibe of GDC is different this year.
"I think this GDC is actually very meaningful," he says. "Last year, people saw early blockchain games. I think there was some negativity around them. But now we're actually seeing really good teams get funded very well. We're also starting to see more product demos. So now all of a sudden, people are getting more excited, and [players] are saying, 'I don't care if it's a blockchain game or not.'"
The next challenge
"I think next year," he continues, "this will lead into: 'So how do we bring this to market?' Going to market will be another hot topic. If you think about the path cycle of delivering a game, it just doesn't happen overnight."
He stresses the role of games specifically in rehabilitating the whole web3 scene. "I think blockchain gaming will really change the negative perspective on crypto itself. All the things that happened with FTX are very unfortunate – but it's a good thing that these things are happening in the early stages of the development. It's a great time to build. We have never changed our conviction whatsoever. We've just been really heads-down. I think that a lot of the products that were built around hype are getting less attention for the same reason. We've been in the industry for more than 20 years, and we're a real business building real things on blockchain. So I think it's a great opportunity for us to stand out."
Com2uS and its C2X brand are behind the XPLA platform, a mainnet chain built on Tendermint, intended as a universal blockchain media platform. Lee delivered a lecture about "sustainable tokenomics sharing insights into shaping play-to-own era with an enhanced tokenomics structure from Summoners War: Chronicles at GDC.
"Blockchain and web3 isn't something that you can educate overnight to the users," muses Lee, when asked how Com2uS is helping bring traditional developers and gamers over to web3.
"I'm still learning so much in the web3 space! For that same reason, the user experience should be similar. We should be educating the user with things they are familiar with, that they are comfortable with, and slowly introduce the adoption of that."
He continues: "Last year, when we saw all of these games selling NFTs up front, which required the NFTs before playing the games – in a mobile funnel optimisation perspective, it completely does not make sense. You have to go for the widest, broadest audience, and then reduce the churn as much as possible for each step, to get the best conversion."
Ultimately, what Com2uS wants are gamers. "We tried a lot of experiments. Those people who came in just to earn money – we hope that a small percentage would actually convert to real gamers. We looked at how many in-app purchases they made afterwards, and there were none. It was zero percent conversion," reveals Lee. "So we came to the conclusion that the speculators and gamers do not overlap, and which target do we have to hit? We have to hit the gamers first! It has to be a good game first. It has to have very good metrics before we even convert them into a web3 gamer."
The power of Summoners War Chronicles
Com2uS recently released Summoners War Chronicles, and by all accounts, it's seeing tremendous success. "We're getting more than a million downloads per day right now," reveals Lee. "We're already close to 10 million downloads. We're in the top 10 on Steam right now. It was our first cross-platform launch, which was very exciting. And we're going to convert those users at a latter stage of the game, and introduce a small piece of web3, and build on this as our conversion."
Chronicles is a huge MMORPG based on the Summoners War IP, and it's been in development for five years. It's already become a number-one hit in France, Germany, Thailand, Taiwan, Japan and more. At launch it's a traditional game available on multiple platforms, with Com2uS announcing at GDC that web3 elements will be added this year courtesy of XPLA. And this approach clearly signals the strategy going forward. "Every single game that we're releasing is going to come on [the platform]. Everything. Every original IP. Because we also work with Major League Baseball and other licensed IPs. Right now, our focus is on: we're going to bring every single original IP to the blockchain."
This, and partnerships with the likes of Xterio, is Lee's plan for 2023. "We're signing a lot of partners onboard to XPLA. When we look at what we have to develop for web3, this is a very complex economy that you're building in. It has to be teams that understand the line operation. It has to be teams that understand the free-to-play economy, at least. I think the blockchain economy is even more complex because it works both ways. So we're going after established teams. We're going to announce more and more partnerships this year."
The future of global blockchain gaming
It's a big question, but what does Com2uS think will be hot in blockchain when we're back at GDC in a year's time?
"We'll see more and bigger studios announcing," says Lee. "Just the announcement of CCP and MapleStory saying they're going into web3 is a huge statement. Now people know that this is serious. These are big, big companies. We were one of the first public gaming companies to come into the web3 space. I'm really so happy to see more quality projects coming in."
The challenge for studios, as more and more companies see the potential of blockchain, is publishing and promoting this next generation of games. "Next year, we're going to talk a lot about go-to-market and publishing," says Lee. "A lot of these studios can build great games, but they don't have the publishing capabilities. So: I built a good game, but how do I launch it? How do I run live operations in 14 different languages on a global basis? These are some of the challenges that we're going to be discussing."
That's where Com2uS plans to play a bigger role. Lee again: "I think XPLA differentiates itself. It focuses on building the tools that all of these developers actually need. We always review a lot of good gaming companies. We look for investment opportunities all the time. We look for publishing opportunities. We're looking to onboard more titles onto XPLA."
You can find out more about Com2uS USA at its official site. Com2uS was founded in 1998 in South Korea. In 2013, Gamevil acquired Com2uS and the whole company is now known as Com2Us Holdings. Com2uS is one of the biggest mobile developers to immerse itself in web3.
We last spoke with Com2uS and Kyu Lee in November. There'll be talks and panels about the blockchain scene at the next PG Connects conference in Seattle in May – tickets are available now.