Nefta partners with Medieval Empires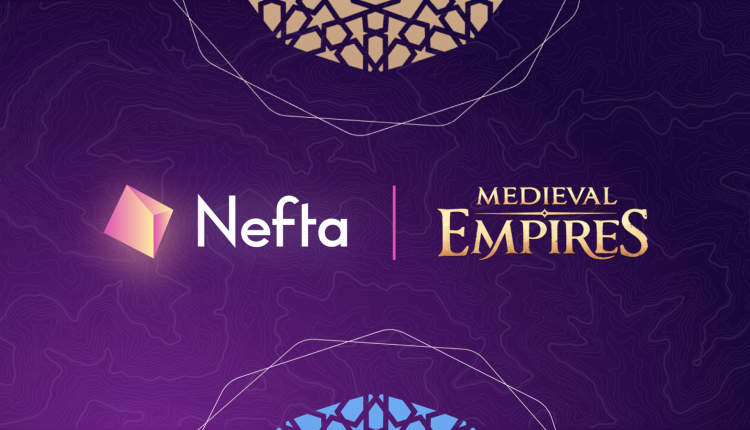 Nefta, the web3 technology platform, has announced a new partnership with Medieval Empires – the web3 strategy title. Developed by Moongaming, Medieval Empires will collaborate with Nefta to help boost accessibility to Web3-based games for users.
Geeshan Willink, CEO and Co-Founder of Nefta, said: "The team at MoonGaming have got the experience and backing to create an excellent Web3 product and we are delighted to announce our partnership with them to help create Medieval Empires. By removing the roadblocks commonly found in Web3 gaming projects we can offer a comprehensive, end-to-end solution and foster the next generation of Web3 games."
Based in the Turkey of the 13th century, Medieval Empires is a multiplayer strategy title, where players follow the renowned warrior and Kayi tribe leader Ertuğrul Gazi, as he battles against England's crusader king – Edward the First (the Hammer of the Scots).
Built on Polygon, Medieval Empire provides a good balance of engaging medieval strategy with all of the sustainability, low energy costs expected from an efficient, proof-of-stake blockchain protocol.
The game will be completely free to enter and will remove any technological blockers that might hinder players. Powered by Nefta's technology, any web3 elements will be fully integrated into the game to allow seamless gameplay whilst allowing players to integrate their existing wallets across other platforms. The game will be available cross-platform on PC/MAC and mobile.
Much like in medieval conquest, land is an important part of Medieval Empires' economy and gameplay mechanic, and will initially be sold by the game through the Polygon network NFT marketplace. The land within the game is divided into 6 tiers with the plots within each tier carrying distinctive features and resource generation capabilities. Tier 0 is reserved for new players, only the upper 5 Tiers can be bought. Land owners will also get the opportunity to upgrade the land with the help of in-game NFT structures.
MoonGaming creates multiplayer strategy games built on, and for the blockchain, with a focus on creating fun, engaging games with no technological barrier to entry. They are committed to People, Planet, and Prosperity by creating environmentally sustainable games with the opportunity to earn real rewards. With backing from famous multi-millionaire blockchain influencer Carl 'The Moon' Runefelt, a team of passionate gaming industry veterans from King, Wooga, and Wargaming and seasoned blockchain technology experts, MoonGaming is set on becoming a leader in the Play & Own space.