First speakers revealed for Blockchain Gamer Connects London 2019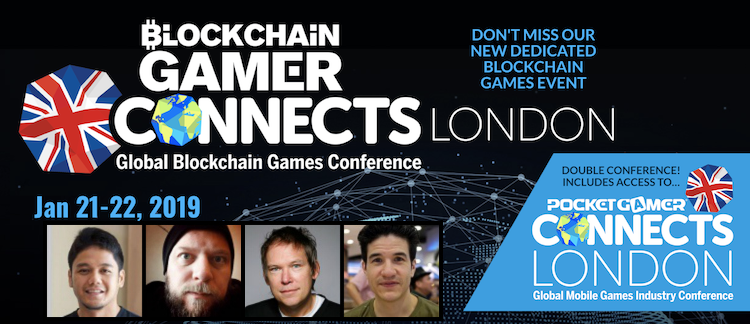 January event features Alto.io, Animoca Brands, Reality Clash, Stick Sports and 8 Circuit Studios and many more
Blockchain lands in Blighty in January to kick off a new year of international events with Blockchain Gamer Connects London 2019.
More than 400 blockchain gaming delegates will gather at London venue, The Brewery, for the show's UK debut. This follows on from its amazing San Francisco debut last summer and a record-breaking European edition in Helsinki in September.
Over 40 expert speakers across four conference tracks will address the key issues for the blockchain games industry, from global trends and new tech to business hacks and smart strategies.
Confirmed speakers
We're really looking forward to hearing from James Mayo, CEO at 8 Circuit Studios, and his thoughts on building the metaverse one game at a time. Working on games that include Alien Arsenal, D-PARC and Project Genesis, the studio believes that blockchains are, 'The last piece of the puzzle to making the digital real'.
Reality Clash Co-founder, Tony Pearce will be a familiar face to Connects delegates. In January, he'll share the team's experiences of creating the AR multiplayer location-based mobile FPS as part of a panel entirely dedicated to sharing lessons learned during development that will shape the next generation of blockchain games.
Hong Kong's Animoca Brands is well known for its work as a global developer and publisher of mobile games and in his seminar, CEO Robby Yung, will walk you through a successful case study for you to learn some pearls of wisdom.
We'll also bring you Game Maker sessions from the likes of Patrick Rieger, CEO at Everdragons, and Andrew Gore, CEO at Soccer Manager.
Putting the player at the heart of the blockchain
In an unmissable panel debate, Alto.io's Gabby Dizon will talk about why interoperability matters. Based on the company's mission to make tools that let developers mint, sell, use, connect and search for cryptoitems, this session should be really interesting.
And that leads nicely onto the concept of player ownership – one of the things that makes us most excited for the blockchain. Deckbound's Gareth Jenkins will explain why it matters, while Domraider will offer some practical tips for securing assets on the blockchain.
You'll also hear from Vlad Panchenko, Founder and CEO at DMarket, the self-proclaimed world's first blockchain-based marketplace for buying, selling, exchanging and collecting in-game items.
Finance, fortunes and the future
Blockchain is so new that it can be hard to come by real data about its performance, but one such source is DappRadar. We can't reveal too much right now, but let's just say that Patrick Barile's analysis of the market is one session that any blockchain games professional just can't afford to miss as you set your strategy for 2019 and beyond.
Looking at the financial side of blockchain games, Paul Collins, Founder & CEO at Stick Sports, will talk about token economics, monetisation and how it differs from free-to-play
Vlad Kartashov, CEO at War Riders, looks at building a smart contract system for a future in-game economy, while DOGI's Shirley Lin charts the evolution of fundraising and what it means for the blockchain of tomorrow.
And that's just the first of the world-class pioneers that will speak at the show. We'll bring you more information on the rest of the roster soon…
Mobile and PC events too
As well as the packed conference schedule, Blockchain Gamer Connects London will feature a vibrant expo space, international networking and fringe events. Next year, the event will run alongside Pocket Gamer Connects, which returns once more as the biggest B2B mobile games industry conference in Europe. Plus PC Connects too. Your ticket will get you into all three shows.
Save up to 20% with our Early Bird prices and book now!